New Yankees Closer Aroldis Chapman Has Been Suspended 30 Games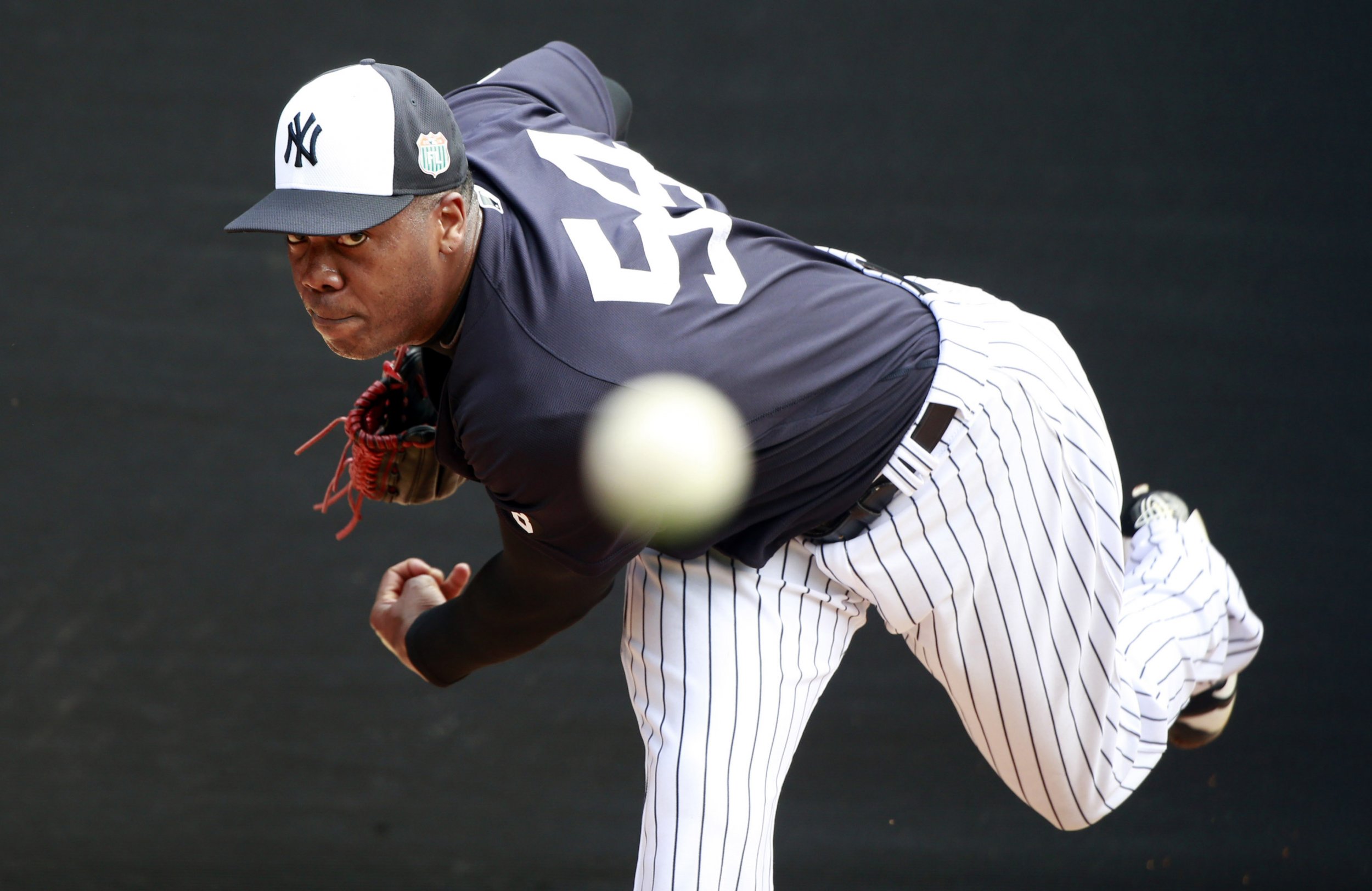 The Yankees already had a closer—they already had two closers—but that didn't stop them from trading for hard-throwing left-hander Aroldis Chapman this winter. The move was lauded because with Chapman anchoring a bullpen that also includes elite relievers Andrew Miller and Dellin Betances, the Yankees may be damn near unhittable in the 7th, 8th and 9th innings—that is after Chapman finishes serving a 30-game suspension that was handed down by the league Tuesday afternoon.
The suspension, which Chapman will not appeal, results from the league's new domestic violence policy. In October, Chapman was under investigation for choking his girlfriend, but the Davie, Florida, police department decided not to charge him, pending additional evidence. On January 21, the state's attorney announced that no charges would be filed. After the suspension was announced, Chapman released a statement:
Today, I accepted a 30 game suspension from Major League Baseball resulting from my actions on October 30, 2015. I want to be clear, I did not in any way harm my girlfriend that evening. However, I should have exercised better judgment with respect to certain actions, and for that I am sorry. The decision to accept a suspension, as opposed to appealing one, was made after careful consideration. I made this decision in an effort to minimize the distractions that an appeal would cause the Yankees, my new teammates and most importantly, my family. I have learned from this matter, and I look forward to being part of the Yankees' quest for a 28th World Series title. Out of respect for my teammates and my family, I will have no further comment.
Known for a fastball that sits comfortably over 100 miles per hour, Chapman saved 146 games in six seasons for the Cincinnati Reds, averaging just over 36 per season since taking over as the team's closer prior to the 2012 season. He made the National Leauge all-star team each of the past four years.
Because fellow lefty Andrew Miller saved 36 games, with an ERA of 2.04, for the Yankees in 2015, some speculated that Chapman would join the team in a setup role, but shortly after making the trade, the Yankees confirmed that he would indeed be the team's new closer. In addition to Chapman and Miller, the team's bullpen will feature Betances, who many believe would be one of the best closers in the league if given the opportunity. The hard-throwing right-hander boasted a 1.50 ERA in 2015, and a 1.40 ERA in 2014.
Once Champan is done serving his suspension, the three pitchers look primed to make up one of the most 1-2-3 bullpen combinations in recent memory.