New York Yankees' Domingo German Suspended for 81 Games for Violating MLB Domestic Violence Policy
New York Yankees pitcher Domingo German was given an 81-game suspension Thursday for violating the MLB's domestic violence policy.
"Commissioner Robert D. Manfred, Jr. announced today that the New York Yankee pitcher Domingo German has accepted an 81-game suspension under Major League Baseball's Joint Domestic Violence, Sexual Assault and Child Abuse Policy," the MLB wrote in a statement posted to Twitter by WFAN Yankee reporter Sweeny Murti.
The suspension stems from an earlier allegation that German slapped his girlfriend, who is the mother of his two children, on September 6 at a charity event held by former Yankee teammate CC Sabathia.
Following this allegation, the MLB placed German on administrative leave, forcing him to sit out the final 18 games of the 2019 season. Since German has already served this suspension, he will have to miss 63 games during the 2020 season.
One very interesting aspect of this suspension is that criminal charges were never brought against him, making it the longest suspension in MLB history without any formal legal charges.
German's suspension surpasses a previous record set by Chicago Cubs' Addison Russell, who was suspended for 40 games for violating the MLB's domestic violence policy, despite a formal lawsuit brought against him.
The MLB's statement added that German has "agreed not to appeal the discipline" and noted what the pitcher will do to overcome this suspension: a charity donation and entering a treatment program.
"He has also agreed to make a contribution to Sanctuary for Families, a New York City-based non-profit organization dedicated to aiding victims of domestic violence," the statement says. "Consistent with the terms of the policy, German will participate in a confidential and comprehensive evaluation and treatment program supervised by the Joint Policy Board."
The Yankees have also released a statement regarding his suspension, which was posted to Twitter.
"We remain steadfast in our support of Major League Baseball's investigative process and the disciplinary action taken regarding Domingo German," the team wrote. "We are encouraged by Domingo's acceptance of his discipline, and we sincerely hope this indicates a commitment to making a meaningful and positive change in his personal conduct."
Before his suspension, German was having a strong season, with an 18-4 record and a 4.03 ERA in 27 games (24 starts).
With his absence, the Yankees will head into spring training with a top four pitching rotation consisting of Gerrit Cole, Luis Severino, James Paxton and Masahiro Tanaka.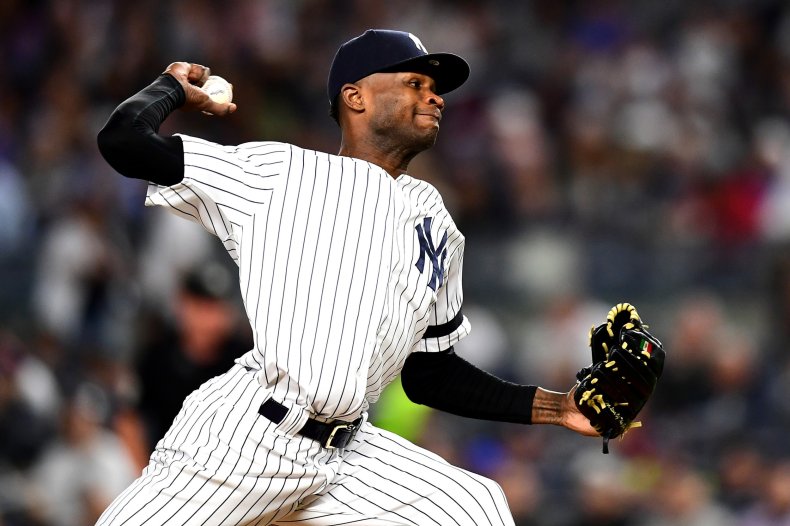 New York Yankees' Domingo German Suspended for 81 Games for Violating MLB Domestic Violence Policy | Sports