Gerrit Cole Free Agency: New York Yankees to Hold Talks With Houston Astros Ace and World Series MVP Stephen Strasburg
The New York Yankees are reportedly set to hold talks with two of the most high-profile free agents in the MLB.
According to The Athletic, the Yankees will sit down with Houston Astros ace Gerrit Cole and Washington Nationals starting pitcher and 2019 World Series MVP Stephen Strasburg in the coming days, ahead of the Major League Baseball winter meetings beginning in San Diego, California, on Monday.
The report added the Yankees have long been admirers of Cole, who missed out on him, despite selecting him with the 28th pick in the first round of the 2008 MLB draft.
Cole was drafted by the Yankees, but opted to turn down a move to New York in favor of signing for the Pittsburgh Pirates, who then traded him to Houston in January last year.
Both Cole and Strasburg are represented by Scott Boras and are considered the best starters of the 2019 free-agent class.
There has been speculation either player could land a deal worth over $250 million, which would exceed the third level of the luxury tax, currently set at $248 million.
Yankees co-chairman Hal Steinbrenner admitted the organization would prefer not to take such a hefty financial hit, but acknowledged starting pitchers were an almost priceless luxury in today's game.
"It's something we would prefer not to do," Steinbrenner said in an interview with YES Network, which was recorded on November 12 but aired Monday night.
"There are June draft ramifications. There are numerous ramifications. It's a good rotation but starting pitching, you just can't have enough. Like last year that's going to be my focus. You will have to ask [Yankees general manager Brian Cashman] if he agrees with me.''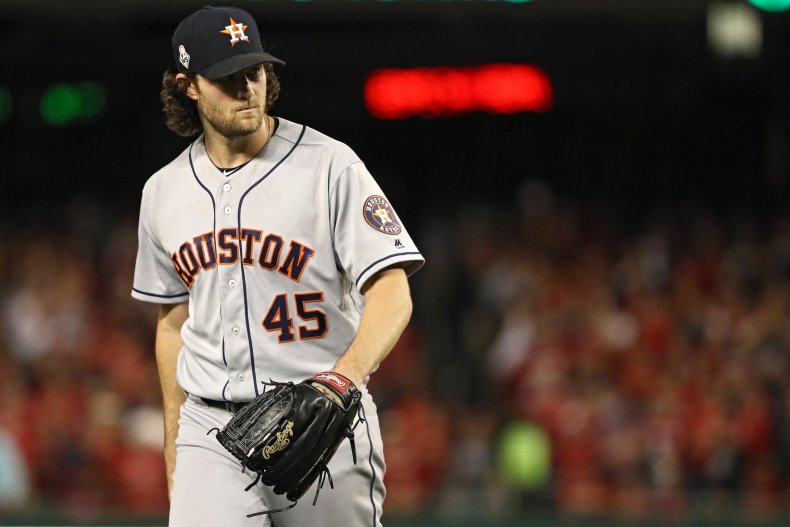 At the same time, Steinbrenner suggested the Yankees will be active in free agency, both in terms of chasing free agents from other clubs and looking to lock down four of their own—Didi Gregorius, Dellin Betances, Brett Gardner and Austin Romine.
"Let me just say all options are open as far as I am concerned,'' he explained.
"Anything that rolls across my desk I am going to be looking at real seriously. We are going to be active in the free-agent market.''
The Yankees, however, are not the only team to hold talks with the duo. Cole is expected to meet with Houston, the Los Angels Angels and the Los Angeles Dodgers.
Both Los Angeles-based franchises could be very appealing for the 29-year-old, a native of Newport Beach, California.
Strasburg, meanwhile, will reportedly hold talks with the Nationals—the only team he has played for—and the San Diego Padres.
Cole and Strasburg both featured in the World Series in October, as the Washington Nationals defeated the Houston Astros in seven games.
Cole saw his 19-game winning streak come to an end after 25 starts as the Astros lost Game 1.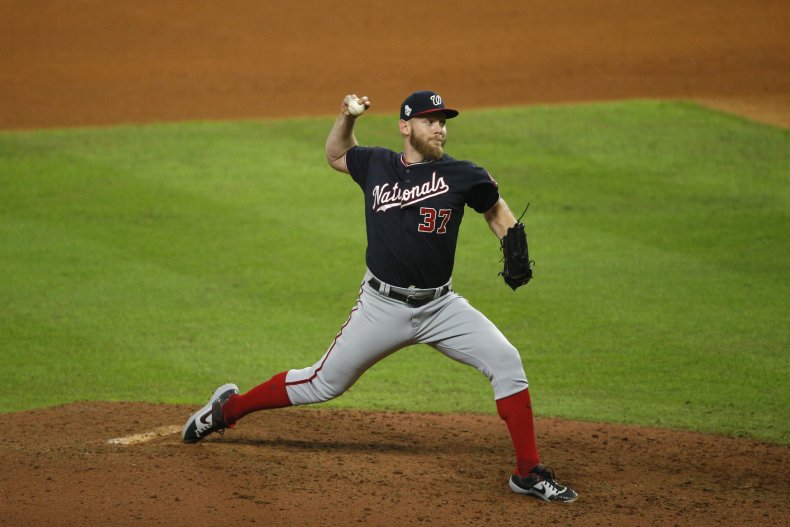 He rebounded in Game 5, holding the Nationals to one run on three hits, while striking out nine batters in seven innings as Houston cruised to a 7-1 win.
Strasburg, meanwhile, started in Game 2 and Game 6, winning both.
In Game 2, he struck out seven batters, allowing two runs on seven hits in six innings. Strasburg pitched 8.1 innings in Game 6, allowing two runs on five hits and striking out seven batters.
Both Cole and Strasburg were among the top 10 pitchers in strikeouts during the regular season, with the former ranking first with 326 and the latter ranking sixth with 251.
Cole recorded a strikeout rate of 39.9 percent this season—the highest ever by a starting pitcher.
Inspired by Cole, Houston struck out 28.9 percent of the batters during the regular season—the highest ever rate in the history of the MLB.
Cole and Strasburg ranked third and 16th respectively in the regular season in terms of earned run average (ERA) among qualified pitchers and first and seventh in respectively in Wins Above Replacement (WAR), as measured by FanGraphs.