New York Yankees SS Didi Gregrorius Will Need Tommy John Surgery, Manager Aaron Boone Confirms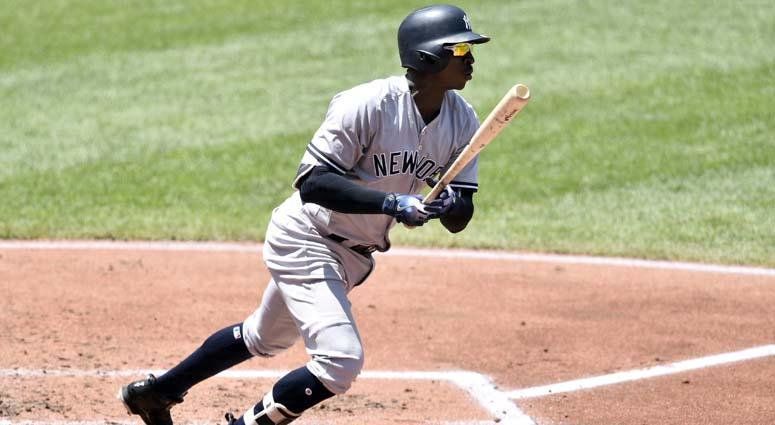 New York Yankees shortstop Didi Gregorius will undergo Tommy John surgery to repair his injured right elbow this off-season, manager Aaron Boone announced during a press conference Friday afternoon.
Boone confirmed that Gregorius hurt his elbow during Game 1 of the American League Division Series (ALDS) at Fenway Park while fielding a ball off the Green Monster and throwing it back into the infield.
The shortstop underwent an MRI on Thursday, according to the Yankees' PR department.
Boone said he believed Gregorius would play a "bulk of the season" and was optimistic about his timetable for recovery.
"He felt something then and just kind of being the player that's as tough as he is and nondramatic as he is played with it the last couple of days," Boone said of Gregorius's injury. "So we had the MRI and it revealed a tear, so he'll have that. We're optimistic that he'll be back at some point during the season. I don't want to speculate too much on when.
"It's obviously different than a pitcher, he's not coming back on the mound, so we think there's a realistic chance that he plays the bulk of the season with us. But, that said, obviously if surgery is next week we'll know a lot more after the surgery, as far as the timeline goes. But we are optimistic that he will play a lot of the season with us."
Gregorius previously experienced a partial ulnar collateral tear during his tenure with the Yankees, which general manager Brian Cashman referred to as "asymptomatic."
The 28-year-old shortstop hit for a .268 average with 86 RBI and 27 home runs in 134 regular season games and helping the Yankees record an 82-48 record in that span.
Gregorius was on the disabled list twice in 2018, which included nearly two weeks for a left-heel contusion in late August and several of the Yankees' final regular-season games after tearing cartilage in his right wrist, which was initially believed to keep him out of the postseason entirely.
The shortstop appeared in all of New York's playoff games but had a decline in production, with a .235 average and four strikeouts in five appearances.
In Gregorius's absence, second-baseman Gleyber Torres is a possible candidate to move over to shortstop after a breakout rookie campaign. Torres hit for a .271 average, 77 RBI and 24 home runs.
Prior to the emergence of Torres and fellow Rookie of the Year candidate Miguel Andujar at second base this season, New York was expcted to show interest in prized free agent Manny Machado, who was traded from the Baltimore Orioles to the Los Angeles Dodgers in July.
New York was eliminated by the Boston Red Sox in four games during the ALDS earlier this week.