New Yorkers and Tourists Remember Where They Were on September 11, 2001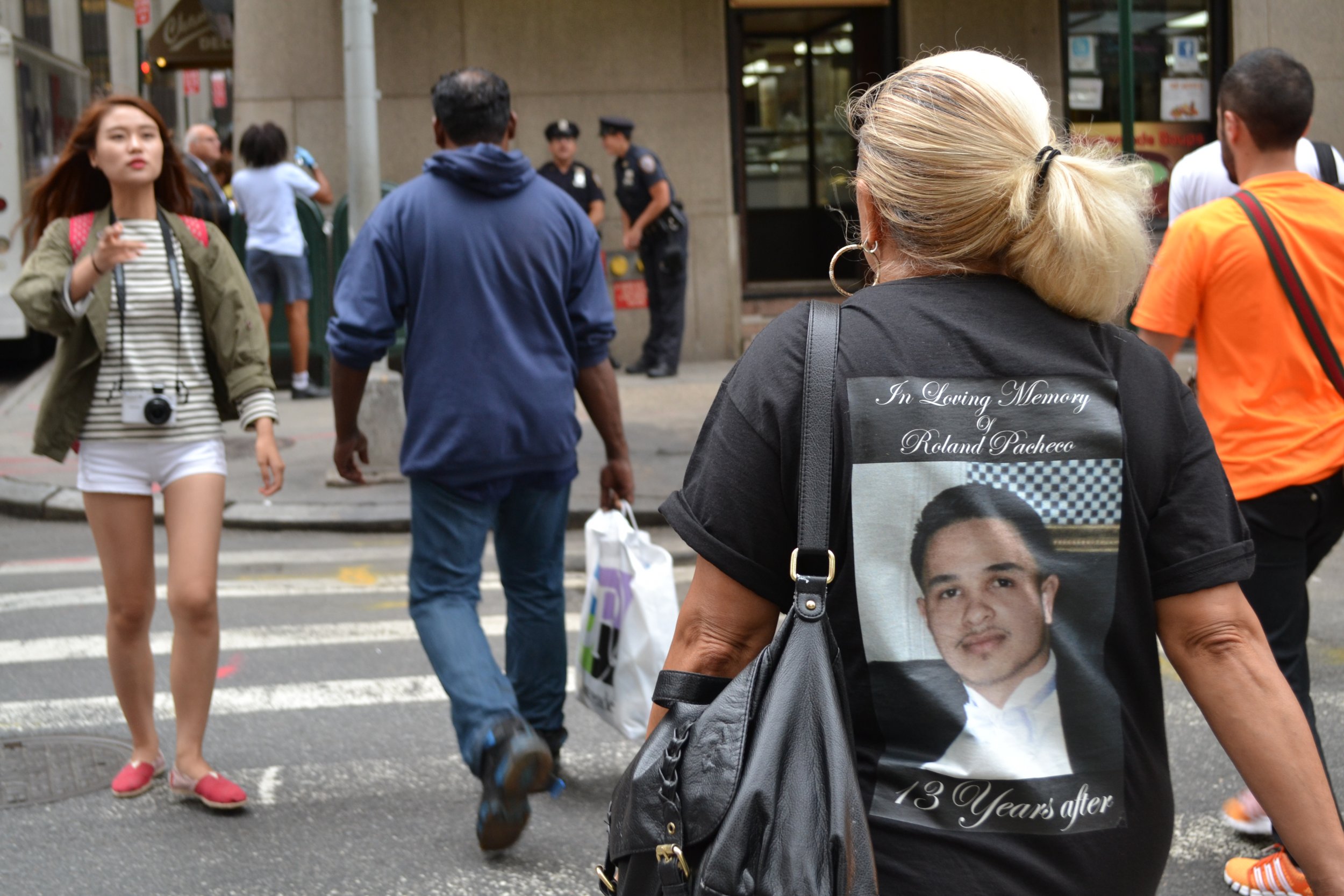 Everyone has story about where they were on September 11, 2001, the day four planes pierced through clear skies and crashed into the World Trade Center in New York, a Pennsylvania field and the Pentagon, killing more than 3,000.
It doesn't matter how mundane your personal story is because, whether you were in New York or on the other side of the world, you consciously lived a part of history.
Just outside the current Newsweek offices in Hanover Square, in Manhattan's Financial District, is the Queen Elizabeth II Garden, which opened in 2010 to remember the 67 British citizens who were killed in the September 11 terrorist attacks.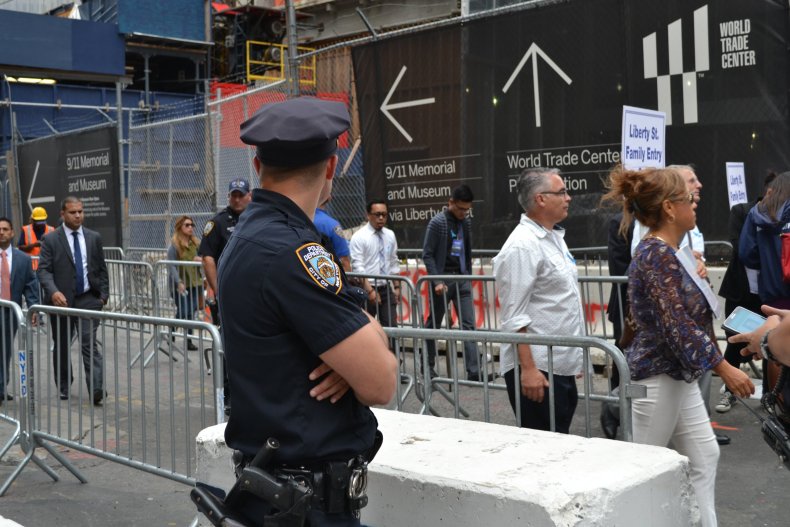 Jean-Claude Marchionni, a sculptor and the artist-in-residence at the Cathedral of St. John the Divine in Manhattan, worked on the memorial garden's stonework and was there for a service of remembrance on Thursday morning.
"I was uptown at the St. John the Divine. I remember someone came out of the church and she was screaming," said Marchionni, who lives in Ridgewood, New Jersey. "When we went out there was a guard from the church who said, 'Everybody out!' But we didn't know what for. When we left the church, we saw all of Amsterdam Avenue packed with people."
"One of my best friends had a French restaurant that was not far away, so I went and worked there. Everyone was crowded around the TV—and that's when you saw the towers fall. You didn't believe it. After you saw them fall, you realized, that's true," said Marchionni.
Simon Cocklin, a British St. John's Ambulance worker from Hull, U.K., was also at the Queen Elizabeth II garden service. Cocklin traveled to New York to commemorate the attacks, as he has done nearly every year since 2002. In 2009, Cocklin, who was a Special Constable with Humberside Police at the time of the attacks, was a guard of honor at the garden.
"I felt it was appropriate to come back. It's what I feel like I need to do," said Cocklin, who said he was particularly affected by seeing images of those who jumped to their deaths from the twin towers.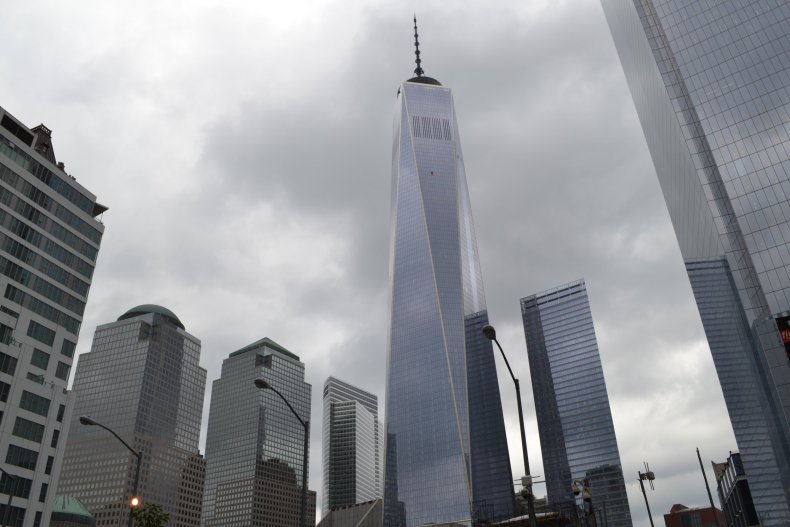 Watching people jump to their deaths also had a profound effect on Jamie Fell, 25, a lawyer from Queens.
"I remember this one shot of this guy trapped on one of the top floors, and you could see him trying to decide whether it was better to go down with the building or jump," said Fell. "I will never forget those images for the rest of my life, they are seared into my memory. It was horrifying."
Fell was in middle school in Texas when the planes hit the World Trade towers. "Within five minutes, my mom pulled me out of school and we went home," said Fell. "My sister came home later and we just sat in my mom's bedroom and watched footage all day long."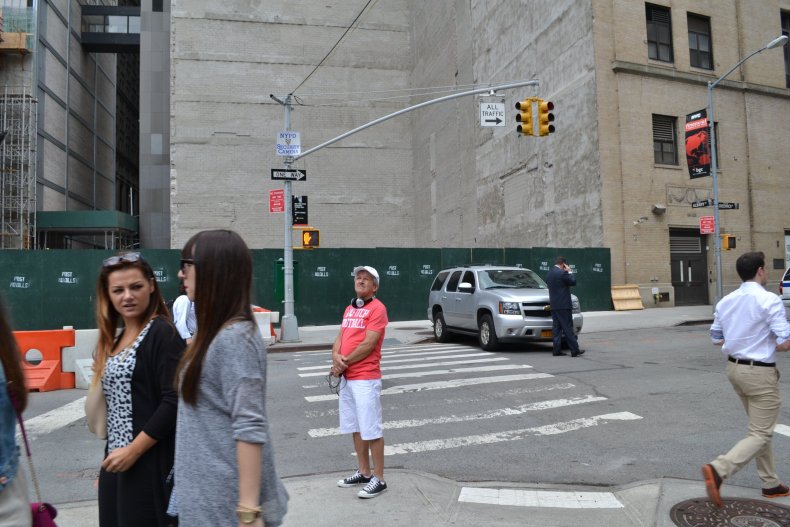 Others were too young to understand the images they were seeing on TV.
Elliot Wise, 21, from Manchester, U.K., was an 8-year-old schoolboy in Altrincham, U.K., on September 11, 2001. Teachers turned on the TVs and students watched the horrific footage on the news. "I don't think I really understood it at all," said Wise.
In Zuccotti Park, one block east of the World Trade Center and later home of the Occupy Wall Street movement, tourists mingled with office and construction workers having lunch. Dennis McKeon, 57, from Staten Island, N.Y., stood in front of one of the buses he uses to take families of 9/11 victims from Staten Island to visit the memorial.
"Thirteen years ago today I was working for the Teleport on Staten Island when the planes hit the towers. My church on Staten Island lost 29 people in the World Trade Centers," said McKeon, executive director of Where to Turn, a community organization that provides crisis relief during disasters.
"We put together a group to help support the families that lost people, and we've been bringing Staten Island families here. We bring buses here and we've been here every year since 2002. We said we'll be around for as long as they need. And we will."
Before turning down Cedar Street, you could already hear the cheers of first responders and firemen who had come to mark the 13th anniversary of the 9/11 attacks outside O'Hara's pub, where they posed for photos for passersby and with each other and burst into chants of "USA! USA!" Tourists took photos of One World Trade Center, also known as the Freedom Tower, and mulled around near the entrance to the 9/11 Memorial, which was open only to victims' families until the evening.
Monique Derkse, who was visiting New York from Nijmegen, Netherlands, with her two brothers said September 11 is her brother's birthday. After the events of 2001, he stopped celebrating on that date out of respect for those who lost their lives and wanted to make a birthday trip to the World Trade Center.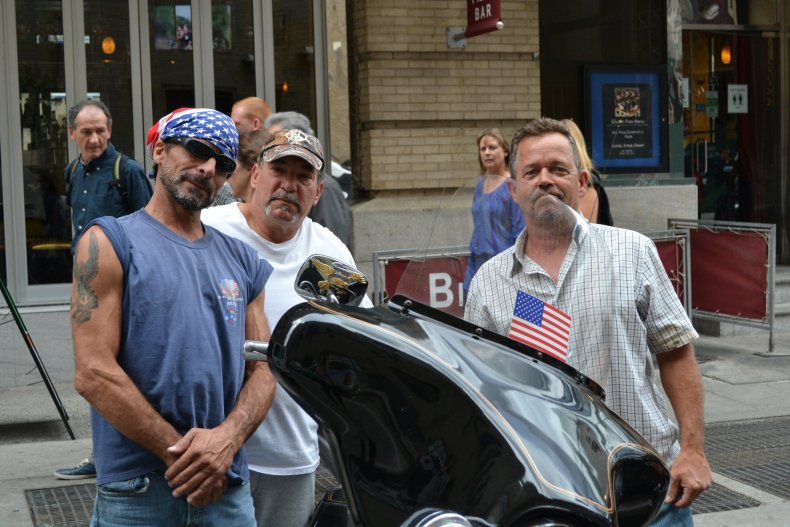 Some who came to pay tribute to the victims of 9/11 thought some of the ways people were marking the occasion was inappropriate. Bobby Ferrara rode his Harley-Davidson from Massapequa, New York, to the World Trade Center site. "I lost a good friend of mine named George C. Cain. He was killed in the first tower," said Ferrara. "I see people taking selfies and stuff, but that's not my bag. It's almost like blood on your hands. You have to try and pay respect."