New Yorkers Asked to Turn Off Electricity to Avoid Power Outages Amid Blistering Heat
New York City residents were asked on Wednesday to limit their electricity usage to avoid power outages during the blistering heat wave.
"We're now experiencing a heat emergency, and we need people to take immediate action," Mayor Bill de Blasio said. "Our electric system is dealing with real strains right now because of the severity of heat that we are experiencing today."
De Blasio continued, "We have a real challenge on our hands. So here's the message to all New Yorkers: immediately reduce the use of electricity in your home or in your business. This is very serious stuff.
De Blasio also called on New Yorkers to reduce use of their air conditioning and to avoid running appliances that use a high amount of electricity, such as washers, dryers and microwaves.
New York City Emergency Management Commissioner John Scrivani, who also spoke during the press conference, detailed some local power outages that have occurred because of the extreme heat. A power outage in Williamsburg, Brooklyn, left around 1,700 customers without power, he said.
"Con Edison and the emergency management team are out there assisting the neighborhood," Scrivani said, adding that the utility is distributing dry ice and an MTA bus is being used as a "mobile cooling center."
Scrivani also said that he hopes the mayor's message encourages residents to limit their energy use to decrease the risk of "any significant outages."
De Blasio concluded the press conference by saying, "This is a really big strain that's being placed on all electric systems by this level of heat for this many days. We all need to act now, so I'm asking every New Yorker to be a part of this. Turn off anything you don't need to be on right now. Any electricity that you can turn off, turn off. Put your air conditioning at a warmer temperature. It may not be as comfortable, but it's going to help us avoid a power outage."
The calls for New Yorkers to limit their electricity use comes as the city faces a wave of blistering heat, with record-breaking temperatures recorded in several areas.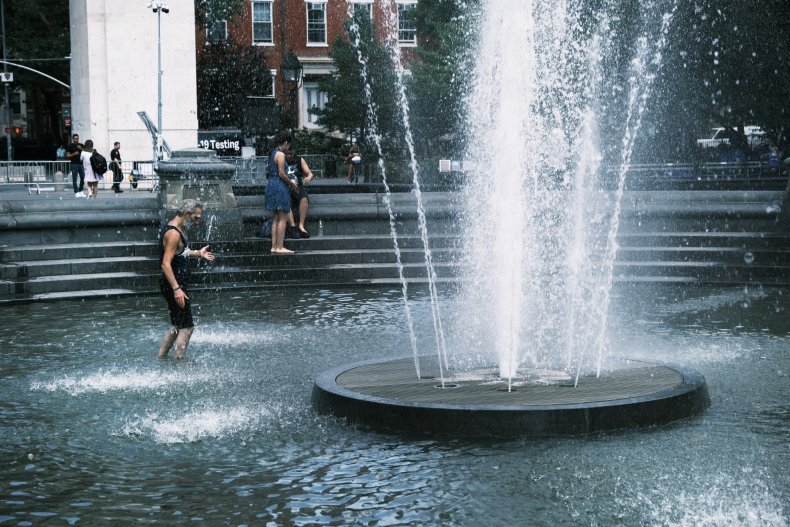 The National Weather Service in New York City issued a heat advisory and said that the city and surrounding areas could see temperatures of up to 104 degrees. Later on Wednesday, the NWS announced that record-breaking temperatures were recorded at Newark Liberty International Airport in New Jersey and LaGuardia Airport in Queens.
"Newark and LaGuardia have both broken record high temperatures for 6/30. LaGuardia reached 98 while Newark hit 101! This is the second day in a row that these sites have tied or broken record highs," the NWS tweeted.
Newsweek was directed to de Blasio's remarks during the press conference after reaching out to his office for further comment.