New Yorkers Can Order Alcohol for Take-Out Because of Coronavirus, But Is An At-Home-Happy Hour Worth It?
New Yorkers are barred from going out for drinks because of a new coronavirus outbreak, but fortunately, the cocktails can come to you. And, as it turns out, an at-home happy hour isn't so bad given the circumstances.
Statewide dine-in service at bars and restaurants closed indefinitely on Monday night, per an executive order from Governor Andrew Cuomo. The goal was to limit the spread of a new coronavirus, but Cuomo acknowledged it could mean a significant financial hit to restaurants and bars whose bottom line, at least partially, depends on alcohol sales.
So, the State Liquor Authority eased up restrictions that ban off-premise sales, making it possible for restaurants, bars, wineries and distilleries to include alcoholic beverages in their take-out and delivery menus.
Sure, there's no substitute for in-person socializing and it's hard to recreate the ambiance of your favorite restaurant in a 200-square foot apartment. But, there is something to be said for enjoying a quality cosmopolitan from the comfort of your bed. Plus, it's a great way to support restaurants in your neighborhood and help make sure they're still around when the city comes out the other side of this outbreak. All while maintaining the social distancing that's necessary to limit the virus from spreading.
For the Newsweek taste test, I chose Jacob's Pickles in New York's Upper West Side of New York City.
Admittedly, I was very curious about how they were going to carry out this task. Would the melted ice water the drinks down? How would they keep them from spilling everywhere on the bike ride over?
When the bag arrived, I found four plastic containers of drinks. Me, being the cynic that I am, assumed I'd have to get my own glass and ice. Not to be picky in trying times, but it's kind of an ambiance killer. Thankfully, I glimpsed again in the bag and found four to-go cups filled with ice and garnishes.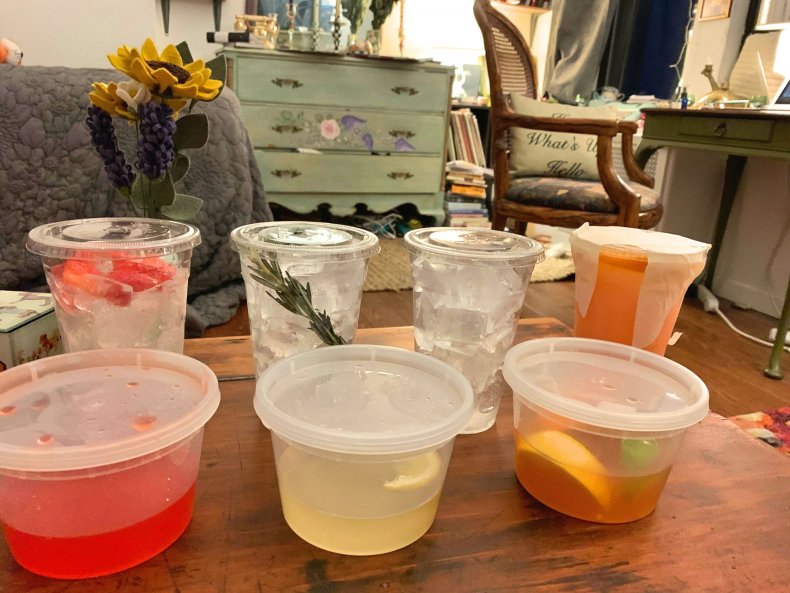 So, that's how they keep it from spilling and the melted ice from watering down your drink. And, you now have four new plastic containers to portion out the mounds of food you bought in a panic.
The Jam Jar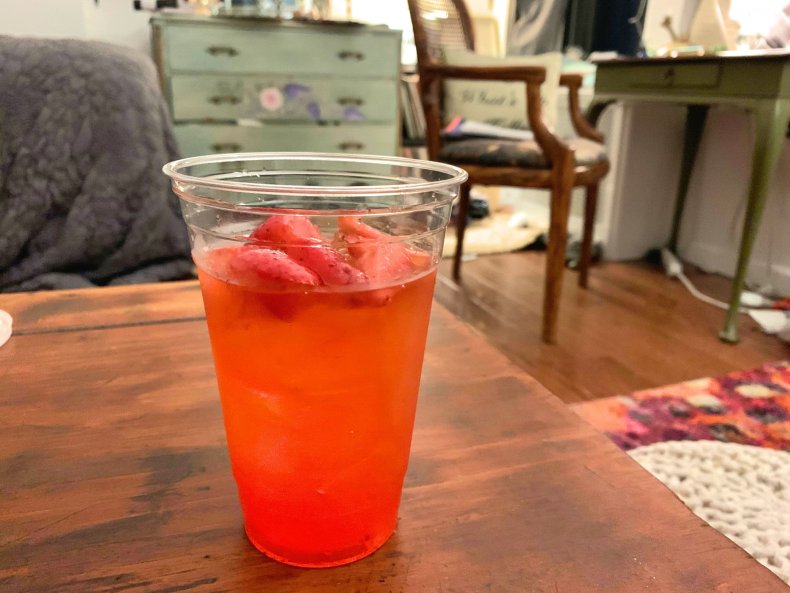 The Ingredients: House-infused strawberry Farmers Gin with fresh-squeezed lemonade
The Jam Jar is serving as the control of this test. I've had it while dining in the restaurant, so it's a good marker of how well cocktails do under the pressure of delivery.
The Result: Tastes exactly the same. If I close my eyes and turn on the Spotify track "People Talking in Restaurant," it's almost as if I'm at Jacob's Pickles. (It's a real track, look it up) The drink even comes complete with a sliced strawberry garnish on top, giving it a little extra oomph.
Actually, I take this back. It tastes almost exactly the same. In the restaurant, they serve it in a mason jar and as someone who firmly believes the vessel makes a difference–Chinese food tastes better out of the container than on a plate–I do wish I had a mason jar. That being said, it's a concession I can make.
Rosemary Vodka Lemonade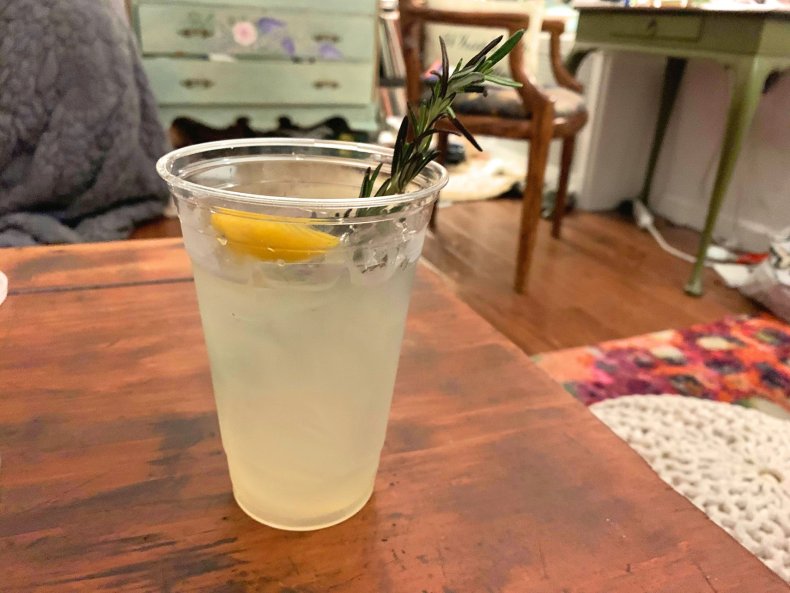 The Ingredients: House-infused rosemary Pickers, muddled lemon & rosemary
The Result: Rosemary: great on chicken, even better in cocktails. In a world of mixologists serving drinks with flames coming off the top, sometimes it's nice to go back to basics. Yes, you could make a vodka lemonade in your kitchen–as long as your lemon provisions haven't gone bad. But, the house-infused rosemary Pickers (vodka, for those that were wondering) gives it a certain pizazz that you probably don't have at home.
Plus, everything tastes better when it's made by someone else.
Kentucky Porch Sipper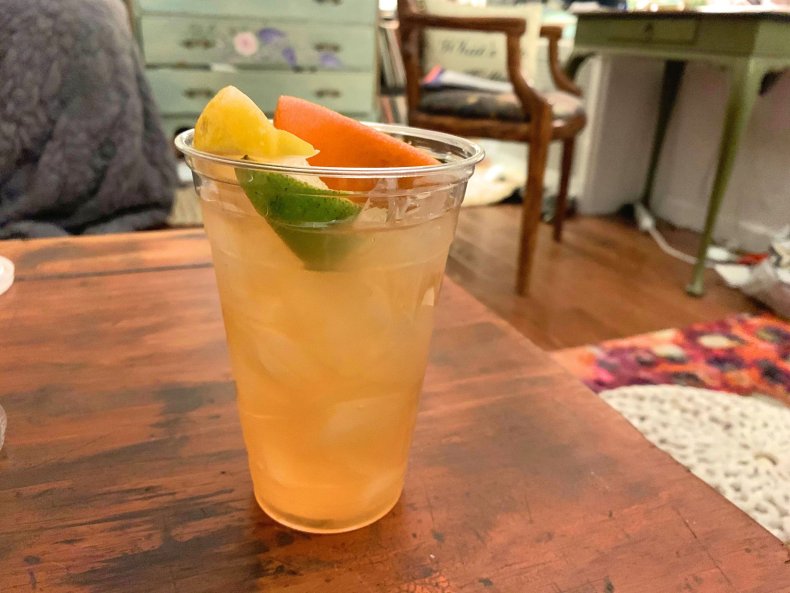 The Ingredients: Wild Turkey bourbon, muddled lemon, lime and orange, Angostura Bitters
The Results: The goal of this drink was to see how a slightly more complicated drink held up under the pressure of being transported by a bicycle. In the spirit of my mother's motto, "don't expect too much and you won't be disappointed," I set the bar pretty low. After taking a sip, I felt silly I had such little faith.
The muddled lemon, lime and orange were blended just as well with the bourbon as if I'd been sitting on a stool at the bar. And, unless you're a cocktail aficionado, you likely didn't stock up on Angostura Bitters, a key ingredient of this drink, when you were fighting crowds at Trader Joe's.
It also comes complete with a lemon, lime and orange slice garnish, which, can help make you feel fancy even when you're wearing the same old t-shirt and sweatpants you've had on for three days because, let's face it, you're working from home and no one is around to see you.
Frozen Aperol Spritz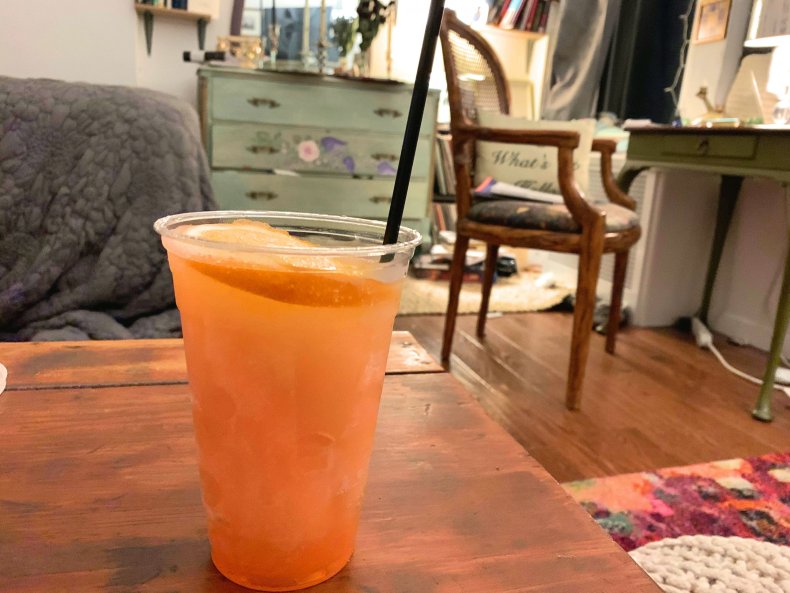 The Ingredients: Aperol, sparkling wine, grapefruit
You may be thinking, "Wouldn't a frozen margarita have been a more logical choice for a frozen drink?" And you'd be correct. But, this writer had an unfortunate encounter with tequila and so as to give the drink a fair shot, decided to choose something with an alcohol base that didn't come with a side of traumatizing memories.
Anyway, I was a little concerned about ordering a frozen drink for delivery. When I've done it with milkshakes, they're either soupy or so frozen that I have to wait a bit before I can even start drinking it.
The Result: I'm pleased to say, the Frozen Aperol Spritz held up quite well. It tasted exactly how I thought it would and was a perfect consistency for sipping with a straw while maintaining the thickness expected of a frozen drink.
Given that the frozen element of the drink worked out just fine with delivery service, I'm sure the same would be true for a margarita...if tequila is your cup of tea.
Overall, the at-home happy hour was a victory. Under these circumstances, it was a great way to switch up the usual glass of wine at the end of the workday and the drinks surpassed what I could do at home, even if they seem simple to the untrained eye.
And, if you're feeling a bit lonely or starved for company, invite some friends to FaceTime, Skype or Google Hangout and you can have a virtual happy hour.