New Yorkers Furious At Cuomo Over Nursing Homes Report, But There's No Path to Recall Governor
New Yorkers, infuriated by Governor Andrew Cuomo's coronavirus response, want to follow in the footsteps of the California petition to recall Governor Gavin Newsom, but state laws leave them with no path to remove Cuomo from office.
Residents were outraged after a new report found that the Cuomo administration failed to report thousands of COVID-19 deaths in nursing homes. New York Attorney General Letitia James announced last Thursday that Cuomo had undercounted, with state health officials confirming the report only hours later when new public data upped the overall death toll in those facilities by more than 40 percent.
In response, tweets demanding a gubernatorial recall received thousands of likes and retweets and a Change.org petition from last year resurfaced with more than 16,000 signatures.
New York State Health Commissioner Dr. Howard Zucker defended the department's reporting on Thursday, saying that the deaths were not undercounted and that the report was "only referring to the count of people who were in nursing homes but transferred to hospitals and later died."
Calls to remove Cuomo come as Californians have ramped up efforts to remove their governor from office. A recent effort against Newsom will have until March 17 to collect the required 1,495,709 signatures to remove the governor before the end of his term.
If successful, Newsom would be the second California governor to be removed from office. Democrat Gray Davis was successfully recalled after 11 months in office and replaced by Republican Arnold Schwarzenegger in 2003.
However, unlike their West Coast counterparts, New Yorkers do not live in one of the 19 states that allow for a recall of the governor. States that permit recall petitions include: Alaska, Arizona, California, Colorado, Georgia, Idaho, Illinois, Kansas, Louisiana, Michigan, Minnesota, Montana, Nevada, New Jersey, North Dakota, Oregon, Rhode Island, Washington and Wisconsin.
However, two other Democratic governors, Louisiana's John Bel Edwards and Michigan's Gretchen Whitmer, faced recall challenges in the last year over their handling of the pandemic. Whitmer had 20 different recall efforts launched against her in 2020.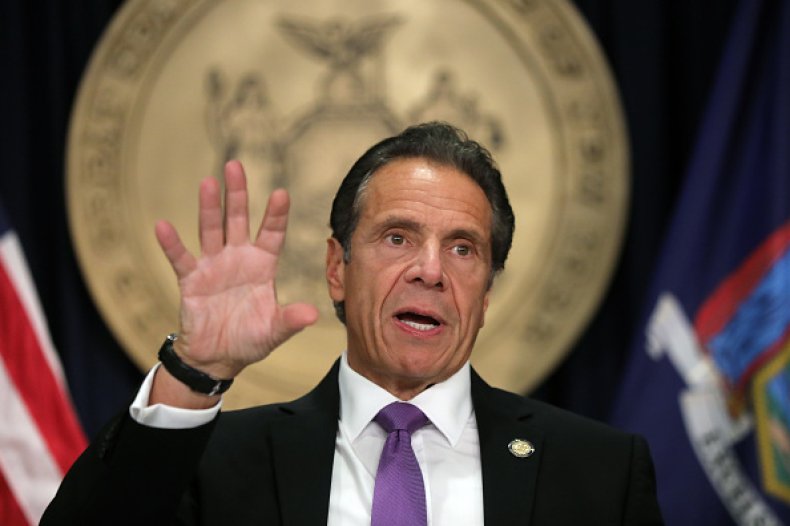 Although there are no recall provisions for office in New York, Cuomo, who is not up for reelection until 2022, can essentially be impeached by the state legislature.
Former Governor William Sulzer has been the only New York governor to be impeached and convicted on articles of impeachment. He was removed from office in 1913 on evidence that he had falsified his sworn statement of campaign finances.
A bill that would allow for recall was first introduced by the New York Senate Judiciary Committee in 2011, the year Cuomo became governor.
In the 2017-2018 legislative session, its revised amendment would "give voters the ability to recall local and statewide elected officers, state senators, assembly members, supreme court judges and trial court judges," according to the sponsor memo on the New York Senate website.
The effort was the fourth and last unsuccessful attempt at passing such a bill and a new one has not been introduced since.
Cuomo was largely popular at the beginning of the pandemic for leading the charge on the then-national epicenter's COVID-19 response. However, the state's death toll and its troubles reopening businesses have been subjects of criticism.
As of January 28, New York has reported more than 1.3 million coronavirus cases and over 42,000 deaths, according to a tracker from The New York Times. New York, falling behind New Jersey, is the state with the second-highest number of deaths per 100,000 people.
In a Friday news conference, Cuomo blamed the nursing homes' miscalculation on the former administration of President Donald Trump.
"Where this starts is frankly a political attack from [the] prior federal administration, HHS (Health and Human Services). Their great spokesperson, Michael Caputo, who is a Roger Stone protege, said we had more nursing home deaths in New York because of something that the State Health Department did," Cuomo said.
Cuomo also announced last week that the state would reopen indoor dining at 25 percent capacity beginning February 14.
Newsweek reached out to Cuomo's office for comment but did not hear back before publication.