Thousands of New Yorkers Protest Eric Garner Grand Jury Decision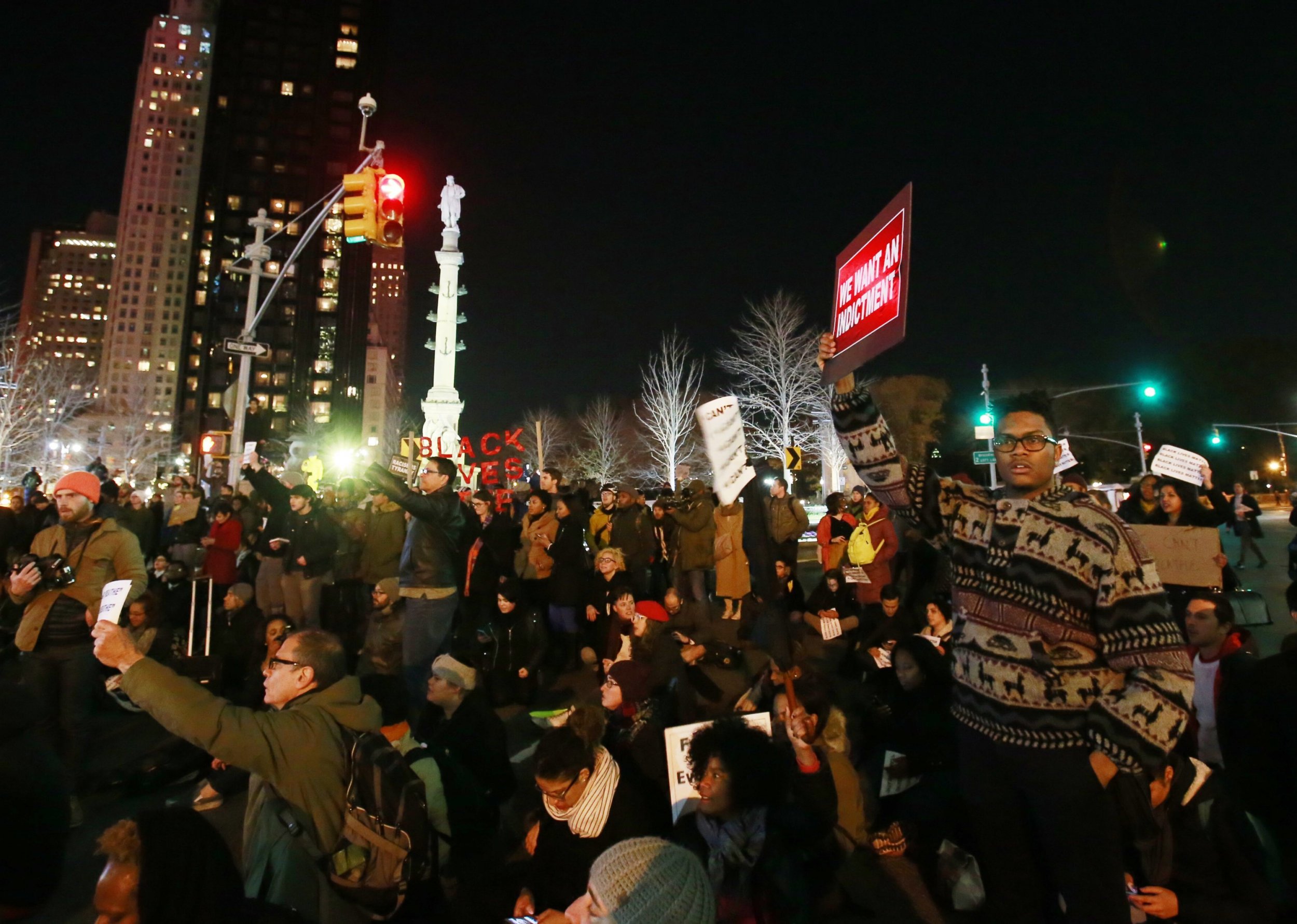 New Yorkers took to the streets on Wednesday evening after a grand jury refused to indict New York City Police Officer Daniel Pantaleo in the choking death of Eric Garner. Protests included a "die-in" in Grand Central Terminal, blocked streets in Midtown, and an attempt to cross the West Side Highway. A few arrests were reported.
On July 17 in Staten Island, Pantaleo put Eric Garner in a choke hold while attempting to arrest him for selling loose cigarettes. Garner, who was asthmatic, died. Video of the arrest, posted on the website of the New York Daily News, sparked furious debate about police and community relations.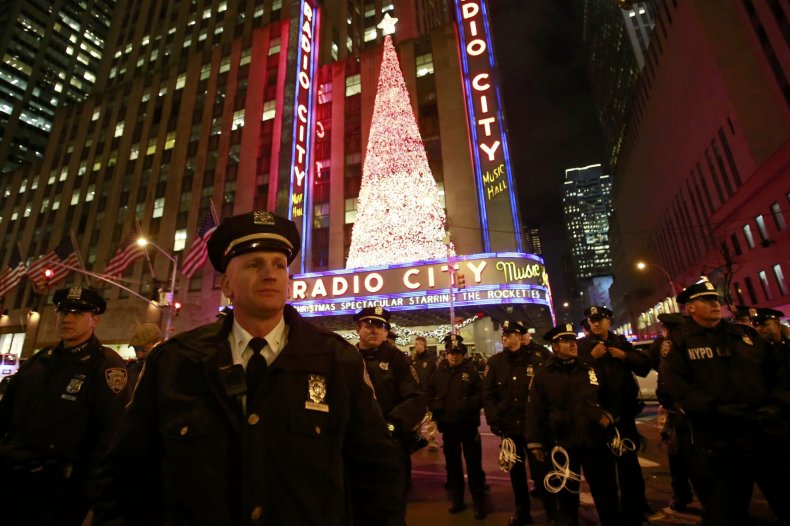 Among the protesters on Wednesday were some carrying signs with mentions of Ferguson, Missouri, and Michael Brown, the African-American teenager shot and killed this summer by Ferguson Police Officer Darren Wilson. Last week, a grand jury decided not to indict Wilson, leading to similar protests in New York, Ferguson and across the country.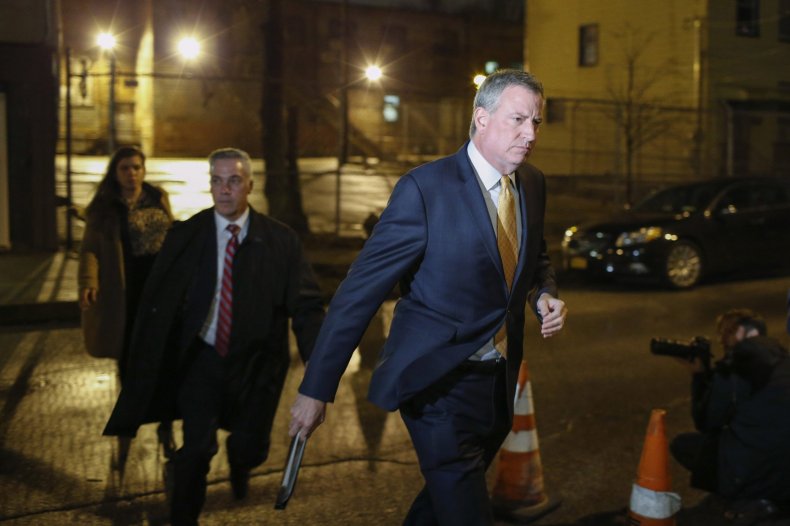 Around 6 p.m. Wednesday, a group of protesters left Union Square in lower Manhattan, heading to Rockefeller Center and the Christmas tree there. Tensions were high when the protesters reached Midtown, and they took over the streets at Sixth Avenue and 47th Street. Police pushed the group back using metal barricades and wearing riot gear. Many of the protesters were pushed by police officers and some were physically picked up and moved. The officers threatened to make arrests several times over a megaphone. After some time, the group moved off of Sixth Avenue to allow traffic to pass, but continued blocking 47th Street. While most officers wore riot masks with thick, clear shields over their faces, one city worker wore only a hat and drove a barricade truck. "I'm just standing here making overtime!" he said.
Earlier on Wednesday, New York City Mayor Bill de Blasio called for peaceful protests of the decision. "Today's outcome is one that many in our city did not want," De Blasio said. "Yet New York City owns a proud and powerful tradition of expressing ourselves through non-violent protest. We trust that those unhappy with today's grand jury decision will make their views known in the same peaceful, constructive way."
The mayor pointed to several police reforms enacted this year as evidence that the NYPD is changing, including new training on excessive force, a curtailing of the "stop-and-frisk" program and the decriminalization of marijuana.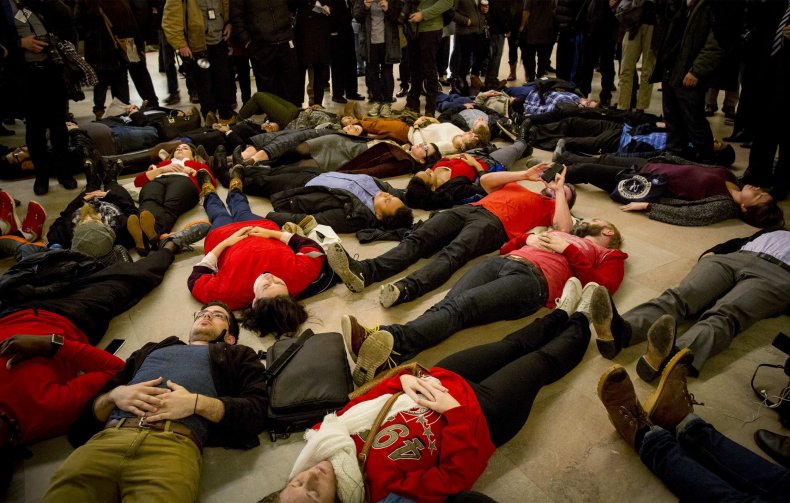 One protester in New York on Wednesday, Robert Cammiso, said he felt compelled to speak out after the Garner decision. "As a high school teacher in Flatbush, with 95 percent African-American students, it's become more and more difficult having a discussion with them when this is the state of justice system," he said. Cammiso said that many of his students were also moved to protest. "You have to convince them that this is something to engage in. As a teacher, it's hard not to be furious at this decision."
Another demonstrator, Mike Pergola, who has worked for the Department of Sanitation for 24 years, said he felt the grand juries in both New York and Ferguson made mistakes in not indicting Pantaleo and Wilson, respectively.
"Even people that didn't feel the way I do about Ferguson, they came back and said that on [Garner], they couldn't agree with the grand jury decision," Pergola said, adding that his line of work fosters tolerance. "When a black guy and white guy work together in a truck, you really get to know one another, you understand each other very well. Being behind a garbage truck is very democratizing."
Wednesday's protests were also full of students, with groups from NYU, Columbia, the New School and Pace noticeable among the crowd. Bridget Winkler, a 22-year-old student at Pace, said she was inspired to attend after seeing discussion of the Garner decision on social media, particularly Twitter.
"I felt a moral implication to do this," Winkler said. She followed the situation in Ferguson but felt moved to protest for the first time because the Garner case was so close to home. "The location really impacted me," she said. "The events of the last two weeks made everyone fed up."
Erica Basco works for an HIV/AIDS prevention organization and has been protesting for several weeks. She attended a large gathering in Albany last week to protest the Wilson grand jury decision.
"I think there are a lot of similarities between the two cases," Basco said. "This is especially difficult because of the camera footage. I was shocked [Pantaleo] was not indicted. I think people thought body cameras would be structural change through government to improve the situation, but that video footage doesn't seem to matter." Basco said the decision gave her new perspective—"I realized how native about the system I was"—and said she hopes a decision will be made to charge both officers on the federal level, and that a system of accountability is set up to prevent racial profiling by police officers.
Whiners Martinez, 21, who happened into protests near Times Square, said that as a young man of color, he often confronts harassment from police, such as being told to move out of public spaces. "I think it's wrong what they're doing to people," he said.
By 9 p.m. on Wednesday, crowds in Midtown had thinned. Police officers were careful to keep things calm around the tree lighting in Rockefeller Center, setting up a bag check at the tree's main entrance on 50th Street. Many protesters calmly held balloons to signify they were part of the gathering.
As things settled in Midtown, a protest temporarily blocked traffic on the West Side Highway.
"This is not the first person that's been killed," said 26-year-old Carlene Pinto, who runs social justice initiatives at Riverside Church. "I'm sure this won't be the last."