New Yorkers Stand in Solidarity With Hong Kong Protesters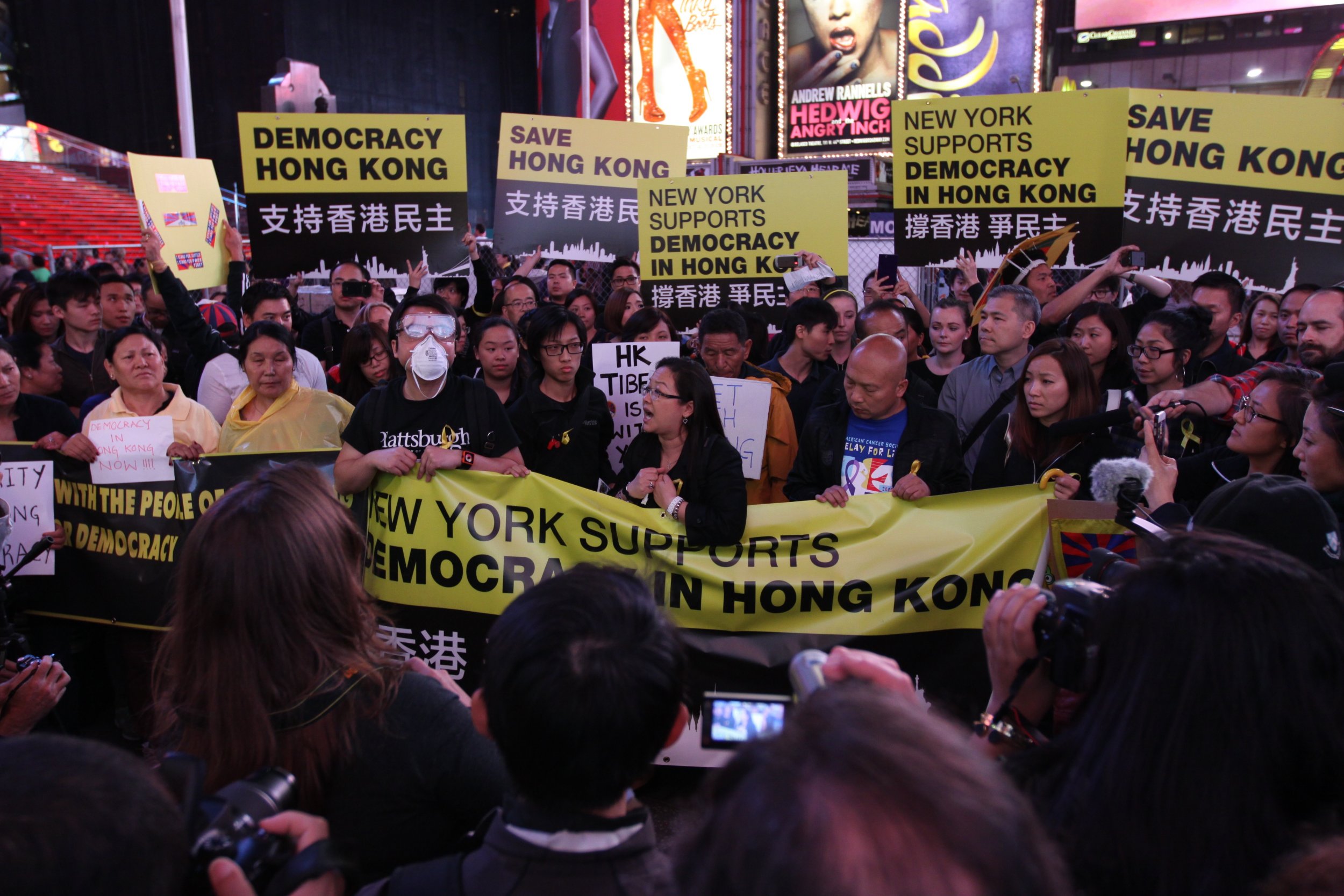 As protesters in Hong Kong continue to campaign for universal suffrage from China, New Yorkers are gathering to show their support.
"Democracy is a right too many people are denied," said Athena Cheung, one of the speakers at a rally in Times Square Wednesday aimed to promote the goals of the Hong Kong protesters hoping for true democracy and universal suffrage. "The struggle for democracy has always been difficult, but it has also been worth it."
The event is one of several being held in cities around the world, part of a movement called 'United for Democracy: Global Solidarity with Hong Kong'.
"Being a Tibetan, we understand what it feels like to be oppressed and not to have a voice," said Tenying Yangsel, who was born in Tibet but has been in New York for 11 years and works at the Bellevue/NYU Program for Survivors of Torture. "I believe in what they're doing." Yangsel was one of several Tibetans who came to lend their voices, including a contingent from Students for a Free Tibet.
Wednesday's rally in Times Square was the third event in New York City organized by Cheung's mother, Anna Yeung-Cheung, an associate professor of biology at Manhattanville College who was born and raised in Hong Kong and has campaigned for democracy in China for more than 20 years.
The first, on September 27, also took place in Times Square and drew roughly 200 people, Yeung-Cheung estimates. Protesters sang and chanted before marching toward the Chinese Consulate on 12th Avenue.
The second was a rally in Chinatown that Yeung-Cheung coordinated within hours of waking up Sunday to news that tear gas had been used against protesters.
"Everybody [in Hong Kong] is going on the street, everybody is trying," Yeung-Cheung, told Newsweek. To echo the efforts outside of Hong Kong, supporters in more than 60 cities planned solidarity demonstrations on Wednesday in conjunction with the People's Republic of China National Day, according to United for Democracy: Global Solidarity with Hong Kong.
"We want to send a message to support them to hang in there and they are not alone," said Yeung-Cheung, who moved to Taiwan for college and later to the U.S. to pursue her masters and PhD at the University of Georgia.
There are more than 350,000 immigrants from Hong Kong, mainland China and Taiwan in New York City, according to a 2013 census by the Department of City Planning, comprising the second largest foreign-born population group in the city after Dominicans.
What began as a few dozen people ballooned into a large crowd when the rally began. Yellow ribbons dotted their shirts, a symbol in the campaign for universal suffrage. Speeches by Yeung-Cheung, Cheung, and Victor Hui, a senior at Cooper Union and originally from Hong Kong, alternated with singing, chanting and a call and response of "Hong Kong! - Democracy!" in English and Cantonese.
"All of us are cheering them on and hoping they'll be victorious," said Nick Gulotta, a prospective law student who has been watching the events in Hong Kong unfold online and on social media.
Toward the end of the brief rally, which lasted about an hour, Yeung-Cheung called on the crowd to open their umbrellas. Protesters in Hong Kong have used umbrellas to shield themselves from both tear gas and rain, and they have become a symbol of the moment, dubbed the 'Umbrella Revolution'. Under a multicolored canopy composed of hundreds of umbrellas, the crowd sang lyrics Do You Hear the People Sing? from Les Miserables.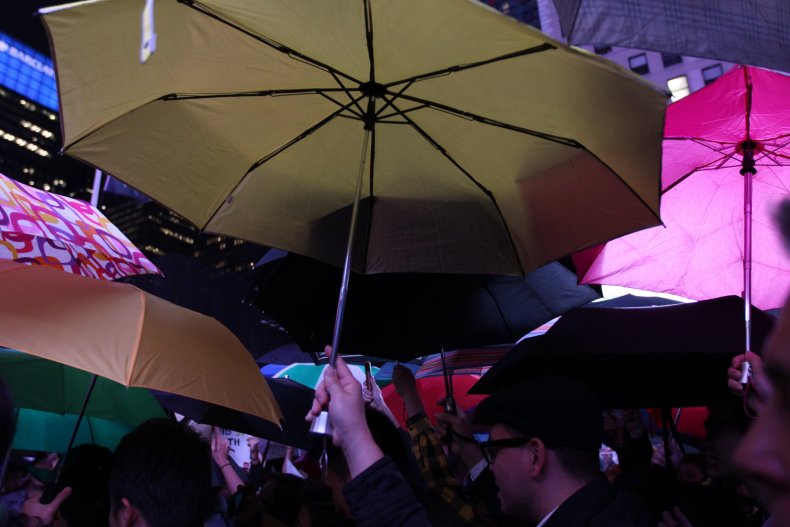 "I think the solidarity is beautiful, people from all over," Gulotta said. "It sends a message to the Chinese government that the world is watching."
Central Park hosted another display of solidarity by New Yorkers, also on Wednesday night. Emma Chan, a freshman architecture major at Pratt Institute who recently moved from Hong Kong to begin her studies, planned a candlelight vigil in the Sheep's Meadow section of the park.
"One morning I woke up and I saw these photos of my home and it didn't look like anything I could remember," Chan tells Newsweek. "With all the tear gas and police, it honestly looked like some sort of war was happening."
The vigil is meant to harken back to a similar event observed in Hong Kong every June 4 in remembrance of the massacre at Tiananmen Square in 1989, Chan says. She intended Wednesday's gathering as a chance for expats to come together and show support for the protesters.
Both Cheung and Chan want to see true democracy in their home city, and true universal suffrage. "We really want the Hong Kong government and the Chinese government to hear us," says Cheung. "That's why we raise our voice as loud as we can."