New York's Attempt to Curb Gun Violence Includes New State Agency, Consultation With Biden
New York officials are taking numerous measures to curb rising gun violence through a new state agency and meeting with President Joe Biden next week to discuss gun crime.
According to the Associated Press, Gov. Kathy Hochul appointed a new head to lead the Interstate Task Force on Illegal Guns on Wednesday.
"We have a moral obligation to do everything we can to fight the scourge of illegal guns on our streets," Gov. Hochul said in a statement. "Too many lives have been lost because of illegal firearms that should never have been on our streets."
Gov. Hochul announced Calliana Thomas, who previously worked at Harlem Children's Zone and on gun prevention programs for the city's Department of Health and Mental Hygiene, will direct the state Office of Gun Violence Prevention reported by the AP.
According to WTEN, Hochul first announced the new agency during her 2022 State of the State address. It is the latest joint effort with state and city leaders to address public safety.
"As we enter 2022, we are seeing a dramatic increase in the number of guns finding their ways through our borders and into the hands of criminals," Hochul said. "And we are seeing a concentration in places like the Bronx, Upper Manhattan, but also in other cities."
According to the AP, President Biden has plans to visit the city and meet with New York City Mayor Eric Adams next week to discuss a comprehensive plan to combat gun violence.
This meeting follows the fatal shooting of two New York City police officers, Jason Rivera and Wilbert Mora.
White House press secretary Jen Psaki said President Biden spoke on the phone with Adams earlier this week to offer his condolences over the shooting.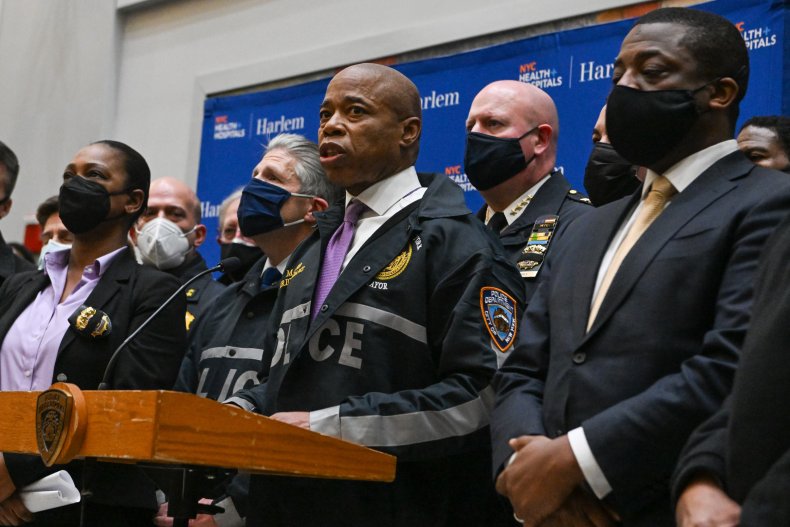 Adams said he was looking forward to sitting down with the president to discuss working together to help reduce gun violence in the city.
Lieutenant Governor Brian Benjamin added stopping the flow of guns into the state through the "Iron Pipeline" will require coordination with state agencies, community groups and the federal government.
According to the AP, the new state agency will examine what leads people to gun violence and its effects.
Additionally, Hochul proposed more funding for gun crime tracing, bringing in more social media analysts, according to the AP.
"This way we can find out early on what trends are out there," Hochul said. "What are people talking about? What's the chatter? And perhaps identify individuals who are on the cusp of purchasing guns or trafficking in guns, or even committing crimes."
According to New York State Division of Criminal Justice Services Commissioner Rossana Rosado, the state will see 800 more homicides in 2022, marking the second year in a row with more than 800 homicides.