New York's First Ebola Patient Released From Hospital, Talks to Press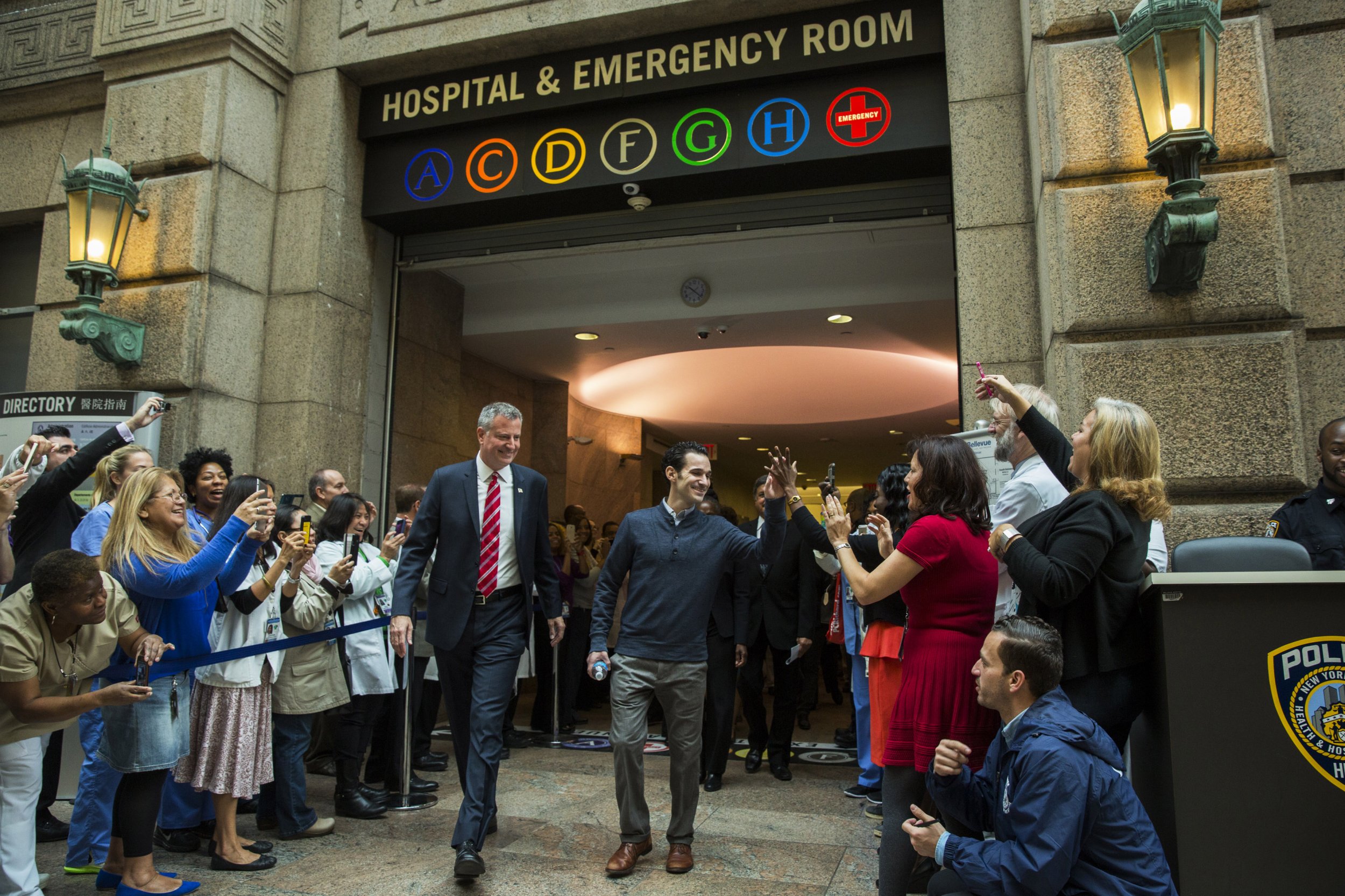 Dr. Craig Spencer, the first and only person in New York to test positive for the Ebola virus so far, was released from Bellevue Hospital Center in Manhattan on Tuesday after 19 days of treatment in isolation.
In a press conference following his release, New York City Mayor Bill de Blasio and health officials welcomed Spencer back to his life in New York. "It is a good feeling to hug a hero," the mayor said.
Spencer, 33, was taken to the hospital on October 23 after reporting he had a fever. He had recently returned from Guinea, where he was working with Doctors Without Borders to help with the response to the Ebola outbreak in the region.
Spencer's diagnosis sparked some panic and concern among New Yorkers after news that he had ridden the subway, eaten out and gone bowling in the days before he reported his symptoms and was taken to hospital. But de Blasio defended the doctor's actions. "Dr. Spencer did everything right. To the letter," the mayor said.
News of Spencer's diagnosis also led to a debate over the appropriate quarantine protocols for health care workers returning to the U.S. after treating Ebola patients in West Africa, with some criticizing the decision by a number of states to impose mandatory quarantines.
De Blasio said Spencer's bravery and heroism was matched only by the health care workers in New York who took care of him around the clock, and even brought him his banjo when he started to feel better.
De Blasio also described the discrimination faced by the health care workers who took care of Spencer, as well as the New Yorkers from the West African nations most impacted by Ebola the outbreak. "You never discriminate against someone who is helping others," de Blasio said, adding that Americans shouldn't discriminate against anyone based on where that person is from.
Spencer told the crowd he was an example of how well early detection and treatment works. He spoke of his time in Guinea, the heartbreak of watching children die who were too weak to fight the virus, and the immense joy he felt when one of his patients was cured. He also said that some of his cured patients called him upon hearing news of his diagnosis to ask if there was any way they could contribute to his care.
Spencer asked for people to guard against health care worker discrimination and to turn their attention back to West Africa, where, he noted, the real fight against Ebola is occurring.