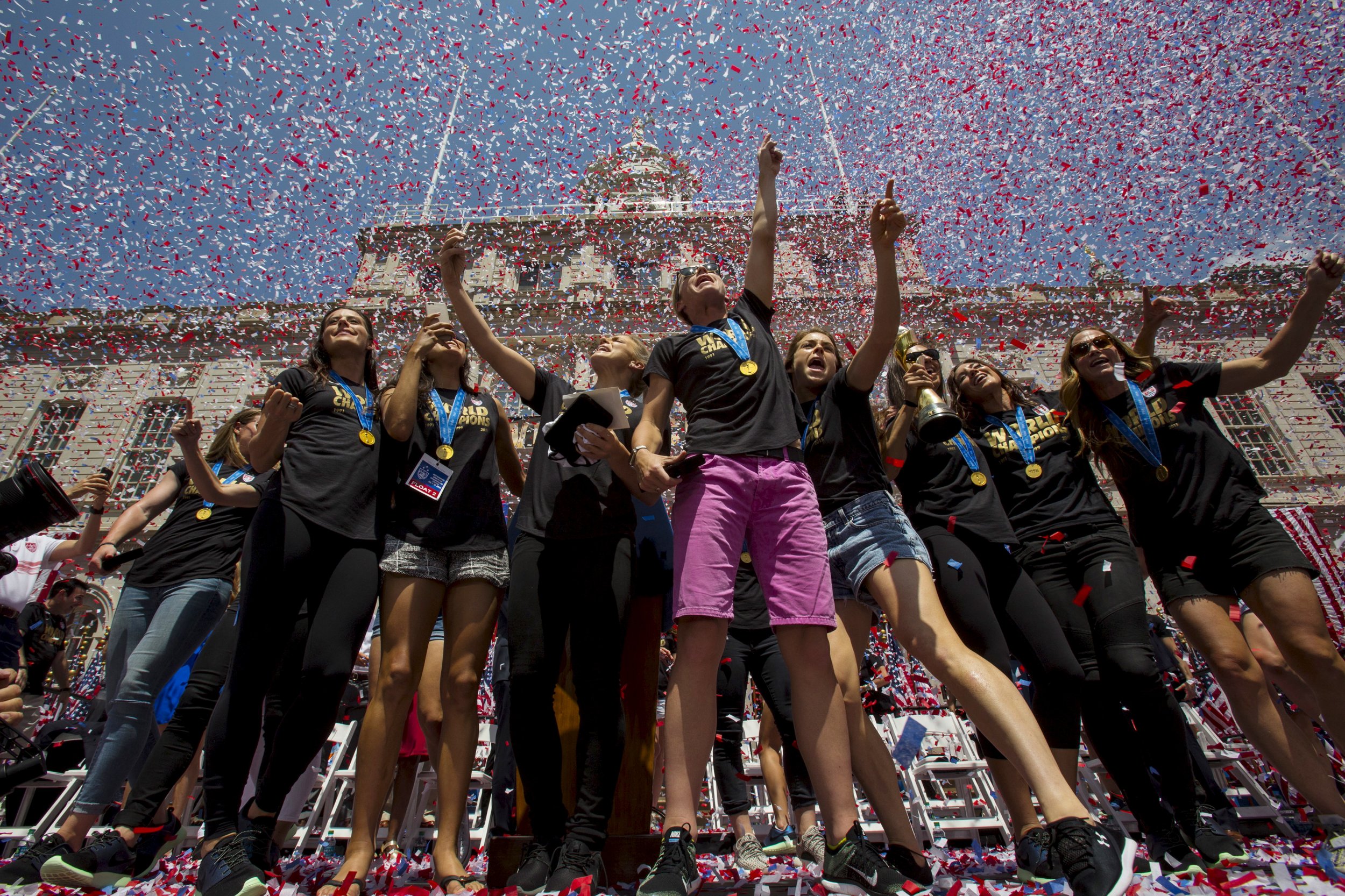 New York City's first ticker-tape parade was held in 1886. Since then, the stretch of Broadway between downtown Manhattan's Battery and City Hall, known as the Canyon of Heroes, has hosted 205 jubilant parades for prominent people, including a pope, members of royal families, presidents, soldiers, kings, sea captains and, most recently, the 2012 Super Bowl XLVI champion New York Giants, according to the Alliance for Downtown New York.
On Friday morning, the strip hosted its first-ever parade for a women's sports team, to celebrate the U.S. women's soccer team's recent 5-2 victory over Japan in the FIFA Women's World Cup finals. The game was the most watched soccer game by a U.S. television audience.
The parade, assembled within a week, was first proposed in an apparently offhand suggestion by Howard Wolfson, a former deputy to Mayor Bill de Blasio, The New York Times reported.
A letter written by Manhattan Borough President Gale Brewer further campaigned for a ticker-tape parade for the team, telling the mayor that this was an opportunity for "New York to recognize that heroes and role models come in all genders." Only a handful of female athletes had been honored with a parade until Friday, including Althea Gibson in 1957 for winning the Wimbledon's women's championship and women's Olympic figure skating champion Carol Heiss Jenkins in 1960. Heiss Jenkins said she was wholeheartedly supportive of the mayor's decision to commemorate the soccer team's third World Cup victory, telling The Wall Street Journal that "they deserve it."
The short timespan for preparation was hardly a concern for the soccer jersey-clad and American flag-waving crowds that packed the cordoned-off sidewalks. Beginning at 11 a.m. Friday, the parade floats made their way through the Canyon of Heroes, while paper confetti made from shredded legal documents and investment forms rained down on the cheering (and selfie-taking) throngs.
At the post-parade ceremony at City Hall, the 23 members of the team were each presented with a key to the city by the mayor, who said it was "about time" for an all-female sports team to receive a parade for its achievements.
"Young women who watched that game will grow up to tell their daughters and tell their sons," the mayor concluded.