New York's Marijuana Legalization Could Result in Sealing More Than 107,000 Past Convictions
New York on Wednesday became the 15th state to legalize marijuana for recreational adult use, opening the door for the sealing of more than 100,000 past cannabis-related convictions.
Under the new law, anyone previously convicted of possessing an amount of marijuana that is now legal automatically will be subject to expungement and re-sentencing.
According to data provided to Newsweek by the State Division of Criminal Justice Services, 107,639 top-charge marijuana convictions will qualify for sealing under the new law. A "top-charge" is the most serious that an individual faced at the time they were arrested.
The charges that will now qualify for sealing include criminal possession of marijuana in the third and fourth degree, which could result in the sealing of 28,087 convictions and 4,557 convictions, respectively.
Those convicted of the criminal sale of marijuana in the fourth and fifth degree will also also see their records sealed. The state agency estimated that more than 74,000 convictions could fall under these two categories.
The new law follows in the footsteps of a 2019 measure that decriminalized possession of small amounts of marijuana, which resulted in 202,189 top-charge convictions being sealed.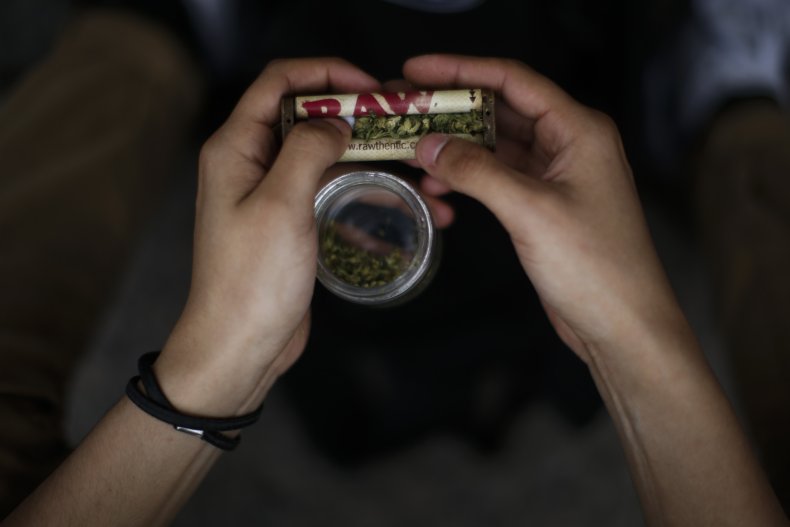 When a criminal record is sealed, all material related to the conviction, such as fingerprints, mugshots and DNA samples, are destroyed. A file regarding the conviction may still exist but is hidden from public view and can only be seen under extremely limited circumstances. The goal of sealing a criminal record is to eliminate convictions that pose a bar to people obtaining employment, housing or professional licenses.
Governor Andrew Cuomo signed the Marijuana Regulation and Taxation Act early Wednesday morning. The Democrat gave it his stamp of approval roughly 12 hours after the bill was passed by the state legislature.
"This is a historic day in New York—one that rights the wrongs of the past by putting an end to harsh prison sentences, embraces an industry that will grow the Empire State's economy, and prioritizes marginalized communities so those that have suffered the most will be the first to reap the benefits," Cuomo said in a statement.
New Yorkers age 21 and older can now legally possess three ounces of cannabis for recreational purposes or 24 grams of concentrated forms of the drug. Dispensaries are not expected to open in the state until 2022.
According to the governor's office, the new marijuana industry is expected to create between 30,000 and 60,000 jobs and generate $350 million in annual tax revenue for the state. Plus, 40 percent of tax revenue from cannabis will be directed to minority communities that had disproportionate numbers of marijuana arrests.
Blacks and Latinos made up 94 percent of marijuana-related arrests by the New York Police Department in 2020, despite a New York City Health Department survey finding that 24 percent of white residents reported using marijuana compared to 14 percent of Black residents and 12 percent of Latino residents.