New Zealand Discharges Last Coronavirus Hospital Patient After Seeing Zero New Cases for 5 Days
A New Zealand medical facility discharged its last patient hospitalized with coronavirus on Wednesday as the island nation marked its fifth consecutive day without any new cases reported.
"I think this is the first time, at least probably in a couple of months, that we haven't had somebody in hospital, so that's another good position to be in," said Dr. Ashley Bloomfield, New Zealand's Director-General of Health, during a recent press conference. "Currently there is nobody in hospital with COVID-19 following the discharge of a person from Middlemore Hospital."
According to the country's health ministry, the total number of confirmed cases stands at 1,154 and 21 deaths. There are currently 21 active cases in the country.
Throughout the pandemic, New Zealand has been able to stop the spread of the novel coronavirus in swift fashion. Since the start, New Zealand Prime Minister Jacinda Ardern imposed strict lockdown measures, including border control, aggressive testing, contact tracing and quarantine procedures.
"Decisive action, going hard and going early, helped to stamp out the worst of virus," Ardern in a statement in April.
Ardern's decision to impose different restrictions early garnered applause from a number of prominent health figures, including Dr. Michael Ryan, Executive Director of the World Health Organization's Emergencies Programme.
"I think of countries like New Zealand who have really done the lot and they've gone from public health measures to a very graded response to very systematic case finding and contact tracing to a high rate of testing," Ryan said during a previous news briefing. "When all of those factors have been put together, the disease tends to be more controllable."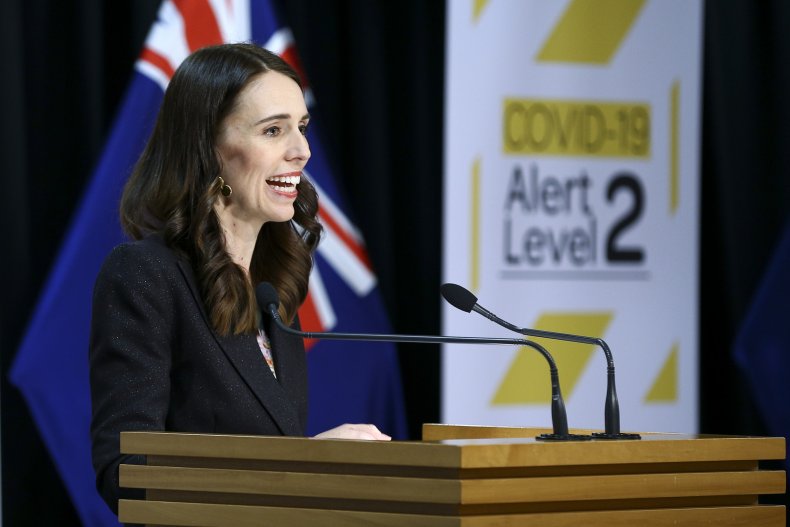 As the spread of the virus has slowed in the country, Ardern has eased some coronavirus restrictions. According to the health ministry, the country moved to Alert Level 2 on Wednesday, allowing a number of businesses to reopen immediately and permitting social gatherings of up to 100 people beginning at noon on Friday.
While some believe that the strict restrictions helped mitigate the spread of the virus in New Zealand, Deputy Prime Minister Winston Peters recently suggested that the country has been under lockdown for "far too long."
"We have been in compulsory lockdown for far too long," Peters told the Newstalk ZB radio station. "People know they want to be out there working. Everybody who has put their heart into the future, the country's future, and their family's future realize there is only one way out of this -- to think smart and work harder."
During the press conference on Wednesday, Bloomfield said he could not speak on Peter's comments but added, "What I can say is that we are working very hard on what Level 1 will look like, and also separately working very hard with a whole range of players."
Newsweek reached out to New Zealand's Health Ministry for comment but did not receive a response in time for publication.