New Zealand PM Says She Told Donald Trump to Show 'Sympathy and Love for All Muslim Communities'
Hours after an attack on two mosques in Christchurch that killed 49 people, New Zealand Prime Minister Jacinta Ardern said she told President Donald Trump during a phone conversation that the best way to support the country would be to show "sympathy and love for all Muslim communities."
Trump, said Arden, "acknowledged that and agreed" to her suggestion after asking what the United States could do to help in the aftermath of the tragedy. Just minutes before Ardern gave her latest remarks, Trump spoke to reporters in the Oval Office and brushed off suggestions that white nationalism was a growing threat.
"I don't really," he said. "I think it's a small group of people that have very, very serious problem." When asked whether she agreed with Trump's perspective, Ardern replied: "No."
Trump also said he had not seen a manifesto apparently written and posted online by one of the attackers in which the president was referenced. The manifesto, which was full of far-right rhetoric and praised white supremacist mass murderer Anders Breivik, describes Trump as "a symbol of renewed white identity and common purpose."
Ardern said she had not discussed the manifesto with Trump.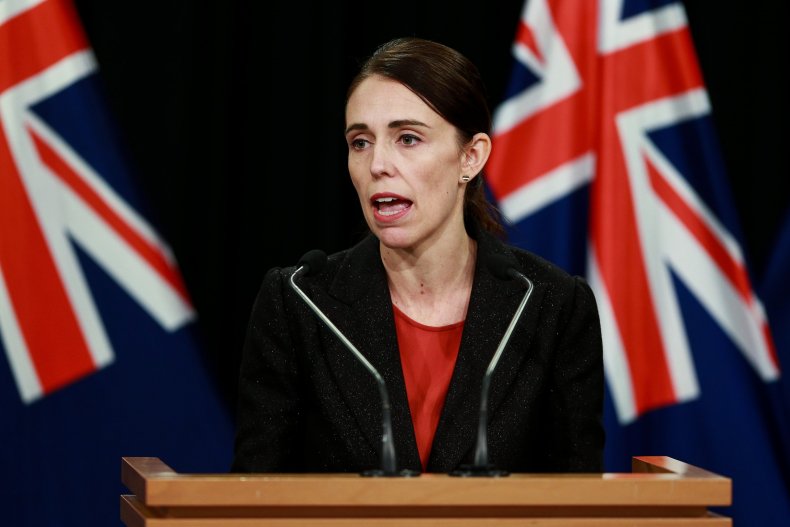 Earlier in the day, Trump took to Twitter to give his own version of the conversation.
"Just spoke with Jacinda Ardern, the Prime Minister of New Zealand, regarding the horrific events that have taken place over the past 24 hours," he wrote. "I informed the Prime Minister that we stand in solidarity with New Zealand—and that any assistance the U.S.A. can give, we stand by ready to help. We love you New Zealand!"
Speaking later in the day in the Oval Office, Trump again recounted his conversation with Ardern, but did not reference her message about the Muslim community.
"Earlier today, I spoke with Prime Minister Jacinda Ardern to express the sorrow of our entire nation following the monstrous terror acts at two mosques," he said. "These sacred places of worship were turned into scenes of evil killing. We've all been seeing what went out. It's a horrible, horrible thing.
"I told the prime minister that the United States is with them all the way, 100 percent—whatever they need. We will be there. New Zealand has been a great friend and partner for many years. Our relationship has never been better and what they're going through is absolutely terrible. Our hearts are with them and whatever we can do."
During his campaign for president in 2016, Trump called for a total ban on Muslims entering the United States, citing them as a threat to national security.