New Zealand Deputy Leader Shuts Down American COVID Denier in Viral Video
The deputy prime minister of New Zealand, Winston Peters, shut down an American coronavirus denier at an election event, telling him: "Sorry sunshine, wrong place."
Peters was speaking at a campaign event at Tauranga, on Wednesday, when a man with a clear American accent tried to question the existence of the coronavirus.
The man stood up and said: "Where is your evidence that there is a virus that causes the disease?" He was then interrupted by the deputy PM in an exchange that has gained attention online.
Peters told the man to sit down and then said: "We've got someone who obviously got an education in America—220,000 people have died in the United States, there are eight million cases to date, we've got 79,000 cases [per day] in India, and here is someone who gets up and says 'the Earth is flat.'"
He then told the American man: "Sorry sunshine, wrong place."
Footage recorded before the viral moment shows the U.S. man claiming to have multiple degrees in science before mentioning the Peters' New Zealand First party's vote for the COVID-19 Public Health Response Act.
But Peters interrupted and told him: "Sir, if you're that bright with all those degrees, you'll know what a question is. Start asking it."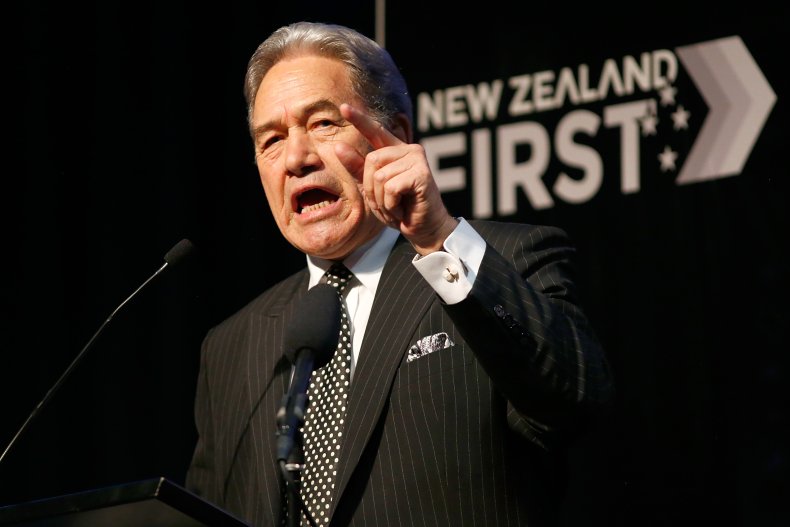 Peters also told him he could ask only one question and told him not to think that he was superior to the rest of the crowd. He added the man was not entitled to "ask three questions and make a speech first."
When pushed to ask his question, the man then questions the evidence of the coronavirus, leading to the exchange seen in the above clip.
Peters then moved on to a question from somebody else in the crowd. When the American man tried to interrupt, Peters told him that they have manners at their meetings.
According to Johns Hopkins University, more than 215,000 people in the U.S. have died of COVID-19 while there have been a total of 7,859,417 confirmed cases of the coronavirus in the U.S. at the time of writing.
India has the second-highest number of cases in the world, with more than 7,239,000 cases at the time of writing. From September 1, India has recorded seven-day averages ranging from 68,000 to 93,000 cases.
New Zealand, on the other hand, has had one of the lowest rates of coronavirus in the world. The county has recorded a total of 1,817 confirmed cases and 25 deaths, out of a population of around 5 million, according to Johns Hopkins University.
Peters is the leader of New Zealand First, the junior partner of the country's governing coalition, which is led by Prime Minister Jacinda Ardern of the Labour party. New Zealanders will be voting in a national election on October 17.