New Zealand Man Found Clinging to Pool Noodle After Homemade Boat Sinks
Two men who had attempted to row a homemade dinghy across New Zealand's Wellington Harbor found themselves in trouble when their craft proved to be insufficiently shipshape.
While one managed to swim to shore, the other had to be rescued by police. Officers with the department's maritime unit eventually found him clinging to a pool noodle in a hypothermic state, Senior Constable Philip Elder said.
The men, who Newshub identified as roommates Hamish Mcilraith and "Jimmy," are in their 20s, Elder said. He credited their relative youth with their survival, according to stuff.co.nz.
On the morning of April 26, McIlraith and Jimmy set off from Mahanga Bay. They couldn't afford a second life preserver at the Warehouse [a local department store], Mcilraith told Newshub of his decision to purchase the lilac-colored noodle.
"That's the pool noodle and there's the life jacket," he said. "This was $65 dollars at the Warehouse [and this was] $4."
It was a decision that would save his life.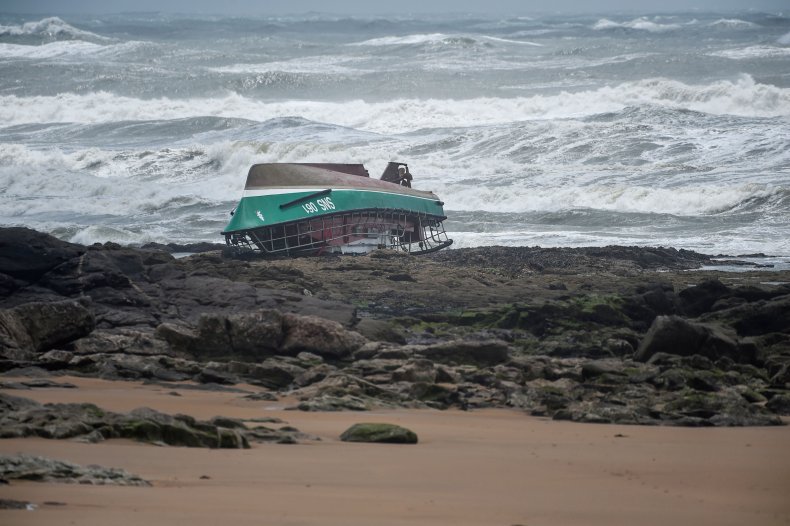 In their eagerness to test the dinghy's seaworthiness, Mcilraith and Jimmy had apparently forgotten to check the weather forecast, according to stuff.co.nz. Shortly after they began their voyage, the wind picked up to 25 knots and the waves rose to three feet in height.
Ill-prepared for such poor conditions, the dinghy, which Elder described as "fairly small," eventually became swamped and sank. With few other options, Jimmy, who was wearing the life preserver, started swimming, leaving Mcilraith clinging to the pool noodle.
Once Jimmy made it to land, he alerted the police to Mcilraith's critical situation. By the time officers located Mcilraith around 12:40 p.m., he had been submerged in the freezing water for more than an hour. He was treated for mild hypothermia back on land.
"I could tell he was cold because as soon as we got him up there, he was shivering violently," Senior Constable Roscoe Lane said, according to Newshub. "To the point you know a fatality was probably going to happen in the next 15, 20 minutes."
Both Elder and Lane said that the incident served as a reminder to have flotation and communication devices on hand at all times. Such safety measures are often required by law. While the pool noodle worked in a pinch, it's "not ideal," Elder said.
Mcilraith and Jimmy didn't even have "a cell phone, so were unable to signal their distress to anyone," he added.
Mcilraith returned to the scene of his near-drowning the next day to search for the dinghy, according to Newshub.