McDonald's and KFC Run Out of Food in New Zealand As Customers Rush to Stores After Lockdown Lifted
Branches of McDonald's and KFC in New Zealand faced overwhelming demand when people raced to get fast food after the country started its gradual exit from the coronavirus lockdown.
The move from Alert Level 4 to Alert Level 3 on Tuesday allowed Kiwis to travel to work, spend more time outside and order takeaway food for the first time in over a month.
McDonald's was straining to keep up with demand on the first day of eased restrictions, selling more than 300,000 burgers—145,000 of which were Big Macs. People in their cars were prepared to wait for hours to get to drive-thrus.
Outlets throughout the country faced shortages of key ingredients and customers wanting burgers were asked if they could make do without lettuce.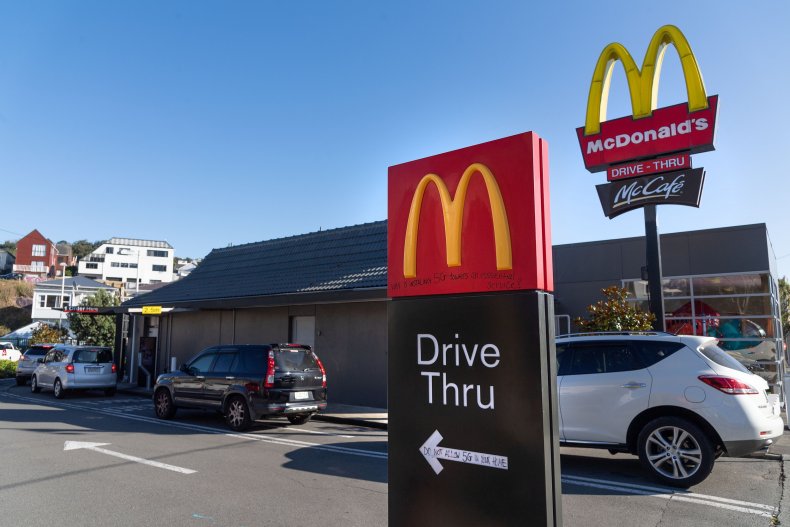 In the North Island city of Rotorua, three stores had to temporarily close after stock ran out. In a statement on Facebook, the chain said that suppliers and delivery trucks "are working hard to restock restaurants. You can still order your favorites, but for those stores that have run out they will be made without lettuce."
Newsweek has contacted McDonald's New Zealand for comment.
KFC faced similar problems, with two stores in the South Island city of Invercargill running out of chicken due to "unprecedented demand."
The reopening of the country followed swift action against the coronavirus taken by the New Zealand government, led by Prime Minister Jacinda Arden, which has been praised internationally.
With only a handful of cases in mid-March, Ardern ordered anyone entering the country to self-isolate. Six days later, she closed the country to foreign nationals.
On March 23, non-essential businesses and schools were shut. The highest level of restrictions came two days later, forcing people to stay at home except for essential activities. This was coupled with a roll-out of testing across the country.
As of Thursday, there were 1,476 cases and 19 deaths in the country, according to Johns Hopkins University. The same day, only three new cases were reported, the 12th day in a row the increase has remained in single digits, Radio New Zealand reported.
The country's director-general of health, Dr. Ashley Bloomfield—considered to be the public face of the Kiwi government's response—said 84 percent of cases had now recovered.
He did not think that the virus had been eradicated in the South Pacific country of five million people, although he did say: "We have achieved what we wanted to achieve in our ongoing goal of elimination."
The infographic below, provided by Statista, shows the spread of cases of COVID-19 throughout the world, as of April 28.