New Zealand, Model of Squashing COVID, Revolts Against Pandemic Rules
New Zealand has managed to keep COVID-19 cases and deaths low during the pandemic with stringent border rules, quarantine policies and strict lockdowns.
While the government measures allowed New Zealand to keep the virus under control and spared the country from the worst of the pandemic, many citizens have grown weary with the restrictions imposed by Prime Minister Jacinda Ardern's government, prompting thousands to protest in the nation's capital, clashing with police.
By Thursday evening, New Zealand police arrested more than 120 people who were camped out on the grounds of Parliament in Wellington, the nation's capital, to protest vaccine and mask mandates. The protest started with more than 1,000 people in cars and trucks, a movement inspired by the large-scale protests in Canada.
Ardern, who was at Parliament to address lawmakers, chose not to meet with protesters and dismissed them as not being representative of the majority of New Zealanders, according to the Associated Press. While Ardern remains the preferred prime minister, her approval rating has taken a hit as the pandemic drags on.
A January poll from 1 News Kantor found her support dropped four points to 35 percent. It's the lowest approval rating she's had since becoming prime minister. Ardern acknowledged that the government has had to make some "really hard calls" but she told 1 News that those tough decisions put New Zealand in the "best possible position" to conquer the pandemic.
"When I reflect on the last six months, it has been a really hard period for New Zealand and we have had to make some really hard decisions, but those are still decisions I absolutely stand by," Ardern said.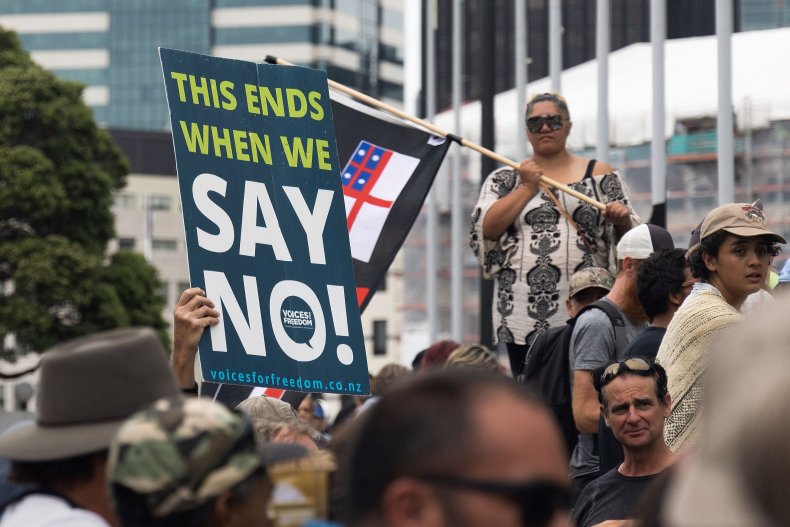 New Zealand has only had 53 COVID deaths, one of the lowest rates of any country in the world, and less than 20,000 cases. Keeping cases and deaths low means some New Zealanders have had to enter into strict quarantine when returning to the country or remain separated from their families.
Ardern is set to start easing travel restrictions to allow fully-vaccinated New Zealand citizens to travel from Australia. The plan will allow fully vaccinated people from Australia or visa waiver countries to visit New Zealand by July. Travelers will still have to self-isolate, but they won't be required to go to a state-run facility to quarantine.
The block on travel to New Zealand, a popular tourist destination, has hurt businesses and the travel industry and some believe that will continue despite the reopening of the border. New Zealand Airports Association Chief Executive Kevin Ward told Reuters that people won't fly to New Zealand if they have to spend a week in isolation. Lynda Keene, CEO of Tourism Export Council of New Zealand, told Reuters that the self-isolation requirement is akin to a "complete handbrake" and won't help reconnect New Zealand to the rest of the world.
Even with the border reopening, vaccine mandates will remain in place, meaning teachers, doctors, nurses, police and military personnel must be vaccinated to keep their jobs. Protesters have vowed to camp outside Parliament until restrictions are lifted and some held cards calling for "freedom," according to Reuters.
"Kiwis are not dumb. We are losing our jobs and our lives due to these mandates and restrictions," a protester who identified himself only as Dave told Reuters.