New Zealand Terror Victim's Families Wait to Have Bodies of Loved Ones Returned So Grieving Can Begin
Families mourning the loss of loved ones in the New Zealand attack are hoping the bodies will soon be returned so the grieving process can begin.
On March 15, a gunman killed at least 50 people in attacks on the Al Noor and Linwood mosques in the city of Christchurch. The attacks were launched as worshippers gathered for jumah, their weekly congregational prayers.
New Zealand Prime Minister Jacinda Ardern, in a media briefing over the weekend, said that some bodies would be returned to their families on Sunday evening, and all should be returned by Wednesday, Reuters reported.
Mike Bush, New Zealand police commissioner, said pathologists and coroners were collaborating with officials to ensure that the bodies were released as soon as possible, the Associated Press reported.
Newsweek subscription offers >
New Zealand chief coroner Deborah Marshall told a press conference on Sunday that officials had started formally identiying the victims.
"The process involves a CT scan, fingerprints, property; and clothing is photographed, dental records are examined, and then postmortem examination," explained Marshall, CNN reported.
"We started the postmortems this morning. We understand that later on tonight we may be releasing the first body," Marshall said. "There could be nothing worse than giving the wrong body to the wrong family. This is not going to happen here."
Javed Dadabhai arrived in Christchurch from Auckland after his cousin Junaid Mortara, 35, was killed in the attack, he told Al Jazeera. Dadabhai is working with others to see the victims' remains returned to their families. He said the families had been "so patient with regards to how long this process has taken.
Newsweek subscription offers >
"From an Islamic point of view, there was a want to receive the dead immediately and start the grieving process [...] but they realize that this is not like any other incident, especially in New Zealand [...] so it's a stop-start to the families' grieving process."
According to Islamic tradition, a deceased person should be buried within 24 hours of their passing. The rule can be traced back to an era when it was important to protect the living from disease. However, it is acceptable to extend the time frame when the deceased did not pass from natural causes.
Traditionally, the remains are washed three times by a same-gender relative before being wrapped in white cloth. The body is then displayed outdoors so mourners can pay their respects, and is buried as soon as possible.
Aya Al-Umari, whose brother Hussein Al-Umari was killed at the Al Noor Mosque, is among the mourners.
"It's very unsettling not knowing what's going on, if you just let me know—is he still in the mosque? Is he in a fridge? Where is he?" Aya told the Associated Press. "I understand the police need to do their job because it's a crime scene, but you need to communicate with the families."
Farhana Akhter told Al Jazeera she hadn't slept in two days after her aunt, Husna Ahmed, 45, was killed at the mosque. Ahmed was helping other worshippers get out of the mosque and had returned to look for Akhter's uncle when she was shot.
"I can't eat or drink; I need to see my aunt's body as soon as possible[...]so we can have relief," Akhter said.
Ahmed's niece Nusrat Alam, 19, told Al Jazeera: "It's a very big step to see the body. A lot of other people are frustrated like us too."
Following the attack, Australian Brenton Harris Tarrant, 28, has been charged with murder and appeared in court on Saturday morning. Before he launched the attack, he shared online a 74-page extreme right-wing, white nationalist manifesto. The first 17 minutes of the attack were live-streamed on Facebook with what appeared to be a camera fixed to the shooter's head.
Ardern described the attack as "an extraordinary and unprecedented act of violence." She said on Friday, "It has no place in New Zealand. Many of those affected will be members of our migrant communities. New Zealand is their home—they are us."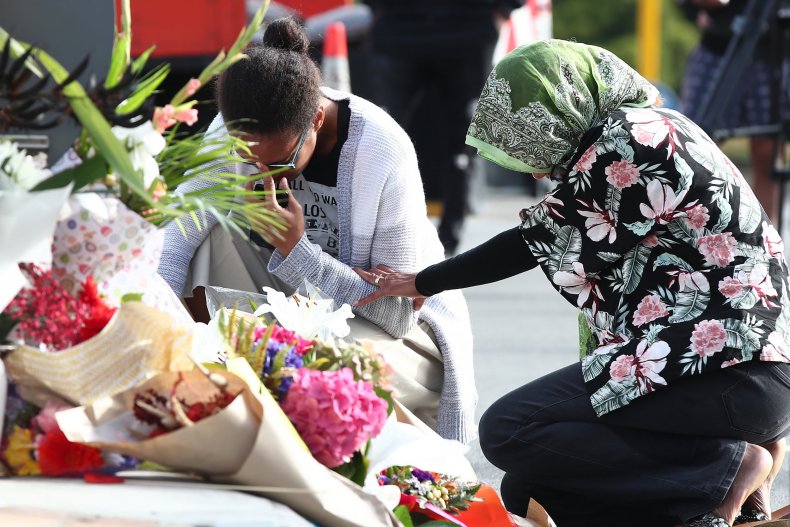 New Zealand Terror Victim's Families Wait to Have Bodies of Loved Ones Returned So Grieving Can Begin | World