Donald Trump Supporters Rebuke Ties Between New Zealand White Supremacist Shooter and US President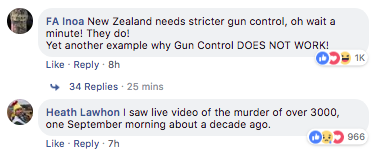 American supporters of President Donald Trump littered social media with posts condemning accusations tying the president's so-called anti-Muslim, anti-immigrant rhetoric to Friday's shooting at two New Zealand mosques.
The president's supporters on Twitter, Facebook and the hugely popular r/thedonald subreddit lashed out against U.S. critics who were quick to place partial blame on Trump following the white supremacist's Friday attack that killed at least 49 people in Christchurch, New Zealand. The Council on American-Islamic Relation (CAIR) issued a scathing statement in the wake of the attack saying Trump's presidency has been "able to normalize Islamophobia" worldwide. Pundits and journalists pointed to the alleged shooter's rambling 74-page manifesto, which cited Trump and American extremism as a motivating factor behind the deadly attack.
Trump supporters defended the president against accusations from Muslim rights groups, Hollywood celebrities and influential journalists, predicting within minutes of New Zealand media reports that the president would ultimately be blamed for the incident nearly 9,000 miles from Washington. Journalist Shaun King, actress Mia Farrow and Democratic Sen. Richard Blumenthal joined a massive chorus of Trump critics placing blame for the attack squarely on Trump's ideology and "hateful rhetoric against Muslims" even as the president and several members of his administration condemned the "horrific" attack.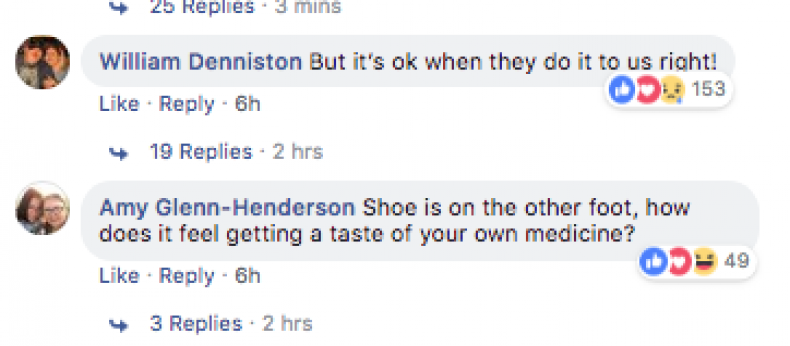 "Twitter is a hateful s***show and too many are happy this happened so they can wrongly and stupidly disparage President Trump and conservatives," reads the top r/thedonald reply disparaging the hundreds of replies to the president's Friday tweet. "Listening to #SenRichardBlumenthal twisting himself and the facts to blame @realDonaldTrump for the deadly #MosqueAttack in New Zealand on the other side of the world. Trump-haters like him have no shame or filter," tweeted Fox News personality Geraldo Rivera.
Many Trump supporters argued the loose connection between the U.S. president and the New Zealand shooting is more of a conspiracy theory than provable logic.
"You would have to do some serious mental gymnastics to blame a US president for a terrorist act on the other side of the planet," reads a top r/thedonald post with hundreds of upvotes.
"If you blame Trump, Candace Owens, or PewDiePie for "inspiring" the evil psychopath, then you have to blame the Beatles for inspiring Charles Manson. (He specifically said their White Album inspired his murders, which he hoped would spark a race war too)," tweeted Mark Dice, a popular conservative media pundit, referencing the alleged shooter's mention of Owens.
Other supporters of Trump took the opportunity to mock New Zealand's gun laws, which are more strict than those in the United States, for "allowing" the shooting to happen -- a frequent critique made after U.S. shootings. However, the alleged shooter was from Australia, which has stricter gun laws than both countries. "New Zealand needs stricter gun control, oh wait a minute! They do! Yet another example why Gun Control DOES NOT WORK!" reads a top Facebook comment with more than 1,000 likes in conservative Mark Levin's page.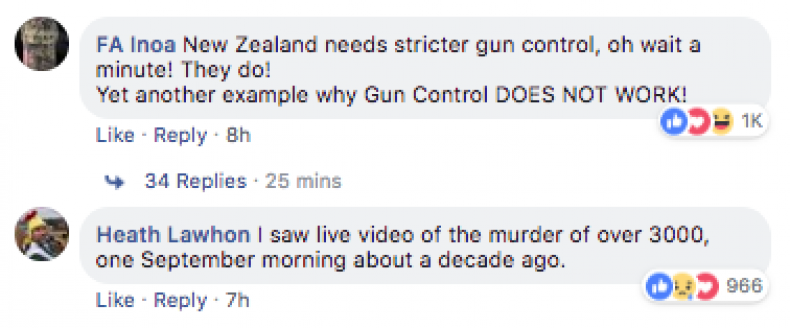 But Trump's critics in the U.S. have doubled down on the president's connection to the deadly mass shooting of Muslims.
"It is no secret Trump campaigned on white supremacist ideology, on division and fear," CAIR Executive Director Nihad Awad said in a public statement Friday. "He campaigned against immigrants, Mexicans, against African-Americans, against women, against Muslims. Muslims have received the lion's share of his attacks. During your presidency and during your election campaign, Islamophobia took a sharp rise and attacks on innocent Muslims, innocent immigrants and mosques have skyrocketed. Your words matter. Your policies matter."
Trump deleted an ominous tweet touting how "tough" his supporters are as news of the shooting began appearing online, drawing additional flak from his critics Friday.
Journalist Shaun King pushed back against Trump supporters attempting to play the role of victim in a tweet Friday: "Don't you tell me I'm politicizing this massacre of Muslims in New Zealand. The massacre was overtly political. The murderer said as much - literally in 65 different ways. And he said he was inspired by Trump & how Trump has brought white people together for a common cause."
Authorities in New Zealand have described the alleged shooter in custody as "an extreme right-wing white supremacist." He was arrested Friday after having fled the scene of the shooting which was broadcast live online.