Video Shows Maori Co-Leader Ejected From New Zealand Parliament After Performing Haka
Rawiri Waititi, the co-leader of New Zealand's Maori Party, was removed from the country's parliament on Wednesday after performing a ceremonial haka dance during a debate about indigenous rights.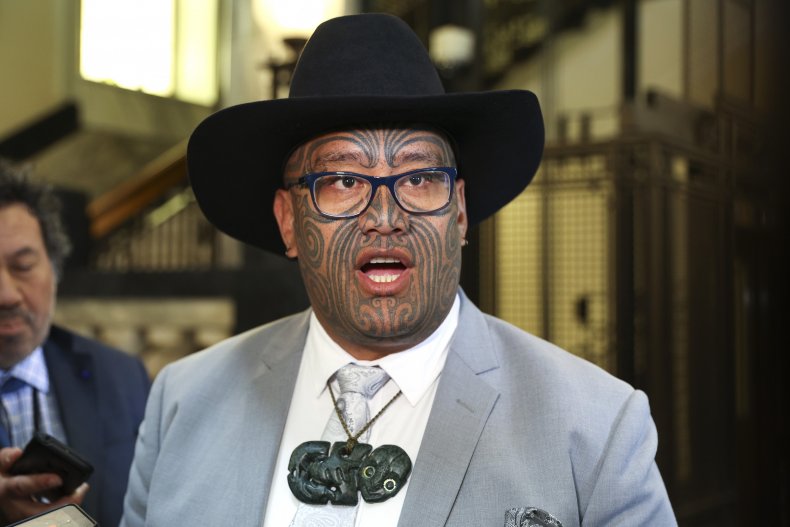 The haka is a ceremonial war dance in Maori culture. Although it is traditionally performed as a part of battle preparations among warriors of the indigenous tribe, the dance has also been popularly co-opted by sports clubs in New Zealand—perhaps most famously by its national rugby team—before matches. The distinctive haka involves foot stamping and rhythmic shouting as a means of intimidating opponents as well as energizing its practitioner.
New Zealand Prime Minister Jacinda Ardern was fielding questions on indigenous sovereignty from Judith Collins, the leader of the right-wing opposition National Party. News outlet RNZ reported that Collins' party opposes the recent creation Maori Health Authority, which Ardern's government formed as a response to inequalities in the country's health care system.
"Over the past two weeks, there has been racist propaganda and rhetoric towards tangata whenua," Waititi said as a response to Collins' questions during his first point of order. Tangata whenua is a Maori term for New Zealand's indigenous population. "That not only is insulting, but diminishes the manner of this House."
Speaker Trevor Mallard then responded that he did not feel Collins was inappropriate during her questioning of Ardern. After Waititi refused to take his seat, Mallard added, "I'm asking the member to make sure that if he has a point of order, it is a fresh and different one."
Those words then set off a brief but heated reaction from Waititi.
"Fresh and different point of order, Mr. Speaker," the Maori Party co-leader said. "When it comes to views of indigenous rights and indigenous peoples, those views must be from indigenous people...they can't be determined by people who are not indigenous."
Soon, Waititi's microphone was turned off and Mallard announced, "The member's mic is off so he will resume his seat."
Waititi then briefly started a haka dance with forceful verbal chants, and he was immediately ordered to leave. As he exited the chambers, Debbie Ngarewa-Packer, the co-leader of the party Maori Party, joined him.
This marks the second time this year that Waititi has been ejected from parliament. He was previously ordered to leave after refusing to wear a necktie, which he argued argued suppressed indigenous culture. As a result, the parliament dropped the tie rule.
The Maori Party was founded in 2004 to represent the indigenous group, which makes up about 15 percent of New Zealand's population. Waititi has served as a member of parliament since 2020.
Newsweek contacted Rawiri Waititi for comment but has not heard back as of press time.