New Zealand Prime Minister Jacinda Ardern Announces Return to Work After Giving Birth: 'I'm Multitasking Like Every Parent'
New Zealand Prime Minister Jacinda Ardern has announced that she plans on returning to office soon, after taking a six-week maternity leave.
In a video posted to Facebook on Sunday, Ardern, 37, details her first weeks of motherhood and the transition back into Parliament, as she rocked her newborn Neve in a nearby cradle.
"It's really heartening to be spending the first week back on deck on issues that really matter to me, but also really matter to this government and to the Labour Party," she said.
"We're all doing really well still, we have absolutely no routine to speak of. I can hear a chorus of parents laughing at the suggestion that you would ever have a routine with a five-week-old baby, but we're doing really well nonetheless," Ardern continued.
Ardern revealed that she usually reads government papers on Sundays, however, that routine has been interrupted by Neve. Instead of keeping work and home separate, she now reads while minding her newborn. "I'm multitasking like every single parent I've ever met, so a big shout-out to all of them," Ardern said.
The prime minister then confirmed that she will be spending her first week back dealing with issues such as mental health, trade relations, the environment and employment matters.
"Ultimately, though, that first week I am going to be focused on getting straight back into it ... we'll be hitting the ground running, as I know everyone will expect us to do," she added.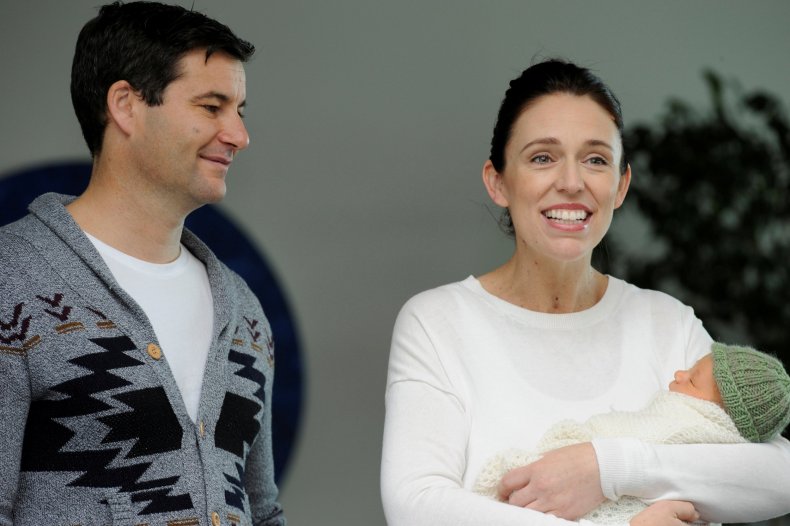 After Neve was born on June 21, Ardern made history as the first elected world leader in over 30 years to give birth while in office, and only the second in history. She started maternity leave on June 17.
Fans of Ardern took to the comments section of the video to express their delight that she will be returning to the beehive.
"Will be good to have you back," Lydia Papadopoulos wrote. "Sure you will be feeling a little apprehensive at leaving your wee girl, but I'm sure she will be in very good hands with her Daddy."
"Welcome back!" Phil Knowles added. "The country has missed you."
Ardern video—titled "A quick hello as we get ready to come back!"—comes just hours after Simon Bridges, the opposition National Party's newly elected leader, posted his own video to Facebook.
In Bridges's clip, he details his upbringing and values. "Mum raised six kids. She taught us how to make a dollar go a long way," he said. "I paid my way through uni with odd jobs: gardening, stacking shelves, waiting tables.
"Graduated with honors. Went to Oxford. That's why I met Natalie. Fell in love with a leftie," Bridges continued. "The left think they have a monopoly on compassion. It's simply not true."