Jacinda Ardern: New Zealand Prime Minister Makes History by Becoming First Woman to Bring Baby Into U.N. Assembly
New Zealand Prime Minister Jacinda Ardern made history—and added a dose of normality to the usually stuffy proceedings at the U.N. General Assembly—by bringing in her baby, Neve.
Just three months old, Neve even got a special pass made up that described her as the country's "first baby," making her the youngest person to ever attend a session at the U.N.
Ardern was at the U.N. to deliver a speech at the Nelson Mandela Peace Summit, and in the front row was little Neve and her father, Clarke Gayford.
Gayford later postedon Twitter an image of Neve's pass and wrote, "I wish I could have captured the startled look on Japanese delegation inside UN yesterday who walked into a meeting room in the middle of a nappy change."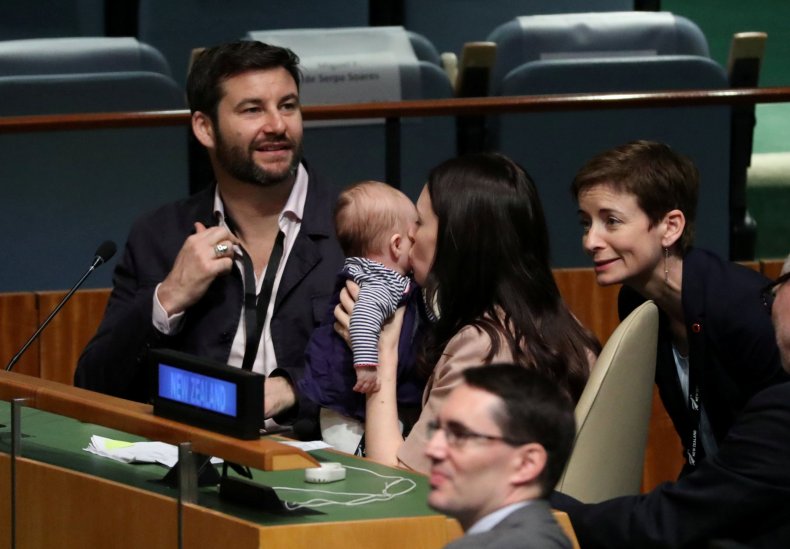 Ardern is part of a younger generation of world leaders who are injecting a breath of fresh air on the global political stage. At 38, she is the youngest prime minister the South Pacific nation has ever had and only the second elected woman.
She is also only the second sitting head of government to give birth while in office, after Pakistan's Benazir Bhutto, and she sparked much media debate in her home country when she took six weeks' maternity leave, handing over her powers to her deputy.
She spoke of her wish to lobby for a better work-life balance for women.
"If I can do one thing, and that is change the way we think about these things, then I will be pleased we have achieved something," she told The Guardian. "I have the ability to take my child to work. There's not many places you can do that. I am not the gold standard for bringing up a child in this current environment because there are things about my circumstances that are not the same."
Ardern said she would cover the cost of bringing her partner to New York because she said he is "primarily traveling to care for Neve," The New Zealand Herald reported.
On Sunday, Ardern spoke at UNICEF's Social Good Summit, where she said she was committed to ending child poverty.