New Zealand on Alert over Supervolcano with Explosive History
A New Zealand supervolcano is being closely watched after it unleashed a magnitude 4.4 earthquake and several aftershocks.
Taupō volcano, a supervolcano situated underneath Lake Taupō, has shown increased earthquake activity for nearly a year now.
Aftershocks rippled out following the most recent earthquake, which shook the region on March 5. The earthquake may also have caused a small tsunami, according to GeoNet. Scientists have kept the Volcano Alert Level at 1, which signals minor volcanic unrest.
Lake Taupō lies within the giant supervolcano caldera on the North Island of New Zealand. The supervolcano has caused some hugely violent and explosive eruptions in the past.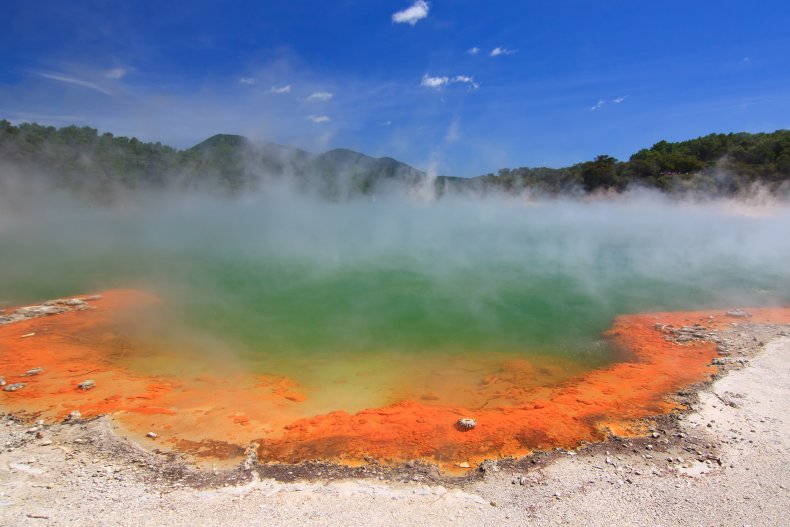 GeoNet duty volcanologist and senior data science specialist Yannik Behr told Newsweek: "A magnitude 4.4 in itself is not that unusual for Taupō. In the past 10 years we had eight earthquakes with a magnitude equal or larger than four. A more important sign of the ongoing unrest is that the number of earthquakes per week we observe beneath the lake is larger than when the volcano is not in unrest."
Taupō has erupted 25 times in the last 12,000 years, most recently in the year 232. This was the biggest and most violent eruption on Earth for the past 5,000 years.
Supervolcanoes are volcanoes that erupt with a magnitude 8 or larger on the Volcano Explosivity Index. These eruptions are incredibly explosive and destructive. Other supervolcanoes include Yellowstone, Long Valley in eastern California and Toba in Indonesia.
Around one year ago, scientists noticed an increase in activity around the New Zealand volcano. Six months after noting the increase in activity, scientists moved the Volcanic Alert level from 0 to 1. This is the first time the alert level has changed for the supervolcano in two decades.
Since then, the alert level has remained at one.
The 4.4 quake was the third largest to occur since May 2022, Hauraki Gulf Weather said in a tweet. Overall, there have been 1,700 earthquakes during this period.
"It is very difficult to say for one earthquake what caused it," Behr said. "There are many active faults beneath Lake Taupō and earthquakes can be caused by the movement of tectonic plates, volcanic fluids, and often a combination of the two.
"That is why we are more focused on the changes in the number and location of earthquakes over time. We also look at other measurements like the movement of land determined from high-resolution GPS to come up with a diagnosis of what may happen within the volcano."
Although there has been heightened activity around the volcano, it is not the first time it has happened. Over the past 150 years, there have been 17 previous episodes where Taupō has shown signs of unrest.
Scientists are not concerned about the increased unrest as Taupō is not showing any signs of eruption. While some of its past eruptions have been violent and destructive, these are rare. Taupō is likely to erupt at some stage over the next few thousand years.
Do you have a tip on a science story that Newsweek should be covering? Do you have a question about the Taupō super volcano? Let us know via science@newsweek.com.
Update 3/8/23 3:08 a.m. ET: This article has been updated to include comment from Yannik Behr.