New Zealanders Band Together to Babysit Stranded Orca Calf Lost From Its Pod
For the better part of three days, New Zealanders have been taking turns babysitting a stranded orca calf as the search for its pod continues.
With the exception of human beings, orcas have the most extensive range of any mammal on earth. Rich with prey such as seals and stingrays, New Zealand waters are home to between 150 and 200 individuals, according to the country's Department of Conservation (DOC). Pods, or families, of orcas frequently enter Wellington Harbor to hunt and explore in the spring and summer, the DOC states. However, it is winter in New Zealand now.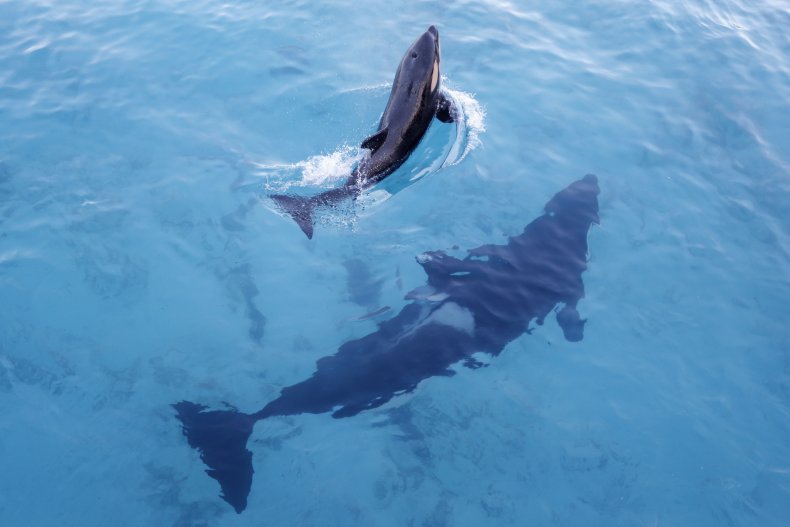 Two teenagers found the calf beached north of Wellington on Sunday afternoon local time. Estimated to be four to six months old, the calf, a male, has been named "Toa," a Māori word that roughly translates to "strong" or brave," according to stuff.co.nz.
While healthy, Toa is still reliant on his mother's milk for sustenance, so his survival is contingent upon the success of the search efforts. The same day he was found, the DOC dispatched boats to survey the waters off Wellington for orcas in the hopes of finding his pod. Several private charities have also chartered planes for the same purpose. Members of the public have reported sightings of a pod that matches eyewitness description of the calf's, but the DOC has not been able to track it down so far.
In the meantime, locals have teamed up to watch over Toa 24 hours a day. Working in shifts and braving chilly weather, they have continually monitored his breathing rate and activity level within the confines of a makeshift pen.
"He's been using all of the space, which is really exciting—last night he was even diving down to the bottom of the sea pen and checking it out," Ingrid Visser, Ph.D., an internationally renowned marine biologist who has been caring for Toa, told RNZ.
Many other locals have been combing the coastline for any sign of Toa's pod, according to the The Guardian. Even citizens as far distant as Whanganui, a city located more than a hundred miles north of Wellington, have been on the lookout, the outlet reported. In addition, the experts involved in caring for Springer, a female calf who was beached near Seattle in 2002, have been consulted, according to stuff.co.nz.
"This started out as a local community thing, and then it soon spread New Zealand-wide, and now literally there's a global rally to help this little guy," Visser told stuff.co.nz.
If the search efforts are not successful, Visser hopes the team will be able to find a pod willing to adopt Toa, she told the Australian Associated Press. Lactating female orcas have been known to take in orphaned calves.