Newborn Baby Gets Coronavirus in Arizona, Mother Tells Parents 'Be Careful'
Angelica Wendell has urged parents to be vigilant, after her 2-month-old baby tested positive for COVID-19 in Arizona.
After visiting baby Eevee, Wendell's sister started developing coronavirus symptoms. When the baby appeared out of sorts, Wendell went to get her infant tested for COVID-19—and was heartbroken to find out she had tested positive.
"I've never had another baby to experience any other illness with, so when you find out it's COVID, it's just heartbreaking," said Wendell to ABC 15 Arizona, "I started panicking because I didn't know what was going to happen".
After the hospital visit, Eevee developed coronavirus symptoms. "The next day she started getting bad congestion and she started getting a viral rash," explained Wendell.
Eevee is now a lot better, but Wendell believes it's important for others to know that infants can contract COVID-19. "Everyone's like kids don't get it, so it's not a big deal, it's just old and sick people," she said. "Just be careful, even if you don't let your baby outside be careful who you let around them because you think even your family is fine, but you may not know exactly what they're doing. It's very sad to watch your child, especially with this disease that no one really knows a whole lot about". Wendall has since been tested for coronavirus and is awaiting her results.
Non-Profit medical center Mayo Clinic says children of all ages can become ill with coronavirus but kids don't become sick as often as adults from the disease. "Most kids who are infected typically don't become as sick as adults and some might not show any symptoms at all," it said in a statement.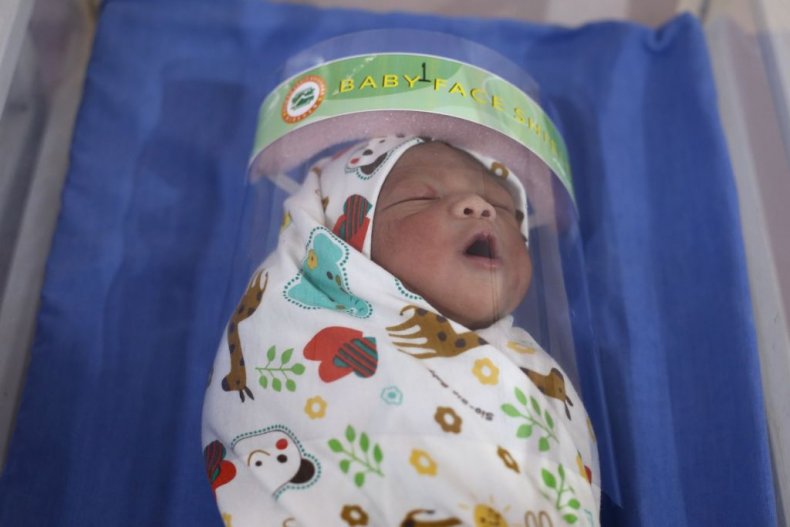 The U.S. Centers for Disease Control and Prevention (CDC) says that in some 150,000 cases of COVID-19 in the U.S. recorded between February 12 and April 2, around 2,500, or 1.7%, were found in children.
It is still believed that people with pre-existing health conditions are worst affected by coronavirus. "COVID-19 impacts the elderly and those with pre-existing health conditions most severely," said Dr. Hans Henri P. Kluge, WHO Regional Director for Europe.
In order to prevent the spread of coronavirus, WHO advises washing your hands frequently with soap or hand sanitizer, socially distancing at least three feet, and
seeking medical care immediately if you have a fever, cough or difficulty breathing. The CDC recommends residents of the U.S. wear face masks to slow the spread of COVID-19.
"Cloth face coverings are one of the most powerful weapons we have to slow and stop the spread of the virus—particularly when used universally within a community setting. All Americans have a responsibility to protect themselves, their families, and their communities," said CDC Director Dr. Robert R. Redfield.