Newborn Dies After COVID-Positive Mom Gives Birth 14 Weeks Early in Emergency Surgery
After being born 14 weeks early, a baby succumbed to complications of being premature just days after being born and testing positive for COVID-19.
Katie Leeming, 22, underwent an emergency caesarean section at the end of October after she had difficulty feeling the baby move. Leeming had been in quarantine after contracting COVID-19 and doctors at the hospital decided to deliver the baby early because of complications from the virus, according to a GoFundMe for the family.
After being born, Ivy-Rose tested positive for COVID-19 and suffered from pulmonary hemorrhage and a brain hemorrhage, Simone Threlfall, a family friend wrote on the GoFundMe. About a week later, the baby's condition deteriorated and ultimately died the next day in her parents' arms.
"They're absolutely in bits at the moment and are being supported by friends and family and the bereavement midwives," Threlfall told LancsLive.
Newsweek reached out to Simone Threlfall for comment but did not receive a response in time for publication.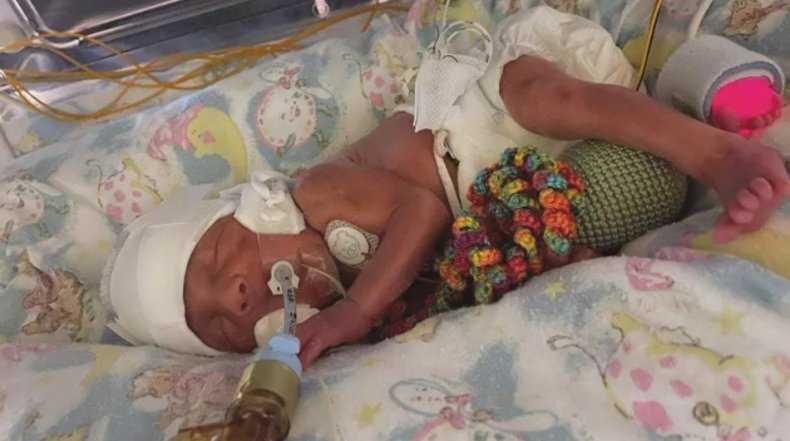 Pregnant women are more likely to get severely ill from COVID-19 than nonpregnant women, according to the Centers for Disease Control and Prevention (CDC). So, the CDC recommends that women who are pregnant or who are looking to get pregnant soon get vaccinated against COVID-19 to help prevent them from contracting the virus before giving birth or limiting their symptoms if they do get sick. It's unclear if Leeming was vaccinated when she contracted COVID-19 or not.
Pregnant women with COVID are also more likely to give birth early than pregnant women who don't have COVID, although it's rare for newborns to test positive with COVID-19. It's unclear if newborns who test positive for COVID-19 shortly after birth contracted the virus before, during or after birth, according to the CDC, and most have had mild or no symptoms.
Basic costs of Ivy-Rose's funeral are covered, but her parents will be financially responsible for her headstone and a horsedrawn hearse, according to the GoFundMe.
"Her family will be massively appreciative of anything that is kindly donated in order to give their daughter a beautiful send off and a gorgeous headstone just like she deserves," Threlfall wrote on the fundraiser. "The most beautiful footprints wasn't here for too long but have left massive imprints of the hearts of loved ones and those close to the family."
Threlfall noted that donations to the GoFundMe don't have to be in large sums, adding that any amount of money people could donate would help create the "most beautiful send off" for the newborn.
As of Monday, the fundraiser had raised about $1,050 of its $2,711 goal.