Newborn Giant Panda Cub at National Zoo Has Died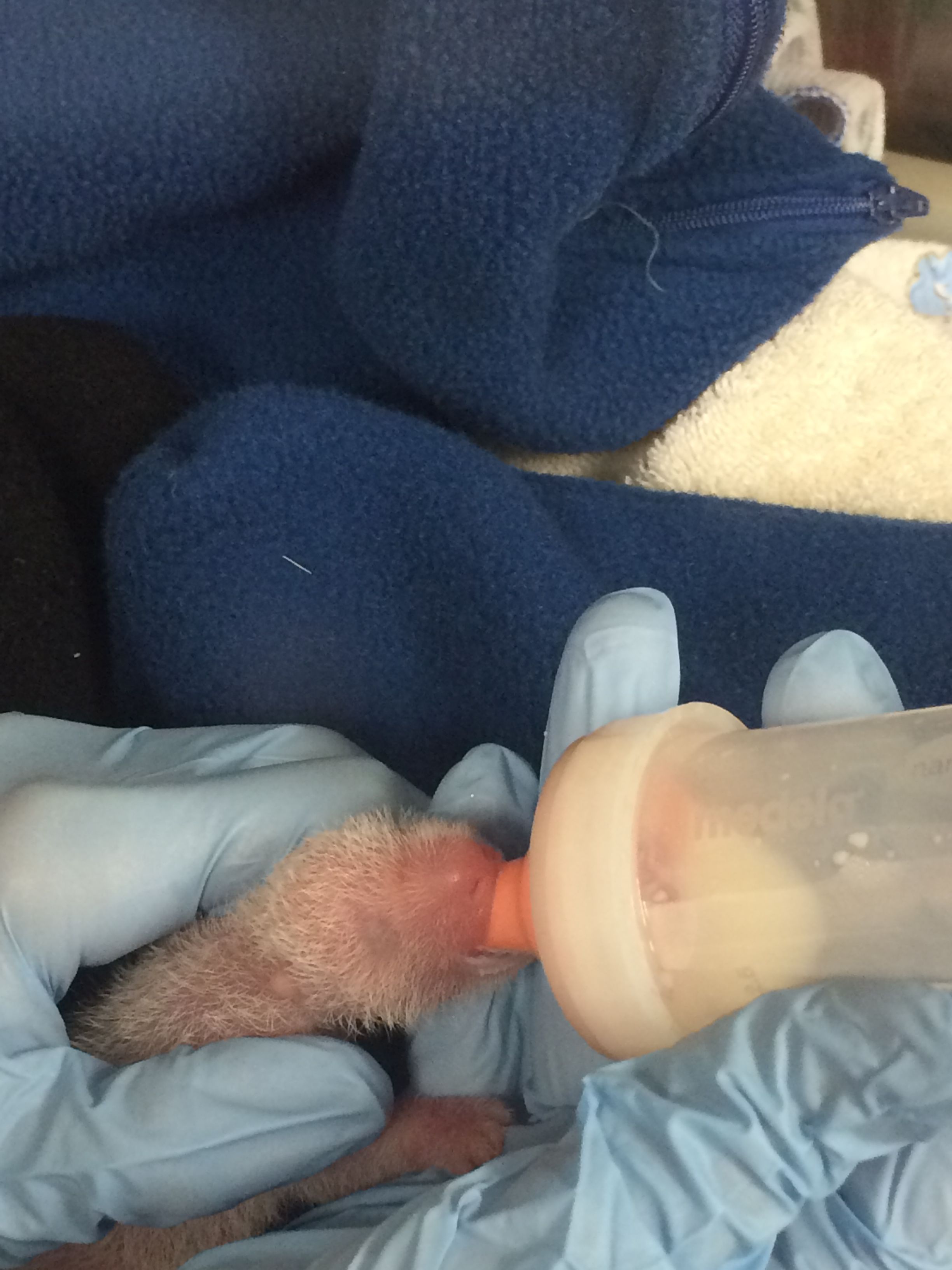 The Smithsonian's National Zoo announced that a newborn giant panda cub whose birth was much feted four days ago, died shortly after 2 p.m. Wednesday. The cub was one in a set of twins.
The zoo's chief veterinarian, Don Neiffer, said at a press conference Wednesday that after the birth, staff "immediately noted that the little cub had not increased in weight, appeared weaker and was exhibiting possible respiratory issues. Our panda team began administering antibiotics, respiratory support, fluids and nutritional support as appropriate. Although we did see some slight improvement in the cub's overall condition and behavior, things turned."
"This is a hard loss for us," Director Dennis Kelly said at the press conference. "When you deal with endangered species like giant pandas, every birth is a success."
Kelly added, "The larger of the two cubs is robust, thriving and with its mom."
The zoo first announced on August 19 that Mei Xiang, a giant panda, appeared pregnant. On August 22, she gave birth to twins. Neiffer told Newsweek that the birth of the twins caught him and his colleagues by surprise. "About the time the team who was present for the first cub was starting to relax for the evening, we all got phone calls saying that the second cub was on the ground. So that changes everything," he said. "Female pandas have a lot of challenges with raising two cubs without intervention. It kind of changes the game 180 degrees. Literally, we went from zero to 60 in terms of the amount of care we were going to provide for the cubs."
On August 24, Neiffer told Newsweek that the cubs and mother were "doing great."
Pamela Henson, a Smithsonian Institution historian, told Newsweek that panda deaths at the zoo are unfortunately not uncommon. A female giant panda before Mei Xiang gave birth to five cubs between 1972 and 1992. None of the cubs survived. "It was a difficult time for us," Henson said. "We would have the baby watch and the pregnancy watch."
Mei Xiang came to the zoo in 2000. She gave birth to cubs in 2005 and 2013, which lived, but lost one cub in 2012.
Giant pandas can live to be as old as 35 in captivity, according to the National Zoo. In the wild, according to the World Wildlife Fund, a panda's average life span is 14 to 20 years. Wild pandas typically have one cub every two years. The mortality rate for wild panda cubs is unknown.
Henson said the Smithsonian had been cautious about the recent births, and that the zoo does not name giant pandas until after they turn 100 days old. "They could be gone in an instant. So we're cautiously optimistic, but very cautiously."
People for the Ethical Treatment of Animals has criticized the zoo for separating the newborn cubs from their mother. However, Pamela Baker-Masson, a zoo spokeswoman, says their practices are "based on many years of experience with our Chinese colleagues" and other panda experts.
The International Union for Conservation of Nature classifies pandas as endangered. According to the World Wildlife Fund, there are 1,864 giant pandas in the wild, a 17 percent increase from a decade ago.
As Newsweek has reported, the giant pandas at the National Zoo are part of a breeding agreement with Chinese authorities. For decades, China has leased pandas to foreign zoos as part of what foreign relations experts call "panda diplomacy." That leasing has diplomatic and trade implications, the experts say. Leasing fees go to wild panda conservation efforts.
Cubs born at the National Zoo belong to China and are slated to return to the country after four years, according to the agreement.