One Colorado newborn received 13 stitches after an emergency Caesarean section left a huge cut across her face. The family, who was both shocked and upset, is now seeking financial and legal help, reports FOX31.
Reazjhana Williams, the baby's mother, planned to have a natural birth; however, while in labor at the Denver Health Medical Center, the doctors told the parents that while they could feel the baby's movement, they could not detect her heartbeat, according to the New York Post. The doctors decided immediately to perform an emergency C-section. But when the baby was delivered, the family was upset to see that she had a large cut along her face. The family contacted FOX31 for help.
"They said her face was close to the placenta wall," Damarqus Williams, the baby's father told FOX31.
"I tried to be understanding about what happened, but on top of the fact her face got cut and a plastic surgeon had to come to do it, there's just a lot of things I'm not understanding with the C-section," Reazjhana told the outlet. "I've never heard of anybody having to deal with their baby's face looking like this after a C-section."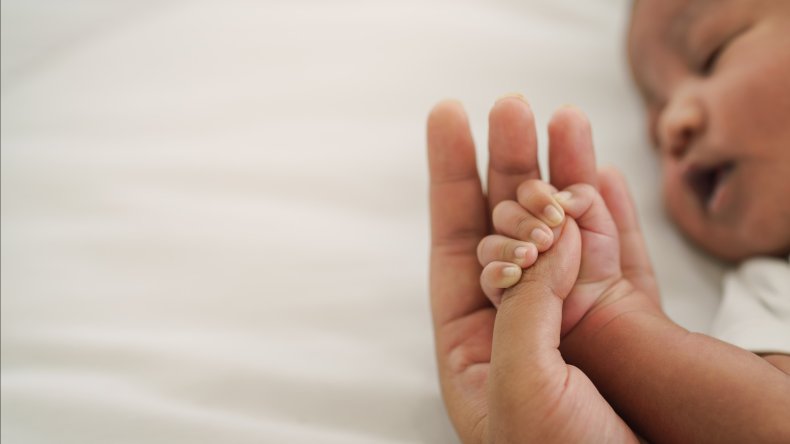 Board-certified OB-GYN Dr. Candice Fraser told Romper last year that, while uncommon, cuts and lacerations to the baby's face or body can happen as a result of a C-section, particularly in emergency cases where the doctor is forced to rush the procedure. Though most cuts tend to be shallow, plastic surgeons are called in to assist with those that are deeper in order to ensure "that permanent scarring is minimized."
The Williams family is currently seeking financial help so that they can consult with a lawyer. Loved ones have created a GoFundMe page for the family that reads: "We went to DENVER HEALTH HOSPITAL to deliver our daughter Kyanni Williams [who] was [born] during a cesarean and during that process, she was cut deeply on her left cheek which caused her to get 13 stitches in her face. THIS IS UNACCEPTABLE!! Don't really have the funds for a lawyer please help as much as possible. Thank You."
So far, the family has raised almost $2,000 of their $10,000 goal.
In a statement to FOX31, Denver Health Hospital said:
"Denver Health has been in touch with the family directly. While this is a known medical complication in emergency C-sections, our focus is always on providing care in the best interest of the mother and child. At Denver Health, the safety and well-being of our patients is our number one priority."
Many felt terrible about the family's situation.
"Absolutely unacceptable," wrote one donor on the GoFundMe page. "Never heard of this in my life. Reazjhana, I am so sorry your postpartum time meant for recovery and bonding is now consumed with this terrible ordeal. Sending out so much love into the universe for your family."
"If I was in this situation I would do the same thing to try and get justice for the malpractice against [the] child and mother," another donor said.