Newly Appointed Calif. Senator Alex Padilla Faces GOP-Sought Probe Over State Contract
Alex Padilla, who was appointed by California Governor Gavin Newsom to be the state's next senator, filling the seat held by Vice President-elect Kamala Harris, faces a GOP-sought probe over his involvement in a political consulting firm's state contract.
"The son of Mexican immigrants—a cook and house cleaner—Alex Padilla worked his way from humble beginnings to the halls of MIT, the Los Angeles City Council and the State Senate, and has become a national defender of voting rights as California's Secretary of State," Newsom wrote in a statement announcing Padilla's appointment. "Now, he will serve in the halls of our nation's Capitol as California's next United States Senator, the first Latino to hold this office."
But Padilla, a Democrat, is under fire from Republican congressmen over a contract his office awarded to public affairs and political consulting firm SKDKnickerbocker, which created a voter outreach campaign called Vote Safe California.
The Sacramento Bee first reported the contract with the firm, which has been linked to several notable Democrats. Earlier this month, the main banner to the firm's website featured a picture of President-elect Joe Biden and Harris and thanked them for fighting for the "the soul of the nation," according to the Bee.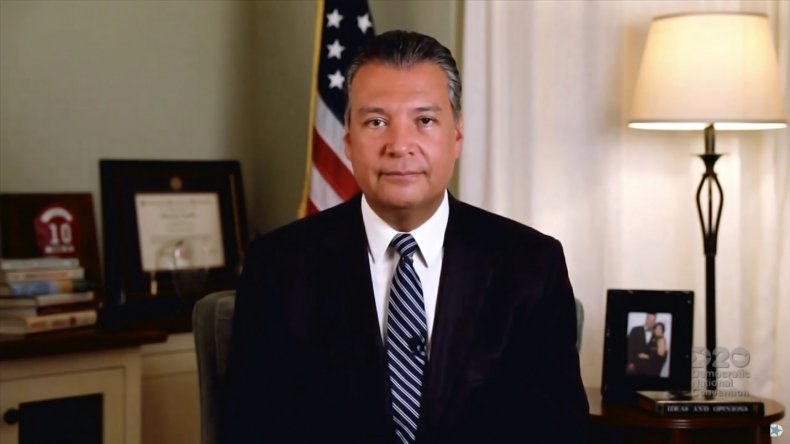 The voter outreach program was used to provide California voters with voting information during the coronavirus pandemic. The Bee reported that Padilla's office has received more than $34 million worth of invoices from the firm.
Padilla's office had said it would pay the invoices by using local funds, which included federal money allocated through the Coronavirus Aid, Relief and Economic Security (CARES) Act. But an October email from an official in the state controller's office to the deputy secretary of state said the controller's office did not have the budget authority to pay for the invoices.
Shortly after the Bee's report, Fox News published a report detailing how Republicans on the House Oversight and House Administration committees had called for Padilla's office to provide answers on the "highly questionable" contract, calling it a "misuse of taxpayer money and a violation of the law."
In a December 3 letter from Kentucky Representative James Comer, Illinois Representative Rodney Davis and Georgia Representative Jody Hice, was sent to Election Assistance Commission Inspector General Patricia Layfield. Comer is a House Oversight Committee ranking member, while Davis and Hice are Administration Committee ranking members.
"In light of media reports that California Secretary of State Alex Padilla is now the front-runner to be appointed to California's open United States Senate seat," the letter says, "we are writing to request a member-level briefing on the status of your review of the highly questionable $35 million contract for voter contact the California Secretary of State's Office awarded to SKD Knickerbocker (SKD), Joe Biden's main election campaign advisory firm."
The letter goes on to say that Padilla's office allegedly used Help America Vote Act grant money from the CARES Act to fund the contract with SKDKnickerbocker.
On December 15, Comer, along with Davis, Hice and GOP Representative Jim Jordan of Ohio, who is a House Judiciary Committee ranking member, sent a second letter to the director of California's Department of Finance, Keely Martin Bosler.
"We are continuing oversight of the highly questionable $35 million voter contact contract the California Secretary of State's Office awarded to SKD Knickerbocker (SKD), Joe Biden's main election campaign advisory firm. Instead of using taxpayer money to enrich political allies of Secretary Alex Padilla with a contract that likely violates the law, we request that you immediately return the federal money to the United States Treasury," the letter says.
Newsweek reached out to Padilla's and Newsom's offices for comment but did not receive a response in time for publication.