Newly-Elected Governor Andy Beshear to Restore Voting Rights of Felons in Kentucky
Andy Beshear declared during his inaugural address Tuesday that he will file an executive order Thursday to restore the voting rights of thousands of felons disenfranchised by state law.
He has not yet confirmed who will remain disenfranchised under his executive order, or how long it will take for the felon's voting rights to be restored.
"My faith teaches me to treat others with dignity and respect," said Beshear during his address, conducted outside the Kentucky Capitol Building. "My faith also teaches forgiveness."
"That's why on Thursday I will sign an executive order restoring voting rights to over a hundred thousand men and women who have done wrong in the past but are doing right now. They deserve to participate in our great democracy," he said. Under Kentucky law, only the governor may restore voting rights to citizens.
There are currently 242,000 felons in the state of Kentucky, which constitutes 1 in every 4 African American adults, according to a 2016 survey by The Sentencing Project. The population of convicted African American felons grew during the war on drugs, going from 3 percent in 1980 to 26 percent in 2016.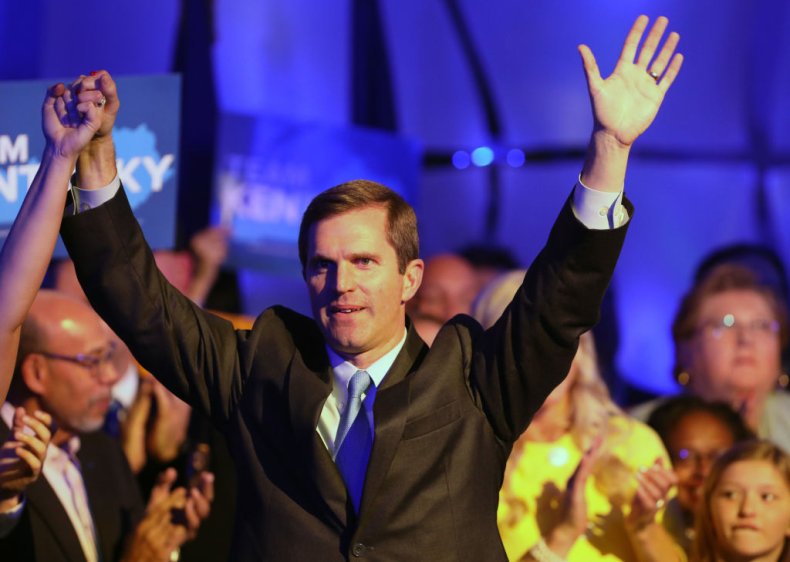 Former Governor Steve Beshear—the father of Andy Beshear—had left office in 2015 with an executive order in place which was supposed to restore the voting rights of 100,000 felons who had paid all court-ordered restitution and completed their sentences. The measure did not cover those who were convicted of sex crimes, election-related bribery or what Kentucky classifies as "violent offenses."
The measure was subsequently suspended by Beshears' successor, Matt Bevin, days into his term as Governor. The state legislature has subsequently rejected further measures to restore felon voting rights.
Under Bevin's term, all felons who had completed their sentences could apply to the Kentucky Department of Corrections, which would forward their applications to the governor's office for approval. Bevin would then approve or deny requests at his discretion.
This resulted in 980 applications being approved by Bevin, with a lingering backlog of 1,459 requests. In response, a federal lawsuit was filed by the Fair Elections Center and the Kentucky Equal Justice Center against Bevin this year.
The suit in part requests that, "clemency applications be processed under objective rules and criteria, independent of the governor's whims."