There have been no signs of life at the collapsed Florida condominium building but a newly found tunnel is giving Colonel Golan Vach, the leader of an Israeli search and rescue unit, hope they could find at least one survivor.
A week after Champlain Towers South, a 12-story condominium building in Surfside, Florida, collapsed, more than a hundred people are still missing and the death toll has only continued to grow.
The tightly-packed rubble has made for a difficult search operation and with time being one of the biggest factors to the success of a rescue mission. Every passing day decreases the likelihood that anyone will be found alive.
While chances are "very low" that rescuers will find survivors, Vach told Newsweek his hope can change in just a "matter of seconds." On Wednesday afternoon, rescuers found a new tunnel that Vach described as a "big one" that could sustain a human's life. Firefighters had entered the tunnel and were crawling through it with the hope that they would find someone.
"I feel that almost all the people that are inside are not alive but the tunnels that I'm talking about enabling us to hope for the minor percentage of success that we might have right now," Vach said.
Over the years, Israel has sent its military members to disasters around the world, helping local authorities locate survivors. Within three hours of getting the call that they would aid search and rescue efforts, Vach and his team were at the airport, bags in hand, headed for Florida.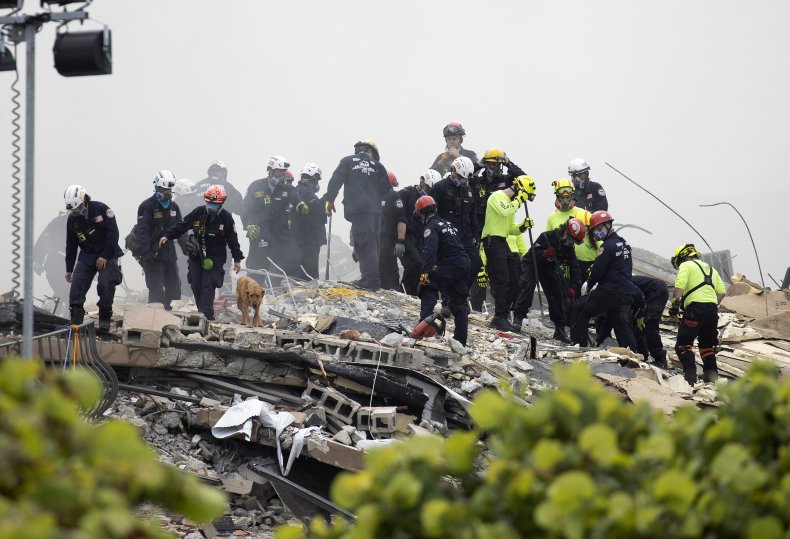 Having been there since Sunday, three days after the collapse, the colonel told Newsweek that they've unfortunately seen "no evidence of life," in the forms of people screaming or banging on materials from underneath the rubble.
Four more bodies were discovered on Tuesday night, raising the death toll to 16 and 147 people are still unaccounted for. Among those who were found was Hilda Noriega, the mother of Carlos Noreiga, the chief of the North Bay Village Police Department.
Working against the rescue effort is the closeness of the building's floors to one another. When it collapsed, it created a tight packing of debris that made much of the site inaccessible to first responders, meaning even if someone is alive in a pocket, rescuers may be unable to reach them.
The hope of first responders and the entire nation is that survivors will be found, but Vach puts just as much importance on finding the deceased as he does the living. Israel's policy is to never stop searching for missing soldiers and to return their bodies to their families, regardless of whether a single finger is all that can be recovered.
Vach carries that same mentality to the search for people who are missing in the Surfside building collapse. "I will tell you the truth, for us it doesn't matter if those people are alive or not alive," Vach said, adding that the Israeli team is there to extricate people from the rubble to help families who lost a loved one.
"It is our main core, the sanctity of life," Vach said. "Sanctity of life is not only the one who is lost. It is the families' lives. We know that without closure there are no lives, so the sanctity of life is for the missing people, as well as the families. For us, to be able to return a loved one to the families of a missing relative, it's a core value."