Newport Beach Helicopter Crash: Everything We Know So Far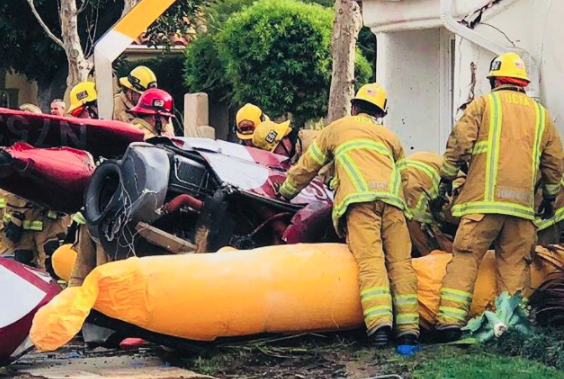 Officials are working to determine what caused a helicopter to crash into a home in Newport Beach, California, on Tuesday, killing at least three people and leaving two others injured.
Newport Beach Police say emergency crews responded to reports of a helicopter crash at 1:50 p.m. local time (4:50p.m. EST) on Tuesday afternoon in front of a home on Shearwater Place near Egret Court.
Three people involved in the incident were pronounced dead at the scene.
"There were a total of five people involved in the collision: four adults in the helicopter and an adult bystander. Of these five individuals, we are saddened to confirm that three of them succumbed to their injuries and died at the scene," Newport Beach Police said in a statement.
"The other two people involved in the collision were injured," police added. One person was taken to a local hospital, while another was transported to a local trauma center for medical aid.
Four were on board helicopter
Police say there were four people on board on the helicopter when it crashed. It's unclear whether the three people who died had all been on the aircraft.
Several neighbors had rushed to the scene to help, with at least two residents helping to pull out the pilot of the helicopter out of the aircraft, a witness told the Los Angeles Times.
At least two homes were "impacted" in the incident, police say, but no one inside either was injured.
Home had been up for sale
One neighbour, Marian Michaels, told The Associated Press her house shook when the crash happened.
"There was no fire," she told AP. "It looked like they were trying to land in the street but clipped the roof across the street and didn't make it." She added that one of the homes that had been hit was up for sale.
Helicopter had been rented by flight school
Eric Spitzer of Spitzer Helicopter Leasing said he had leased the helicopter, an R44, to Revolution Aviation, a flight school and touring company at John Wayne Airport.
The neighborhood where the helicopter crashed is roughly a mile away from the Orange County airport, where the helicopter had taken off. It is unclear whether the aircraft was being used for a tour or flight training at the time of the crash.
Revolution Aviation could not be reached for comment.
Spitzer said he was surprised by the incident, especially since his company had just had the aircraft's electronic systems updated.
"The helicopter had just recently come out of getting the avionics updated," Spitzer said. "They put new avionics in." Avionics is an umbrella term used to describe the electronic systems used in aircrafts.
On social media, residents pointed out that this has been the third helicopter crash in Southern California over the last year.
There have been at least two documented serious incidents involving an R44 aircraft over the past year.
Read more: Airline Passenger Claims Crew Bound And Punched Him On Flight To Chicago
In May, a pilot and two passengers suffered serious injuries when the R44 crash-landed on a golf course maintenance yard near Santa Barbara.
Then, two months later, in July, a pilot and three passengers were injured when an R44 lost power and landed on a street in Sherman Oaks.
The NTSB and Federal Aviation Authority are investigating into what might have caused the crash.