News of Choco Taco's Demise Unites Country, Brings Out Celebrity Defenders
Sometimes you really don't know what you've got until it's gone.
On Monday, Klondike announced on its official website that the chocolate-covered ice cream confection, the Choco Taco, was no longer.
"The Klondike Choco Taco has unfortunately been discontinued in both 1ct and 4ct pack sizes," a message posted to the Klondike website's home page read.
In response to a request for comment Wednesday, Klondike referred Newsweek to its Monday message.
"Over the past 2 years, we have experienced an unprecedented spike in demand across our portfolio and have had to make very tough decisions to ensure availability of our full portfolio nationwide," the message continued. "A necessary but unfortunate part of this process is that we sometimes must discontinue products, even a beloved item like Choco Taco. We know this may be very disappointing. We hope you'll try our other delicious frozen treats, including Klondike Cones, Shakes, Sandwiches, and of course, our signature Bar available nationwide."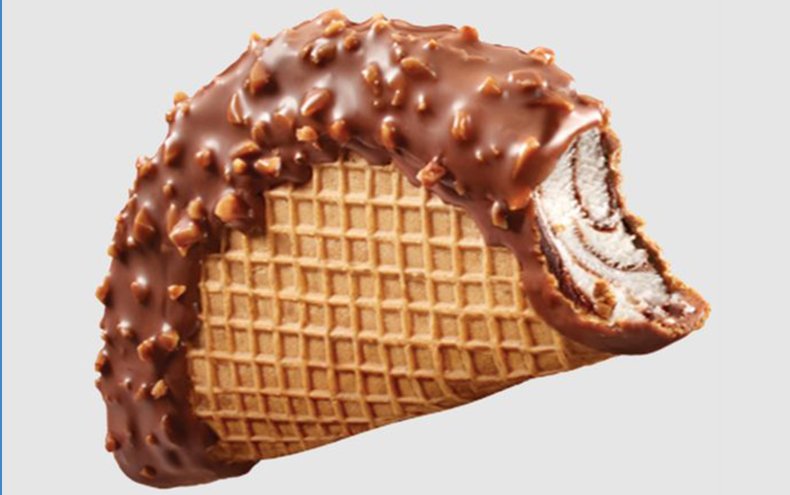 The internet was not pleased with the development.
"I can't believe the Supreme Court overturned the Choco Taco," Stephen Colbert tweeted.
Chrissy Teigen posted on Instagram, "Everyone always takes this s--- for granted when it's around. Never choosing it over a Snicks Ice Cream Bar so that's what u get don't go crying now. U never cared before, u don't deserve him!!!"
Stephen King sounded the alarm on the state of our nation itself based on the news, tweeting, "If Choco Tacos are gone, what's next? Hershey Pies? Salt and vinegar potato chips? Baseball? AMERICAN DEMOCRACY? I tell you: this is how it starts."
Klondike, which is owned by Unilever, is also responsible for the eponymous Klondike bar, ice cream sandwiches and lots of other frozen treats. Alas, their existence has done nothing to allay the many broken hearts mourning the taco-inspired treat they'd taken for granted for so long, and which had been around since 1983.
Chef and TV personality Andrew Zimmern distilled fans' feelings about the news into one tweet: "This is insanity. Look at the Klondike portfolio and tell me you would discontinue what is arguably the best quiescently frozen dessert treat ever??? Get rid of the Cone Zone or the Cookies n' Cream sandwich instead! We need our Choco Tacos."
Not all hope is lost, though. Klondike tweeted in response to the backlash: "We're working hard to find a way to bring Choco Taco back to ice cream trucks in the coming years."
And even if we don't get it back, the frozen treat has at least brought together an otherwise divided nation.
Newsweek reached out to Teigen's representatives for comment.
Update 7/27/22, 4:25 p.m. ET: This story was updated after reaching Klondike.