News Outlet in Jim Jordan's Home State Outlines Multiple Instances Where Republican Rep. Supported Impeachment
GOP Representative Jim Jordan staunchly opposes impeaching President Donald Trump, a stance that a news outlet in his home state of Ohio has called him out for, in light of his history of supporting the impeachment process.
"Just as Jordan called for impeaching public officials who didn't supply the records sought for his investigations Democrats say they're upset that Trump hasn't provided the witnesses and documents their investigations sought," Cleveland.com wrote in an article published December 5.
After hearing testimony from multiple officials and experts, House Democrats announced on Tuesday that they will hold an impeachment vote based on two articles: abuse of power and obstruction of Congress. Trump is accused of using his position as president to pressure Ukraine into investigating former Vice President Joe Biden and his son Hunter and later withholding evidence from Congress during the impeachment inquiry.
"Our president holds the ultimate public trust. When he betrays that trust and puts himself before country, he endangers the Constitution, he endangers our democracy, and he endangers our national security," House Judiciary Committee Chairman Jerry Nadler said during Tuesday's announcement.
Jordan, who joined the House Intelligence Committee before the public hearings started, has supported Trump and criticized Democrats for pursuing impeachment since the inquiry began. He argues that there is no case against the president and that the effort is steeped in partisan politics.
"Democrats have been trying to impeach the president since day one of this Congress. Now, a year before the next election, Democrats are moving to undo the will of the American people. Americans will see through the Democrats' desperate attempt to legitimize [Intelligence Committee Chairman] Adam Schiff's sham inquiry," Jordan said in a statement in October.
Jordan has criticized the impeachment inquiry for being a "shameful partisan stunt," but Cleveland.com wrote that the congressman didn't always see impeachment that way.
The article pointed to Jordan's efforts in 2015 and 2016 to oust IRS Commissioner John Koskinen from office for not responding to congressional subpoenas and IRS employees' erasure of backup tapes related to an investigation into the IRS's targeting of Americans based on their political affiliation. An impeachment vote never took place, and Koskinen left office in November 2017 after his term expired.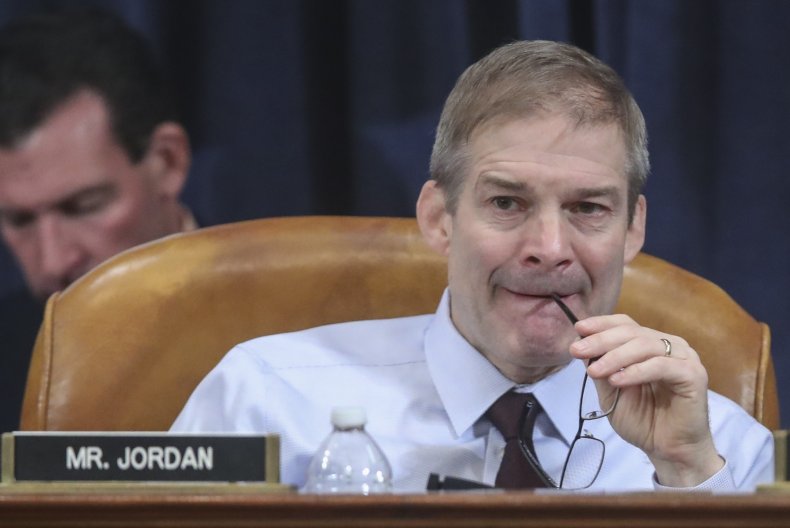 Cleveland.com also pointed out that Jordan introduced articles of impeachment against then-Deputy Attorney General Rod Rosenstein in July 2018. Jordan, along with other members of the House Freedom Caucus, claimed that Rosenstein intentionally withheld information from Congress, didn't comply with subpoenas and abused the Foreign Intelligence Surveillance Act. Rosenstein left his position before an impeachment vote was held, rendering the process moot.
Just as Jordan dismissed the impeachment case against Trump as a partisan attack, Democratic Senator Dianne Feinstein called Jordan's attempt to oust Rosenstein "partisan nonsense."
"Trying to remove Rod Rosenstein from the Justice Department for failing to disclose sources, methods and evidence from an open criminal investigation is beyond the pale," Feinstein said in a statement. "It's dangerous for the rule of law and it needs to stop."
Newsweek reached out to Jordan's office for comment but did not receive a response in time for publication.
Cleveland.com drew similarities between Jordan's criticism of Koskinen and Rosenstein for withholding information and Democrats' criticism of Trump's administration. But Ian Fury, Jordan's spokesperson, told Cleveland.com the situations were different, saying that the requested information in the past was "part of standard congressional process" whereas the impeachment process involving Trump was abnormal.
"What the Democrats are doing is not in the standard procedure," Fury told Cleveland.com. "If this was a fair process, you would see more willingness from the White House to comply, but this is not a fair process."
Since Democrats announced the impeachment inquiry in September, Trump has maintained his innocence, claiming that it was his job as president to investigate corruption and that he didn't engage in improper behavior. In a tweet Tuesday morning, he called it "sheer political madness" to impeach a president who has been one of the most successful presidents ever and has "done nothing wrong."
Brad Parscale, Trump's 2020 presidential campaign manager, said in a statement that impeachment was divisive and that "only Democrats are pushing it."
"Americans don't agree with this rank partisanship, but Democrats are putting on this political theater because they don't have a viable candidate for 2020 and they know it," Parscale added.
If the full House passes the articles of impeachment, there will be a trial in the Senate. For Congress to remove Trump from office, two-thirds of the Senate must vote in favor.