NewsGuard's Misinformation Monitor Tracks The Spread of Bad Information

---
The big story... Spread of misinformation increases as major political events lead to polarization; U.S., up 20%, takes lead
But First a Quiz:
1. Which of these three healthcare sites has the most engagement online?
a) http://mayoclinic.org/ – the website of the Mayo Clinic healthcare system
b) http://naturalnews.com/ – one website in a network of sites promoting conspiracy theories and selling "natural," unproven health remedies
c) http://healthyfoodhouse.com/ — a diet and lifestyle website that promotes dangerous "natural remedies"
2. Which of these self-described local news sites is actually funded by a partisan political group?
a) http://vadogwood.com/
b) http://themichiganstar.com/
c) http://azmirror.com/
d) http://kalamazootimes.com/
e) All of the above
3. Which of these British news sites has a perfect rating from NewsGuard?
a) BBC
b) Sky News
c) Manchester Evening News
Read to the end of the next section for the answers.
---
NEWSGUARD RED INDEX ON THE RISE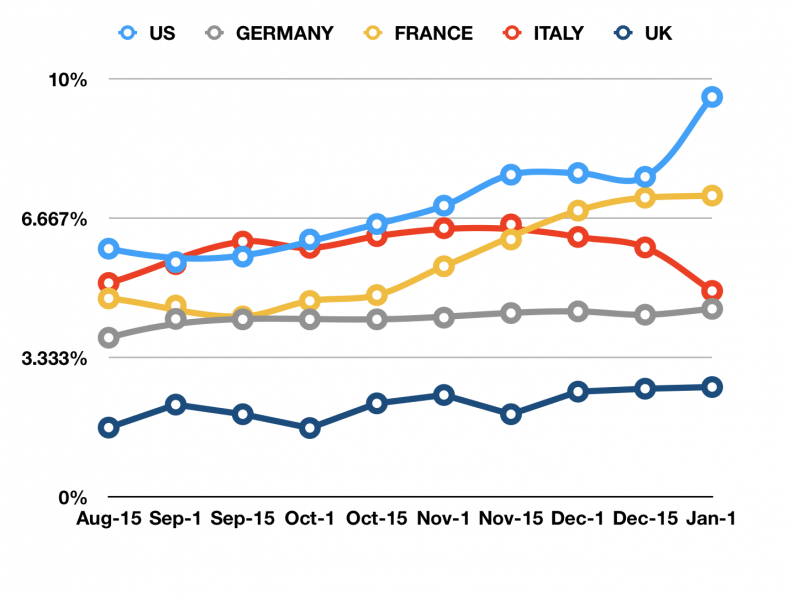 December saw more social media users share misinformation. The U.S. and the U.K. had the largest increases. Both countries experienced major political events — the impeachment of President Donald Trump and a British election that moved Brexit forward — during which misinformation and conspiracy theories flourished.
QUIZ ANSWERS:
1. (c) The Red-rated HealthyFoodHouse.com gets the most engagement, followed by the Red NaturalNews.com. MayoClinic.org ranks far below both. http://healthyfoodhouse.com/ has 62 times the engagement of http://mayoclinic.org/.
2. (e) All of these sites are funded by political activists or politically-aligned nonprofits. The direct or indirect funders are everyone from Tea Party activists to a secretive group of liberal donors tied to a major Democratic Super PAC. Only one of the sites — TheMichiganStar.com — is clear about its political affiliation, although the site is still rated Red overall. (Click to see our Nutrition Labels for the AZ Mirror, VA Dogwood, and Kalamazoo Times.)
3. (c) Sky News and the BBC meet almost all of NewsGuard's criteria, but they fall short of perfect by failing to include information about who wrote what. The Manchester Evening News does this on all online stories.
---
Shock Stat: Top U.S. RED Site beats stalwarts like Chicago Tribune, Detroit Free Press, and Dallas Morning News
The year 2019 was the first full year that American readers could use NewsGuard to get context for the news they read online, and in the spring, NewsGuard expanded to Europe. Seemingly little-known sites that NewsGuard has rated Red — generally unreliable sites that often publish misinformation — remain far more popular than you might assume.
In three of the five countries where NewsGuard operates, the Red sites that regularly publish false content and had the most engagement in 2019 are the same ones we highlighted in November. How do they compare to well-respected news sites in the same country?
---
Mass murderers in two countries cite anti-immigrant conspiracies as inspiration
Anti-immigrant narratives shaped global conversation in 2019 — and spurred three mass shootings in two countries — by reaching sympathetic white readers in their native languages across the U.S., Europe, and beyond.
Reality check: Demographic shifts are difficult to predict. But white people aren't going extinct, nor are they victims of genocide. Anti-immigrant propaganda successfully exploited these fears in 2019, with tragic results.
---
Digital pranksters sow confusion by using copycat news sites for laughs and profits
You could be forgiven for looking at the following set of URLs and having no idea which is a legitimate news source and which is an imposter: CBS15.com or CBS7.com. Express.co.uk or DailyExpresss.com. FranceTVInfo.fr or FrancheTVInfo.fr.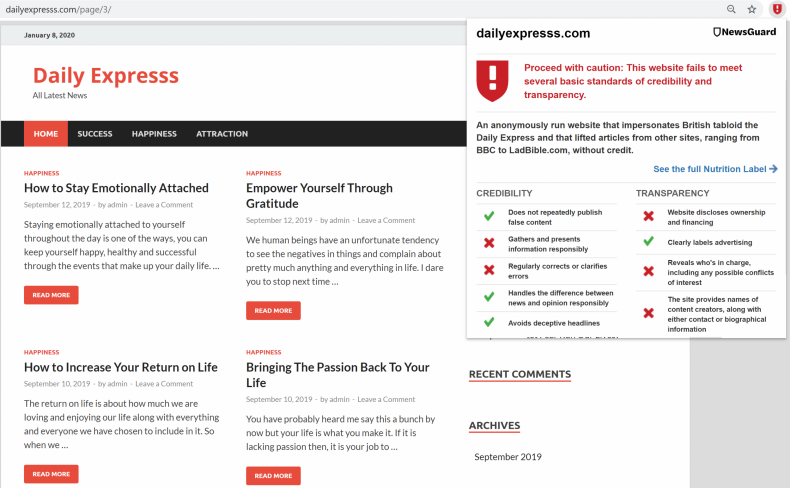 The story: It's easy to make a quick buck on the Internet, especially with the growth of digital advertising. Just get people to visit your site and you can make money. Knock-off sites — meant to fool readers who thought they were visiting a real news site — are popping up across the U.S. and Europe, hoping to turn a profit.
Why it matters: Among the nearly 4,000 sites NewsGuard has rated, similar URLs appear frequently, leaving even the most savvy readers confused. Serious or satire? Legitimate local news or made-up content posted by an imposter? Authentic or plagiarized? Certainly no algorithm will be able to master these nuances.