Newsmax host Steve Cortes called President Joe Biden's vaccine requirements "dictatorial rule" during a Thursday night show. The same day, the conservative news network issued a mandate of its own.
Employees learned that Newsmax was planning to implement a COVID vaccine requirement in a Thursday email and cited the Occupational Safety and Health Administration (OSHA) mandate as its reason.
Under the ruling, workers must be fully vaccinated by January 4, 2022, or undergo weekly COVID testing.
"To ensure that we are in compliance, we require that all vaccinated employees submit a copy of their vaccination card," the email obtained by Mediaite said.
Since the Biden administration announced that companies with 100 employees or more require workers to be vaccinated, Newsmax hosts have largely been critical of the mandate.
On Thursday, Cortes called the mandates an example of "dictatorial rule."
"There is zero, and I mean zero, moral or ethical obligation for anyone to be compelled to get vaccinated," Cortes said. He added that mandates are "insane workplace discrimination."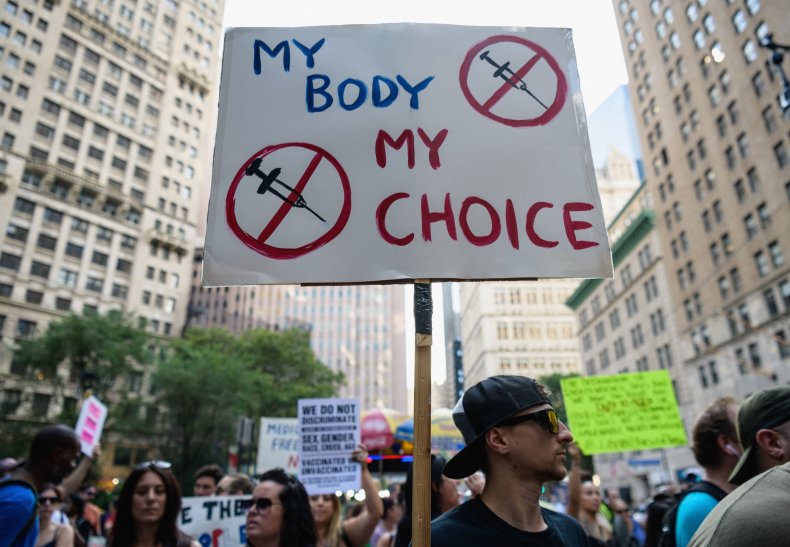 The host quote tweeted a message encouraging Republicans to do everything in their power "to ban the tyrannical vaccine mandates" with the caption "Action! Do Not Comply" on Thursday evening. Cortes also shared a tweet that said "covid vaccine mandates are evil."
It's unclear if he plans to protest the mandate that will be implemented by Newsmax within the next few weeks.
The conservative network's announcement comes the same day as they took White House correspondent Emerald Robinson off the air for bizarre claims she made on Twitter.
Robinson, who was briefly banned following the Monday tweets, warned Christians that COVID-19 vaccines contain a "luciferase" tracker.
"Dear Christians: the vaccines contain a bioluminescent marker called LUCIFERASE so that you can be tracked," Robinson wrote. "Read the last book of the New Testament to see how this ends."
The network condemned Robinson's tweet the following day in a statement.
"Newsmax is a strong proponent that Covid 19 vaccines are overarchingly safe and effective, while at the same time raising concerns that mandates infringe on personal liberty and privacy," Eliot Jacobson, the network's executive vice president and chief content officer, told Mediaite.
The company's vaccine requirement also came as the Biden administration unveiled details of how the Department of Labor's mandate will work. The White House also set a January 4 deadline for large companies to get employees vaccinated. The rule affects 84 million workers in the United States.
Newsweek reached out to Newsmax for comment.