Newsmax Beats Fox News Ratings For First Time as CEO Says 'We're Here to Stay'
Conservative TV channel Newsmax has beaten Fox News in a ratings battle for the first time, with the Rupert Murdoch-led media outlet taking a knock in the post-election fight for viewers.
For the first time among the 25- to 54-year-old demographic, Newsmax's Greg Kelly Reports out-performed the Fox show, The Story with Martha MacCallum.
Nielsen TV ratings showed the 7 p.m. Monday Newsmax program was ahead of its Fox rival by just 26,000 viewers.
The 25- to 54-year-old figures are closely watched as most TV advertising is sold based on data for high-spending demographics.
Fox News is still way out in front in terms of overall viewership, but the promising figures for Newsmax, which was founded by Christopher Ruddy in 1998, were heralded as an important moment for the right-leaning Newsmax channel.
"We're here to stay," Ruddy, the Newsmax CEO and a friend of Donald Trump, told CNN. "The ratings are showing that."
Fox News angered the president and his supporters soon after Election Day by declaring that Democrat Joe Biden had won Arizona.
Newsmax has been more friendly to Trump, having declined to announce Biden as president-elect.
Trump has also promoted the channel to his backers, posting clips of Newsmax shows to his nearly-90 million Twitter followers (he also continues to post Fox News clips).
In the four-month period leading up to the U.S. election, Newsmax averaged 58,000 viewers on weekday evenings, the Nielsen ratings company said. That rose to 568,000 in the week after the election. Daytime ratings also increased over the same period, from 46,000 to 450,000.
That compared to an average 3.6 million evening viewers for Fox News, which climbed about 50 percent in the weeks after Election Day.
Elsewhere in the battle for TV ratings, CNN appeared to benefit from the busy news month that followed the US presidential election by taking the lead over Fox News.
From the day after the presidential election to Sunday, December 6, CNN averaged 1.73 million viewers, according to Nielsen, while Fox News trailed with 1.56 million and MSNBC was in third place with 1.53 million.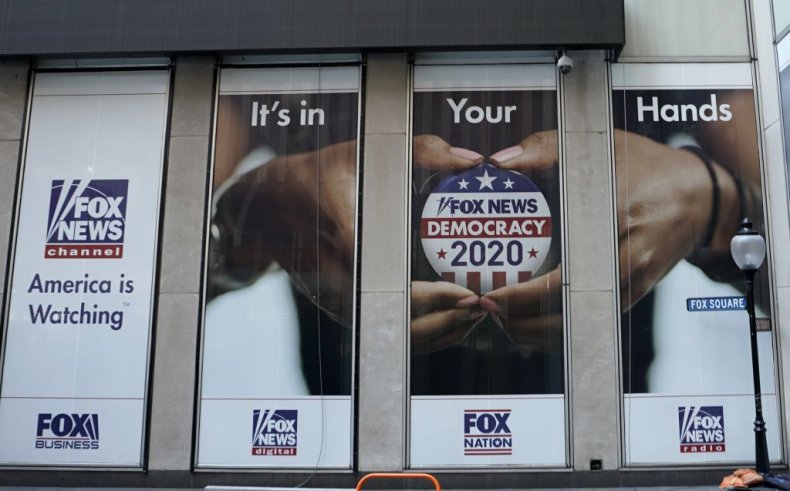 That was the first time since the post-9/11 era that CNN has out-performed Fox News over such an extended period.
CNN has revelled in its newfound lead, running an advertising campaign that declares: "Since the day after the election, there has been a clear winner."
A possible cause of the apparent lull in Fox News audiences could be what the Associated Press called a "common phenomenon in election years"—that a network dominated by supporters of one candidate tends to see a drop in interest when that side loses.
Newsweek contacted Fox News for comment.