Newsmax Host Accuses Nickelodeon of 'Transgender Indoctrination' of Children for Drag Performance
Nickelodeon was accused of "transgender indoctrination" of children by Newsmax host Grant Stinchfield and guest after airing a clip celebrating Pride Month.
The clip of drag performer Nina West was aired on Stinchfield's Monday night show. In the video, West performs a song, "The Meaning of Pride," which explains what each color of the rainbow pride flag symbolizes.
Stinchfield introduces the clip by saying Nickelodeon "has gone off the deep end" and citing the children's television network's attempt to indoctrinate American children with transgender ideas. He goes on to say that he "has nothing against gay people," but the clip takes it too far.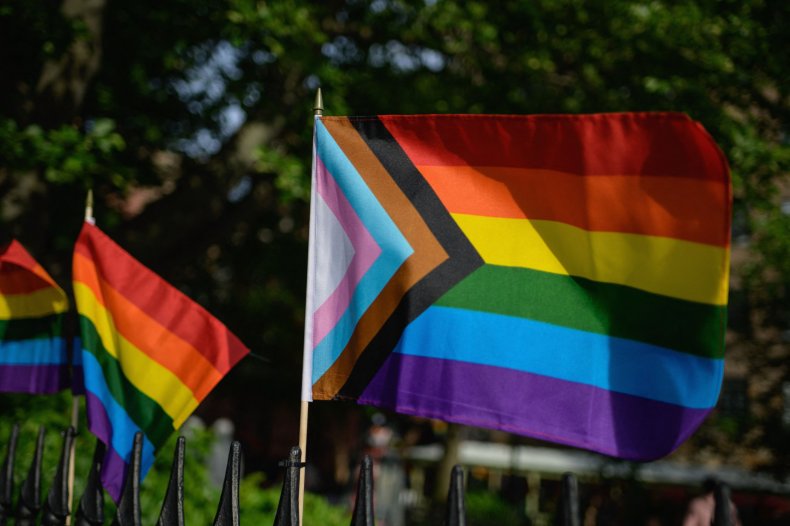 Isabella Riley, a conservative and social media influencer, was a guest on the show. After seeing the clip, she said she did not "get" what it was.
"I just can't imagine it being anything besides some sinister motives," she said. "I don't have a problem with gay people. I don't care about transgender people. My problem is that you're shoving it down everyone's throats."
Riley went on to say that she dislikes the idea of having Pride Month, and she later restated that she does not support celebrating a month for any specific group of people.
"I reject any pride month that is just celebrating identity politics," she said. "That is bigotry."
Riley has since taken to her social media to post the segment from Newsmax. On Twitter she claimed that TikTok removed her video of the commentary, citing hate speech that violated the community guidelines on the video platform. She also tweeted calls for parents to stop allowing their children to watch Nickelodeon.
Stinchfield also praised and defended Riley on Twitter saying she "nailed it" and ".3 to .6 percent of the population is transgender depending on who you believe (I think it's less) yet the radical left has weaponized KIDS PROGRAMMING to indoctrinate your children."
The Newsmax host recently was criticized for going on a rant about Kellogg's Together With Pride collaboration with GLADD. The LGBTQ Pride cereal included heart-shaped rainbow pieces and edible glitter, Raw Story reported.
"For those of you that want to vilify me for those comments right, right there, aren't you just as offended by the flamboyant rainbow hearts and glitter as a symbol of gayness?" he said. "See, there are two standards here. Nothing like forcing our kids to be confused about their gender first thing in the morning with their breakfast."
Newsweek reached out for comment to Nickelodeon but did not hear back before publication.