Newsmax Reporter Locked Out of Twitter After Claiming 'LUCIFERASE' in COVID-19 Vaccines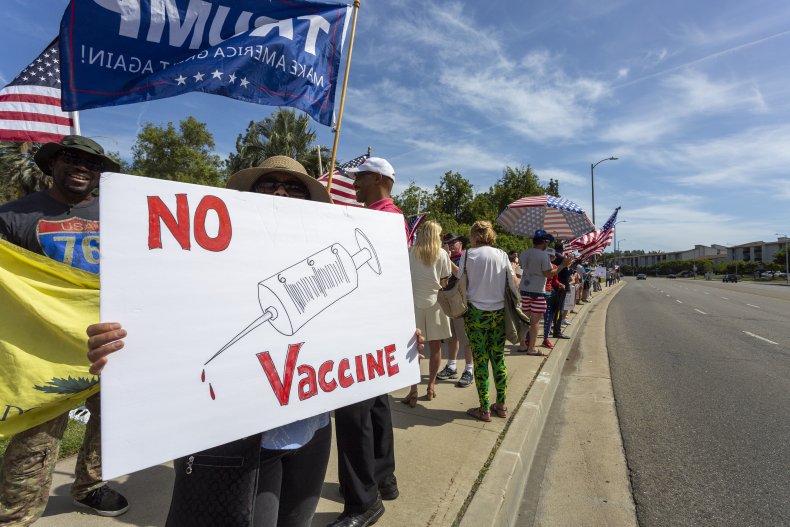 Emerald Robinson, conservative network Newsmax's White House correspondent, was briefly banned from Twitter after falsely warning Christians that COVID-19 vaccines contain a "luciferase" tracker.
Robinson echoed a right-wing conspiracy theory that incorrectly claims the Moderna COVID-19 vaccine contains "a 6.66 solution" of luciferin or luciferase, a substance involved in bioluminescence. There is no evidence that the substance has ever been included in any of the COVID-19 vaccines, nor does it have anything to do with religion or Lucifer, despite Robinson strongly implying otherwise.
"Dear Christians: the vaccines contain a bioluminescent marker called LUCIFERASE so that you can be tracked," Robinson tweeted on Monday. "Read the last book of the New Testament to see how this ends."
The tweet was later deleted. By early Wednesday evening, a Twitter spokesperson told The Daily Beast that Robinson's account had "been temporarily locked for repeated violations of our COVID-19 misinformation policy."
The account remained online hours later, although Robinson had not tweeted recently, likely due to the company blocking her from doing so. A Twitter spokesperson confirmed to Newsweek that the account had been temporarily locked due to violating the policy but did not indicate for how long Robinson would be unable to tweet.
Newsmax disavowed Robinson's tweet on Tuesday, saying in a statement that the network "strongly believes and has reported that the Covid 19 vaccines are safe and effective" before adding that it does "not believe the vaccines contain any toxic materials or tracking markers, and such false claims have never been reported on Newsmax."
"Newsmax is a strong proponent that Covid 19 vaccines are overarchingly safe and effective, while at the same time raising concerns that mandates infringe on personal liberty and privacy," Eliot Jacobson, the network's executive vice president and chief content officer, told Mediaite.
"We have seen no evidence to suggest LUCIFERASE or LUCIFERIN are present in any vaccines or that they are used as any sort of bioluminescent marker," he added.
It is not clear why Robinson or any other COVID-19 conspiracy theorists have claimed that luciferin or luciferase are included in the vaccines given a complete lack of evidence, although other false conspiracy theories related to the vaccine have claimed that it is "Mark of the Beast."
In addition to there being no evidence to support the notion that vaccines are part of a satanic plot, there is no evidence that they include microchips or any other sort of substances used in tracking people. Dubious claims that the vaccines contain aborted human fetus cells, triton X-100, thimerosal or aluminum are also false, according to a fact check from Reuters.