Newsmax Host Was Happy to See 'Woke' U.S. Olympic Basketball Team Lose
Newsmax host Grant Stinchfield said he "took pleasure" in seeing the U.S. Olympic basketball and women's soccer teams lose, as he disparaged the involvement of American sports stars in "social justice nonsense."
In a segment captioned "the woke Olympics," the anchor on the conservative news network said that he was delighted by the surprise defeats handed to U.S. Olympic teams during the games in Tokyo.
"I found myself rooting against not just Megan Rapinoe and her merry band of America-hating female soccer players," he said, referring to the sportswoman who champions social justice causes, "but I took pleasure in the men's basketball Team USA's first team loss since 2004."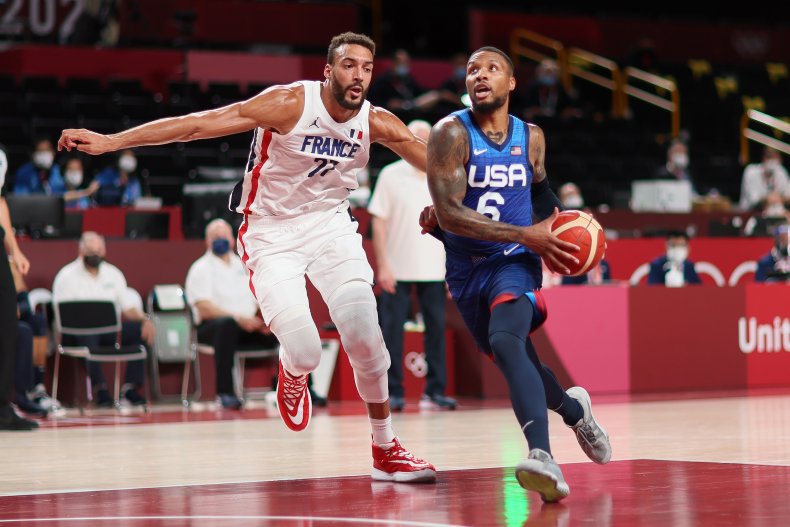 Referring to the "embarrassing" men's basketball team's 83-76 loss to France, he said that "the collection of whiny overpaid social justice warriors are very hard to root for.
"The team is filled with anthem kneelers and I find it ironic that they are willing to put USA across their chests, but in the not so distant past, they would kneel for the anthem."
A number of NBA teams have elected to take the knee during the U.S. national anthem to show their support for the Black Lives Matter movement.
All 11 of the U.S women's soccer team kneeled for 10 seconds before their game against Sweden last week to protest racial injustice and inequality. Teams from other countries have also taken the knee before their soccer matches.
Stinchfield continued: "Somebody ought to go up to them and just rip USA off their chest, I don't want them wearing it personally.
"Here's what's rich. As the level of social justice nonsense described as activism increases in America. Guess what? the success of these woke stars diminishes."
Stinchfield's criticism of the political leanings and activism of American sportspeople echoed the sentiment of former President Donald Trump at a rally in Phoenix.
Trump said last week that "Americans were happy" the U.S. soccer team lost, which he blamed on "wokeism"—his take on the term woke or wokeness, which describes an awareness of racial prejudice and discrimination.
It comes as right-wing media figures and politicians have taken aim at the political stances of U.S. athletes.
Hammer thrower Gwen Berry sparked a debate about activism when she turned as "The Star-Spangled Banner" started playing at the Olympic trials last month.
Outkick founder and radio host Clay Travis told Fox News this week "there is a genuine lack of American spirit right now, because of the tone set by many of the athletes that are at the Olympics."
Newsweek has contacted Newsmax and Team USA for comment.