Newsmax TV Chief Predicts Overtaking Fox News, Says IPO is Possible
Newsmax TV CEO Christopher Ruddy has a bold prediction about his rivalry with Fox News: "We'll probably overtake them in the next six months in total audience," he told Newsweek.
Newsmax TV has, indeed, surged in ratings since the president lost his reelection bid to Joe Biden. In the wake of the election, loyal viewers of Fox News searched for more pro-Donald Trump coverage than they were getting at Fox, with the exception of primetime, where Sean Hannity, Laura Ingraham and Tucker Carlson are still largely in the president's corner.
While Fox News anchor Bret Baier, for example, was running video Monday a couple of hours ahead of primetime of a man resuscitating a baby elephant struck by a motorcycle in Thailand and showing a photo of Jupiter and Saturn appearing closer together than they have since 1623, Newsmax TV anchor Sean Spicer was (still!) talking about alleged irregularities involving the firm Dominion Voting, which the company has refuted.
"This election was a theft," Trump attorney Rudy Giuliani told Spicer on Monday. "It can be proven ... five or six of these crooked governors could let us have access to the machines ... They will not let us look at Dominion machines, because the 22 we looked at were like Swiss cheese; anybody could get into them. They ran the vote three times with three different results, half the ballots never got registered, and they changed the vote 13 times."
Further giving slim hope to Trump supporters, Spicer and Giuliani reminded Newsmax TV's audience that, while the Electoral College voted Dec. 14, Congress does not certify a winner until Jan. 6, the final step in officially making Biden the president elect.
Newsmax TV has surpassed CNBC and Fox Business Network so that it is now the fourth most popular cable news outlet, with Fox News at number one, as it has been for 18 straight years. Ruddy acknowledged that there's a caveat to his prediction of overtaking the behemoth: it needs a boatload of people to tune into its free streaming app. That, combined with the linear TV channel, could eclipse Fox News in 2021, he said.
A commercial for Newsmax TV's app that airs on its own airwaves shows competitor Sean Hannity hosting his show behind his Fox News desk as audio boasts of "no paywalls, no cable subscriptions," while the Fox Nation streamer is $5.99 a month. Ruddy says one million people had downloaded the Newsmax TV app for Apple and Android phones prior to the election, while four million have downloaded it since.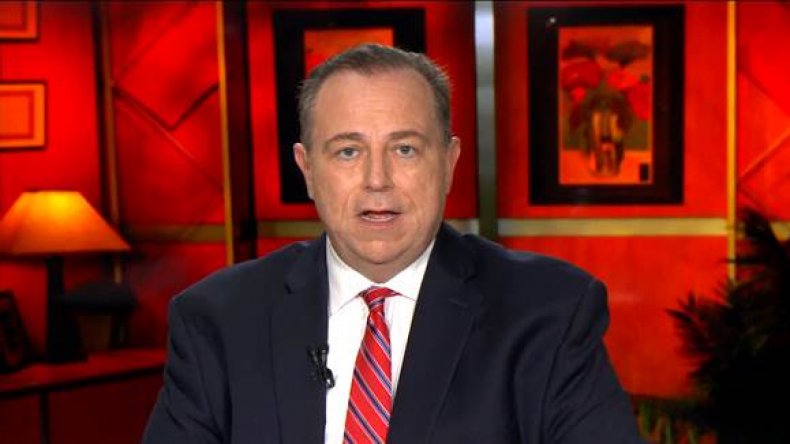 Ratings in cable news have predictably fallen since November 3, when Fox News set an election-night record with 14 million viewers. The week of December 7, CNN was down 64 percent compared to the week of November 2, while Fox News was off 60 percent and MSNBC fell 45 percent. But in that same time frame, Newsmax TV boasted ratings growth of 84 percent — spirited by what many conservatives say was a miscue at Fox News.
"On election night, Fox would not call Florida for Trump, but immediately called Arizona against him with just 14 percent of the vote in. Newsmax was the first to report a social-media earthquake over that, and it led to a huge ratings boom for us," Ruddy recalled.
"We're new and different, while Fox has become stale. Some Fox hosts have been out to undermine the president," Ruddy claimed.
Ruddy said that, from the day after the election through December 11 in the important demographic of adults ages 35-64, its daytime lineup (9 a.m. to 4 p.m.) led in "length of tune," with each of its viewers tuning in 33.7 minutes each time they turned on the channel, which is more minutes than at CNN, MSNBC and Fox News.
And Newsmax TV's top-rated show, Greg Kelly Reports, which stars a Fox News veteran and airs at 7 p.m. weeknights, has averaged an audience of 752,000 since the election, making it a worthy competitor for the first time against CNN, MSNBC and Fox News, each of which has an audience size of between 2 million and 2.4 million in that time slot.
Still, Newsmax TV has been faltering the further it gets from election day, as in the last three weeks it has averaged 385,000 viewers, down 20 percent from the two weeks prior to that, according to Nielsen ratings data. Fox News also appears to be on the mend with its Republican viewers: its "favorable" rating dipped to 54 percent, a one-year low in that demographic, right after the election but has recently climbed to 61 percent, according to a Morning Consult poll. Plus, its average of two million viewers daily and 3.6 million in primetime still dwarfs the audience of Newsmax TV.
And allowing guests to slam Dominion Voting Systems, as well as a voting-technology company called Smartmatic, is a tactic that has had its pitfalls, with Newsmax TV host John Tobacco announcing Monday that "Newsmax would like to clarify its news coverage and note that it has not reported as 'true' certain claims made about these companies."
Then there's the matter of financials. Fox News boasts more than $1 billion in annual profit while observers speculate that Newsmax TV about breaks even. Ruddy, who is majority owner and has investors he won't disclose, declined to discuss details, but said his network is "exceeding our expectations," and added: "We're not currently raising equity, but at some point we may consider going public."
Ruddy has been friends with Trump for two decades and speaks to him often, usually off the record. He did, however, debunk the rumor that Trump may want a piece of Newsmax TV and perhaps even rebrand it "Trump TV," nor does he think the president would start from scratch by creating his own network.
"He may decide it's better to do what he's been doing: be on all media. He's good at it. He'll revert back to what he did prior to his presidency — he'll be a media creature," says Ruddy.
Unlike most cable networks, Newsmax TV does not charge an affiliate fee to the cable and satellite providers who choose to carry the channel. It's a page from the Fox News handbook, as Rupert Murdoch famously paid providers an estimated $11 per subscriber in the early years, though now it leads cable news by charging $1.72 per subscriber each month, according to Kagan, the media research unit of S&P Global Market Intelligence. CNN is next highest at $1.01, MSNBC gets 34 cents and even One America News Network, which has also been on a roll since the election, gets 12 cents. Fox News also leads all others in ad revenue at $1.2 billion annually, while Newsmax TV is at $25 million, says Kagan.
But Ruddy says Newsmax TV will keep its positive momentum humming by becoming more of a full-time network, in part by adding a primetime show soon that stars Rob Schmitt, who has covered news for ABC, CBS, NBC and Fox News. Plus, its morning show, Wake Up America, will expand an hour, soon to air from 6:30 a.m. to 9 a.m. The show deals with politics and hard news and is thus more similar to Morning Joe on MSNBC than it is to Fox and Friends on Fox News, says Ruddy.
Ruddy is also adding a female-centric show that will be a conservative version of The View and will air at 9 p.m. When he's through with all the tweaks, "We'll have round-the-clock coverage from 6:30 in the morning until 11 at night," he says.
Ruddy said that, despite continuing coverage of alleged voting irregularities, Newsmax TV is not all pro-Trump all the time, as he has had his disagreements with the president over health care and Trump's slowing down of legal immigration —and Ruddy adds that he's "not sure" a wall is needed on the Southern border.
And, while it might be news to its viewers — especially the recent defectors from the industry's top dog, Ruddy said that "Fox News primetime is more right-wing than anything on Newsmax TV ... We're an independent American news network with a conservative perspective."
Ruddy added that he's not worried about having to pivot to covering a Biden-Kamala Harris administration after the January 20 inauguration.
"We covered Obama fairly," he says. "We didn't buy into conspiracy theories, like birtherism. We treated him with respect but asked tough questions. We'll be more respectful to Biden than most outlets were to Trump. They were pretty hostile; they didn't get the other side of the story."
The author of this piece has appeared as a guest on numerous Fox News shows and has written freelance articles for Newsmax.