Newsom Beat Trumpism in California, McAuliffe Didn't in Virginia
California Governor Gavin Newsom staved off a recall effort earlier this year after comparing his top Republican challenger to Donald Trump, but the focus on the former president did not work out as well for Democrat Terry McAuliffe in his bid to become Virginia's next governor.
Virginia's election was called for Glenn Youngkin, a Trump-endorsed Republican, following a competitive election cycle that saw McAuliffe's initially strong lead narrowing over the last several weeks.
Youngkin, the former co-CEO of the private equity firm the Carlyle Group, has not held public office before but has now become the first Republican governor elected in Virginia in more than 10 years. The last Republican elected to the position was Robert McDonnell, who won office in 2009 and served from 2010 to 2014.
McAuliffe succeeded McDonnell's term in office after winning Virginia's 2013 gubernatorial election. Since Virginia does not allow its governors to serve consecutive terms in office, McAuliffe did not run for re-election in 2017 but returned this year in the hope of securing a second term.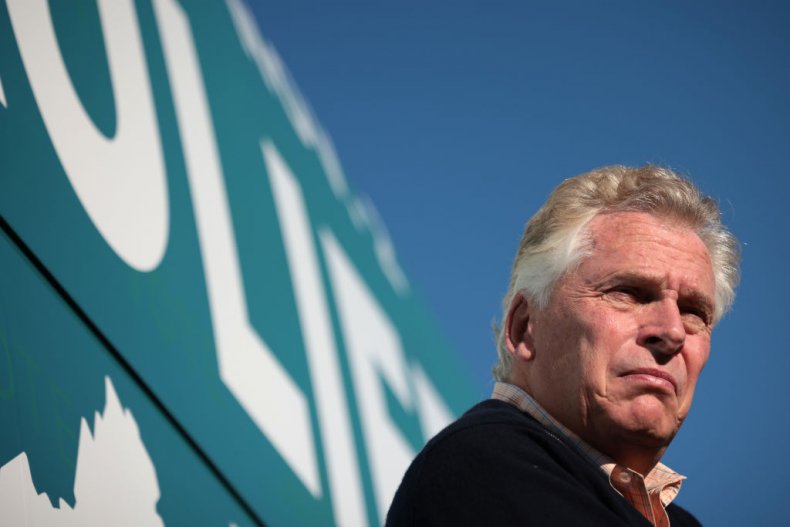 Most polls conducted over the summer found McAuliffe leading Youngkin by several points, but his lead narrowed over the last couple of months as Election Day approached, with a handful of recent polls indicating the two candidates were tied. By Monday, McAuliffe and Youngkin were separated by just 1 point in polling averages compiled by FiveThirtyEight—but this time, it was Youngkin in the lead.
Trump first announced his support for Youngkin through an endorsement message distributed by his Save America PAC in May. At the time, Trump identified Youngkin as "pro-Business, pro-Second Amendment, pro-Veterans, pro-America, he knows how to make Virginia's economy rip-roaring" and said he was the Republican in Virginia who "has my Complete and Total Endorsement."
Trump reiterated his support for Youngkin several times since his initial endorsement but did not attend campaign events alongside Youngkin. In contrast, several top Democrats—including President Joe Biden, Vice President Kamala Harris and former President Barack Obama—traveled to Virginia to attend campaign events with McAuliffe.
Some political strategists suggested Youngkin's strategy reflected his need to attract swing voters without alienating Trump voters in a state that many view as purple, according to The Associated Press.
Despite the lack of Trump's physical presence on the campaign trail, Democrats mentioned him often in the months leading up to Virginia's election. As Newsom did in California, McAuliffe drew comparisons between Trump and Youngkin, often referring to Youngkin as "Glenn Trumpkin" in fundraising emails and social media posts.
Top Democrats supporting McAuliffe also compared the two Republicans and argued a Youngkin win would essentially be a victory for Trump. Days before the November 2 election, Democratic National Committee Chair Jaime Harrison said there were "Trump-style Republicans on the ballot" in Virginia and New Jersey, the other state with a regularly scheduled gubernatorial election this year. Biden also compared Youngkin with the former president when he attended a McAuliffe campaign event the week before the election.
"Terry is running against an acolyte of Donald Trump," Biden said. The president later described Youngkin as a candidate who "endorses Donald Trump's bad ideas and bad record" and who "made all of his private pledges of loyalty to Donald Trump."
About six weeks earlier, Biden made similar comments about conservative radio host Larry Elder, Newsom's top Republican rival during California's recall election. Biden described Elder as "the closest thing to a Trump clone that I've ever seen in your state" and told voters that, through the recall process, "You either keep Gavin Newsom as your governor, or you'll get Donald Trump."
Newsom defeated the gubernatorial recall in California with nearly 62 percent of voters choosing to keep him in office for the remainder of his term. But McAuliffe's defeat in Virginia shows that anti-Trump messaging is not guaranteed to deliver wins for Democrats.
Alexandra Reckendorf, the associate chair of the Department of Political Science at Virginia Commonwealth University, told Newsweek that Virginia's election would indicate the power of a campaign strategy focused largely on anti-Trump messaging as the time since Trump's departure from the White House continues to build.
"For Democrats, Virginia's gubernatorial election should provide the national party with some clarity about whether the strategy almost exclusively geared toward attacking a candidate's ties to Trump is effective enough to win an election," Reckendorf said.
By repeatedly pointing to Trump's endorsement of Youngkin, McAuliffe left the door open for some voters to view Youngkin's eventual win as a victory for Trump. While McAuliffe's campaign strategy would have enabled Democrats to declare a win over Trump and the candidates he supports, his loss shows that strategy isn't guaranteed and may not be as much use to Democrats during the 2022 midterm elections as it was during the 2020 election cycle.