As Newsom Recall Intensifies, Economic Experts Say California Will Recover Faster Than U.S.
Economic forecasters at the University of California Los Angeles said Wednesday the California economy is expected to recover faster than the U.S. economy, as the country recovers from the coronavirus pandemic.
The news comes on the heels of California Governor Gavin Newsom's annual State of the State address, during which the Democrat projected optimism about his state's recovery and encouraged residents to remain patient as the COVID-19 vaccination rollout continues.
Dee Dee Myers, the director of the governor's Office of Business and Economic Development, celebrated the promising economic predictions in a statement shared with Newsweek.
The forecast "reiterates the strengths of California's economy and a reason for us to have optimism as we emerge from the pandemic," Myers said. "We are home to a dynamic economy, the birthplace of innovation and some of the greatest destinations on the planet. These strengths are not going away. As the governor said [Tuesday] night, 'California won't come crawling back. We will roar back.'"
California has reported more virus infections than any other U.S. state since the start of the pandemic, with state data showing more than 3.5 million total cases by Tuesday. More than 54,600 people in California have died after becoming infected with COVID-19 since the state confirmed its first virus-related death in early March 2020, the San Diego Tribune reported at the time.
Though it leads all other states in terms of total infections, California has reported dropping case rates in recent weeks, allowing some regions to loosen restrictions put in place to prevent the virus' spread. The state's efforts to expand vaccinations are also expected to contribute to its reopening, with more than 10.7 million vaccine doses administered thus far.
Newsom was the first U.S. governor to impose a statewide lockdown last March, and the state has continued to impose tighter restrictions than many conservative states. Even so, UCLA Anderson Forecast Faculty Director Jerry Nickelsburg said California's economy is expected to recover faster than the national economy.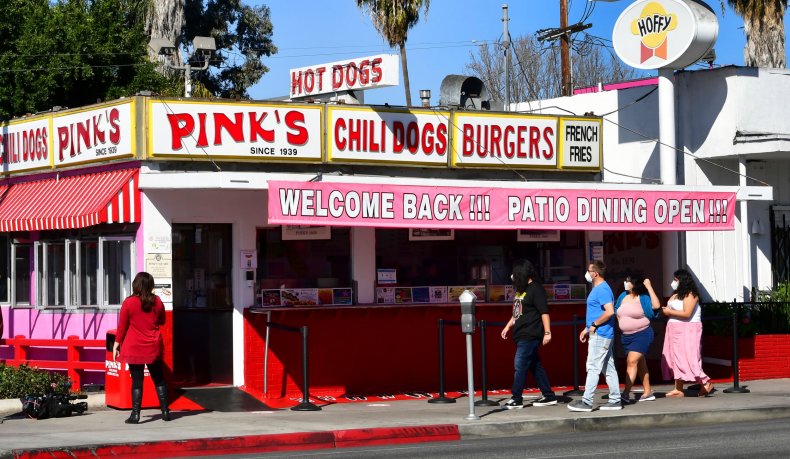 "Although the timing may be offset with California beginning a significant recovery later than some other states, we expect the California recovery to ultimately be, once again, faster than the U.S.," Nickelsburg said in a Wednesday news release.
Though California's economy is expected to recover faster, the U.S. is still predicted to experience "near-record economic growth" this year following its biggest economic downturn in 60 years, UCLA Anderson Forecast Senior Economist Leo Feler said during a virtual news conference on Wednesday.
In California, the employment growth rate is expected to be about 5.6 percent this year and 3.1 percent next year, before ultimately dropping to about 2.2 percent by 2023, Nickelsburg said during the Wednesday event.
Unemployment rates will likely be slower to recover than the state economy as a whole, Nickelsburg said, but after reaching an average rate of 6.8 percent this year, the state's unemployment rates are expected to drop to 5.1 percent in 2022 and 4.1 percent in 2023.
Nickelsburg predicted the business, scientific, technical, information and residential construction sectors will be among the fastest to recover, with California's hospitality and leisure sectors likely to recover at slower rates.
The experts' projections for a speedy recovery in California come as Newsom is facing a recall campaign driven in part by frustrations over lengthy stay-at-home orders and other restrictions put in place in response to the pandemic. RecallGavin2020 announced last week it collected nearly 2 million signatures, far surpassing the nearly 1.5 million needed in order to trigger a recall election.
The recall campaign still has one week left to continue gathering signatures. If the minimum number of signatures needed for a recall are verified by state officials, an election will be put on the calendar and voters will be given an option to decide whether or not they want to remove Newsom from office.
Newsom's time as governor officially ends at the end of 2022 unless he decides to run for re-election or is recalled. If voters choose to oust him, he would be the second California governor in history to be removed from office, following the successful recall of former California Governor Gray Davis in 2003.
Though the strength of the recall effort suggests a recall election is likely to occur, Democratic strategists told Newsweek last month that increasing numbers of vaccinated Californians combined with loosening pandemic restrictions could benefit Newsom as he fights for his political survival.
This story was updated on March 11 to include a response from the director of Governor Newsom's Office of Business and Economic Development.