California Governor Gavin Newsom said he decided to cancel his planned trip to Scotland to attend the United Nations Climate Change Conference after his children expressed disappointment that he would miss spending Halloween with them.
Newsom, whose decision to not attend the conference as planned struck many as unusual, addressed speculation about his whereabouts Tuesday during the California Economic Summit in Monterey. The summit, which is produced by the nonprofit California Forward, featured a conversation with Newsom that was hosted by Lenny Mendonca, California Forward's co-chair.
A spokesperson for Newsom's office cited "family obligations" as the reason for the governor's decision to stay home instead of traveling abroad for the conference. In the wake of the late October decision, many began speculating about why he wasn't attending. Some suggested he may have had a bad reaction to the COVID-19 booster shot he received days before canceling his trip, though his office told Newsweek that was not the case.
Newsom's November 1 Instagram post further confused members of the public and continued to drive speculation as the governor remained out of the public eye last week. In the posted photo, Newsom appeared dressed as a pirate for Halloween alongside his wife and their four young children, who were all also dressed as pirates. "Hope everyone had a safe, happy Halloween," the post read.
Newsom started his Tuesday conversation with Mendonca by providing more information regarding his canceled trip. He began by saying it has been "a hell of a couple years for all of us, for each and every one of you—particularly parents." He acknowledged the efforts parents have made to balance work and family responsibilities during the ongoing pandemic and said he too has been responding to crises as governor in addition to the recall challenge he defeated in September.
"Right after that recall, we just jumped right back into it," he said.
Before Newsom was due to travel to Scotland for the climate conference, he said he was at a family dinner when his four kids, who are all under the age of 13, "kind of had an intervention."
"They said they couldn't believe that I was going to miss Halloween," Newsom said, adding his wife had been planning to travel to the conference with him. "You know, mom and dad missing Halloween for them is, like, worse than missing Christmas."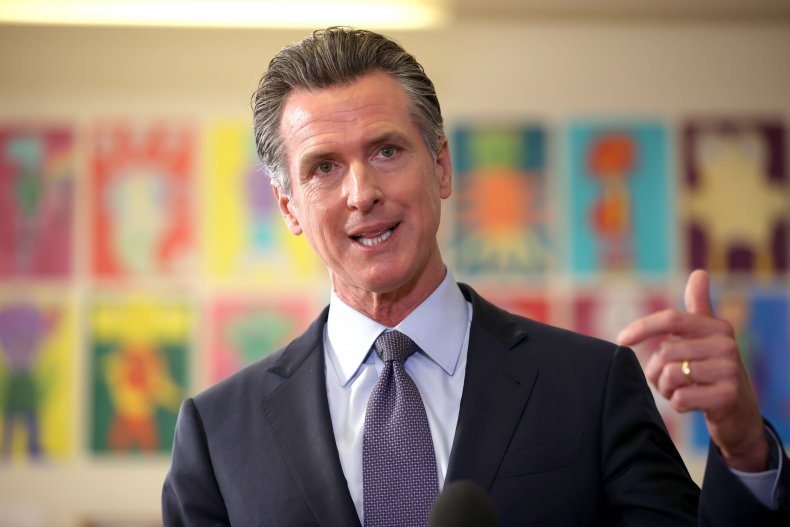 Newsom went on to say he reconsidered his planned trip when he found himself thinking about his children's concerns the next day.
"I woke up that next morning with something that's probably familiar to a lot of parents, that knot in your stomach," he said. "And I had no damn choice—I had to cancel that trip."
The governor said he went trick-or-treating with his kids and enjoyed the weekend with his family. He said his children went to work with him last week and that he has in recent days been focusing on port issues, concerns about a potential COVID-19 winter surge, vaccines and booster shots, and next year's budget.
"It's been probably the most productive week I've had since I've been governor," he said.
When contacted for further comment Tuesday afternoon, Daniel Lopez, Newsom's press secretary, said the governor was working last week with his staff to address "urgent issues."
"The Governor had no adverse reaction to his booster shot," Lopez told Newsweek. "Last week Governor Newsom worked in the Capitol with staff on urgent issues including COVID-19 vaccines for kids, boosters, ports, the forthcoming state budget and California's continued economic recovery."