California Governor Gavin Newsom targeted Florida Governor Ron DeSantis in a campaign ad that is set to air on Monday, accusing Republicans of cracking down on freedom.
The Democratic incumbent, who is running for reelection in this year's midterms, spoke about a number of national issues in his 30-second campaign ad.
In the ad, Newsom pointed out the attempts by Republicans to restrict voting and speech in classrooms, in an apparent reference to Florida's Parental Rights in Education legislation, which is dubbed as the "Don't Say Gay" bill, which went into effect on Friday. The bill bans teachers from discussing topics related to sexual orientation and gender identity for children in kindergarten through third grade.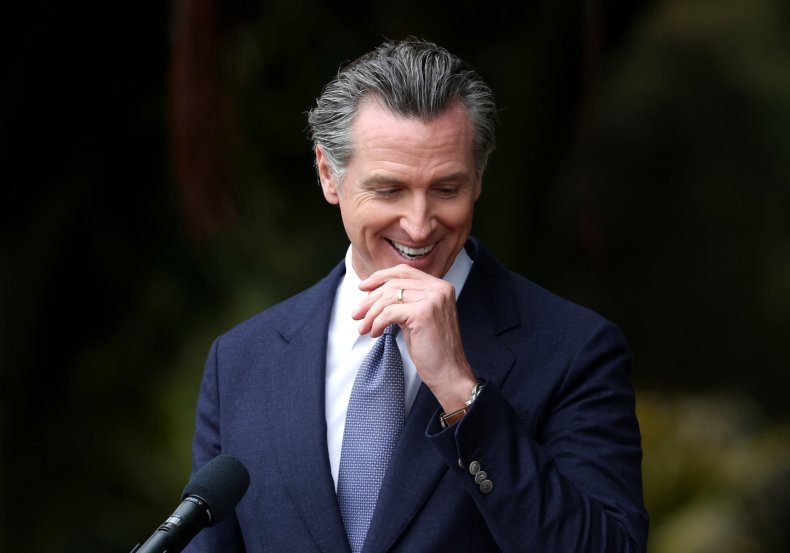 "Freedom, it's under attack in your state," the governor said in the ad. "Republican leaders, they're banning books, making it harder to vote, restricting speech in classrooms, even criminalizing women and doctors."
"I urge all of you living in Florida to join the fight—or join us in California, where we still believe in freedom: Freedom of speech, freedom to choose, freedom from hate, and the freedom to love," Newsom continued as images in the video transitioned from an aerial shot of the Santa Monica Pier to two women holding each other as they waved a Pride flag above their heads. "Don't let them take your freedom."
DeSantis' campaign spokesman Dave Abrams told CNN on Sunday that "Gavin Newsom might as well light a pile of cash on fire," in regards to the governor's ad. "Pass the popcorn for his desperate attempt to win back the California refugees who fled the hellhole he created in his state to come to Florida."
Is Newsom Planning to Run for President?
"Gavin Newsom had to know that this would signal that people would interpret or misinterpret his actions as presidential campaign ambitions," political science professor at the University of San Francisco, James Taylor, told NBC News earlier this week. "After the recall, Newsom got stronger, and I suggested off the bat that it strengthened his position to run for national office."
Meanwhile, political analyst Larry Gerston said that Newsom has already been targeting the strongest GOP candidates while he extends "his presence on national issues."
Gerston also said that Newsom is positioning himself "so that if for some reason Biden doesn't run, and if Harris falters, there is Newsom." However, he added that he thinks the California governor is eyeing a 2028 presidential instead.
Newsom vs. DeSantis
In an interview with CNN last week, Newsom compared California and Florida "as daylight and darkness."
"I care about people. I don't like people being treated as less of them. I don't like people being told they're not worthy. I don't like people being used as political pawns. This is not just about him, but he is the poster child of it," he said.
During his interview with CNN, Newsom called DeSantis a bully, a fraud, an authoritarian, a fake conservative, and a betrayer of Ronald Reagan's legacy.
The feud between the two governors has been ongoing for months in which DeSantis said that California was allowing a "coercive biomedical apparatus" to guide the state's COVID-19 response, according to CNN.
DeSantis also called San Francisco a "dumpster fire," while Newsom criticized Florida's response to the pandemic, saying that its approach would have "killed an extra 40,000 Californians."
Newsweek reached out to DeSantis' media office for comment.