Gavin Newsom Proposes $100 Billion Budget for California in Bid to Defeat Recall
Today, California Gov. Gavin Newsom announced a $100 billion California Comeback Plan to the State Legislature and his final budget proposal.
The announcement comes as an effort continues to have him recalled from power. But as COVID-19 cases lower in the state, and Newsom revealed more than $100 billion of surplus cash available for the citizens in his revised budget, his chances of remaining governor look to be improving.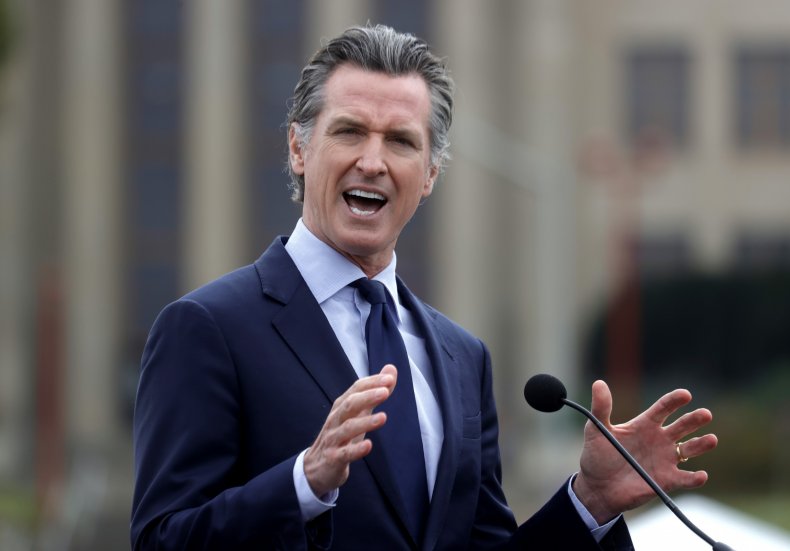 Around this time last year, Newsom announced he would raise taxes on businesses, cut spending on public education and reduce the salaries of more than 233,000 state workers. But that move and others made in reaction to the pandemic proved to be more extreme than necessary, and the result is a surplus of nearly $76 billion. Another factor behind the surplus is that wealthy taxpayers in California for the most part did well during the pandemic, and thus boosted state revenues, according to The Associated Press.
The state also collected an additional $27 billion in federal coronavirus aid.
Newsom has teased out parts of the proposed budget all week. On Monday, he announced via Twitter a big expansion of the Golden State Stimulus had already gone out to middle-class residents. He wrote that it will create "the biggest state tax rebate in US history" and that "2 out of every 3 Californians will now benefit from a stimulus check of at least $600. And families with kids will now get an additional $500."
The plan would provide a $600 payment to individuals and households making between $30,000 and $75,000 a year. All households with an income of up to $75,000 and at least one child—including illegal immigrants who filed taxes—would get an extra $500 payment. The new plan would send out a total of $11.9 billion in direct cash payments.
On Tuesday, Newsom announced rebates for taxpayers, as well as a plan to devote $8.75 billion to creating housing units for the homeless and $3.5 billion to help people pay rent.
The following day, he said all 4-year-olds in California could go to kindergarten for free, while also pledging $14.5 billion toward schools. He said he expected billions of dollars would go to drought response and water infrastructure the same day.
On Thursday, he proposed using $1.5 billion in federal aid to give to small business owners hurt by the pandemic and promised new funding for other business assistance programs.
Despite all the pledges, critics like Republican Assemblyman James Gallagher want Newsom to address the state's Employment Development Department, which, according to reports, paid out fraudulent benefits to prison inmates while legitimate claimants were delayed. The Los Angeles Times said state investigators estimated the total fraud at $400 million.
Gallagher tweeted about the issue on Friday morning.
Even before Newsom's budget proposal, his poll numbers were trending higher. A Berkeley poll conducted in April found 52 percent of Californians said they approve of his performance, compared to 43 percent who disapprove. In a similar poll in January, 46 percent said they approved of the job Newsom was doing, while 48 percent disapproved.
The last time a California governor was recalled came in 2003 when Arnold Schwarzenegger replaced Gray Davis. Before the recall, Davis had an approval rating that ranged in percentage in the 30s before it dropped as low as the 20s.
Correction 05/14/2021, 3:35 p.m. ET: An earlier version of this story misstated that the Golden State Stimulus was being expanded to benefit lower-income residents. According to Newsom's tweet, it will be benefiting middle-class families.
Updated 05/14/2021, 4:10 p.m. ET: This story was updated to include additional context about the controversy surrounding California's Employment Development Department.