The Newsoms' Lucrative Woke Scheme | Opinion
As governor of California, Gavin Newsom has been ridiculed by fiscal hawks for policy priorities that put taxpayers last. It's only escalated since he began making himself part of the national conversation.
What's gone under the radar until recently, though, has been the outsized influence of the governor's wife, Jennifer Siebel Newsom, the self-proclaimed first partner of California. As she said in a recent interview, she and her husband are working to "institutionalize [their] values" in California using his political power and her "cultural change" activism.
It just so happens that what the Newsoms think is good for California is also good for their personal finances.
Our auditors at OpenTheBooks.com analyzed California's line-by-line expenditures for 2021 in a historic win for transparency. We uncovered a sophisticated political machine structured around Siebel Newsom's radical ideologies and greased by public funds. Large state vendors give five- and six-figure donations to Siebel Newsom's nonprofit, The Representation Project, attending glitzy fundraising events with the governor himself.
Publicly funded schools pay licensing fees to the nonprofit for films Siebel Newsom's for-profit company produced. Then, the year Newsom won election as governor, the California Board of Education issued guidance to K-12 schools recommending these films and curricula for classroom use.
The Newsom nonprofit says its mission is to "fight sexism through films, education, research, and activism," and that the documentaries advance "intersectional gender justice." In plainer English, students are shown films like Miss Representation and The Great American Lie, in which Gov. Newsom appears as a magnanimous champion of women's rights. Commentators like MSNBC's Charles Blow guilts those he considers "privileged": "Your privilege is actually built on my oppression." Others say viewers should feel "shame and sorrow" over the state of American society.
To make a point about the negative portrayal of women in media and society, Siebel Newsom's film The Mask You Live In contains highly disturbing sexualized images from pornography websites—although blurred, pictures remain extremely graphic.
Paired with these videos are classroom activities, like the "privilege walk," where students are directed to step forward for being white, speaking English as a first language, being a "cisgendered" male, or exhibiting other markers of "privilege." One columnist has called these activities "emotionally abusive."
The infamous "Genderbread Person" also makes an appearance in these lesson plans. Children are told as early as kindergarten that biological sex, expression, and "gender identity" can be mixed and matched.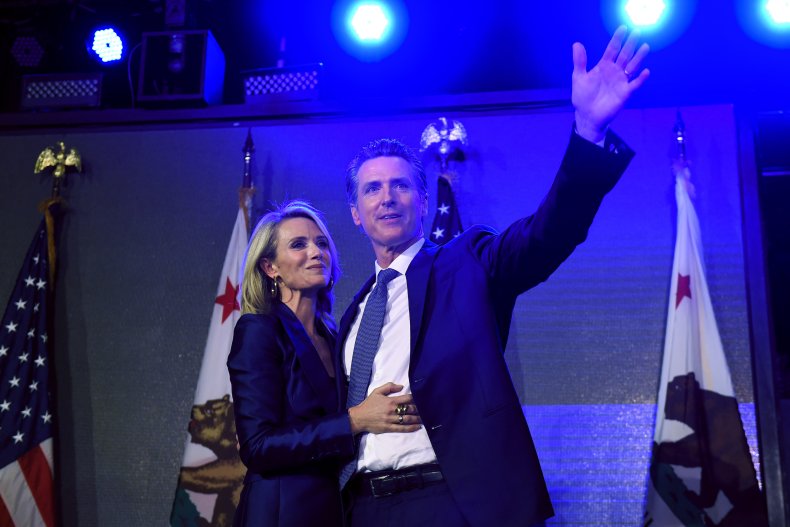 Siebel Newsom's nonprofit says the films and lessons have been seen by 2.6 million students in 5,000 schools across all 50 states.
So, the first partner of California has some far-left views; that may be of little surprise. But there are some other concerns for taxpayers to consider.
The Newsom nonprofit has taken in $1.48 million in license fees since 2012, and it refuses to disclose how much came from public schools. It also sent $1.64 million to Girls Club Entertainment, Siebel Newsom's for-profit firm. That's known as double-dipping in taxpayer funds. When the governor stars in the films to promote his political future, that's a triple-dip.
Then comes the quadruple-dip. Gavin Newsom created the Office of the First Partner, armed with nine staff members and a $1.2 million budget for 2023. From her administration post, Siebel Newsom advocates for policy changes and helps implement them. In at least one case, this policy work stands to benefit her nonprofit directly.
Siebel Newsom advocated for more K-12 mental health funding. Her husband convinced the legislature to allocate $4.7 billion to the cause, some of which paid for 10,000 new school counselors. The executive director of the California Association of School Counsellors applauded the move and noted that it would create more demand for "films and curriculum support material such as Siebel Newsom's documentary series." That would mean more revenue for the film nonprofit, Girls Club, and the Newsoms—and another policy feather in the governor's cap.
From a 30,000-foot view, Sacramento looks to be one big headquarters for Newsom, Inc.—a mix of political, financial, ideological, and corporate interests working for mutual benefit. While our revelations have made national news in recent weeks, the response from the nonprofit, the governor, and Siebel Newsom has been radio silence. The only acknowledgement is an obstinate tweet from the nonprofit's executive director, Dr. Caroline Heldman: "We welcome all the new attention to our pathbreaking films."
One would imagine the appearance of a pay-to-play scheme that captures corporate and tax dollars to benefit the Newsoms and their priorities might be something to explain away. Instead, Newsom, Inc. and its stakeholders appear content to press on in full public view.
Taxpayers should be on the lookout as they take their operation to the national stage.
Adam Andrzejewski is CEO and Founder of OpenTheBooks.com, the largest private database of public expenditures.
The views expressed in this article are the writer's own.